Per the series tradition, Pokemon Scarlet and Violet have introduced a new pseudolegendary Pokemon line with Frigibax, Arctibax, and Baxcalibur, and though these designs once again lean on the Dragon type, there is an unusual inspiration behind them. While there has been criticism by fans about the continued reliance on Dragon-type Pokemon with legendaries and pseudolegendaries for the series, this shouldn't overshadow the creativity that went into the Frigibax line. Between its odd body proportions and posture to its signature move, it seems Baxcalibur is a clear callback to Japan's most famous kaiju.
Over the years, Pokemon designs have pooled from many different sources ranging from the obvious like real-life animals to the bizarre, such as a set of keys or garbage bags come to life. Given their immense popularity, particularly within Japanese audiences, inspiration from kaiju monsters has made its way into many different Pokemon designs, with examples ranging from Rayquaza taking after Manda or Volcarona channeling Mothra. But few of these have been as explicit as Pokemon Scarlet and Violet's Baxcalibur, whose tall humanoid stance, glaive-like spine, and signature move all point to it being a direct homage to Godzilla.
RELATED: Pokemon Scarlet and Violet Pseudo Legendaries Need A Break From Dragons
Pokemon's Relationship with Kaiju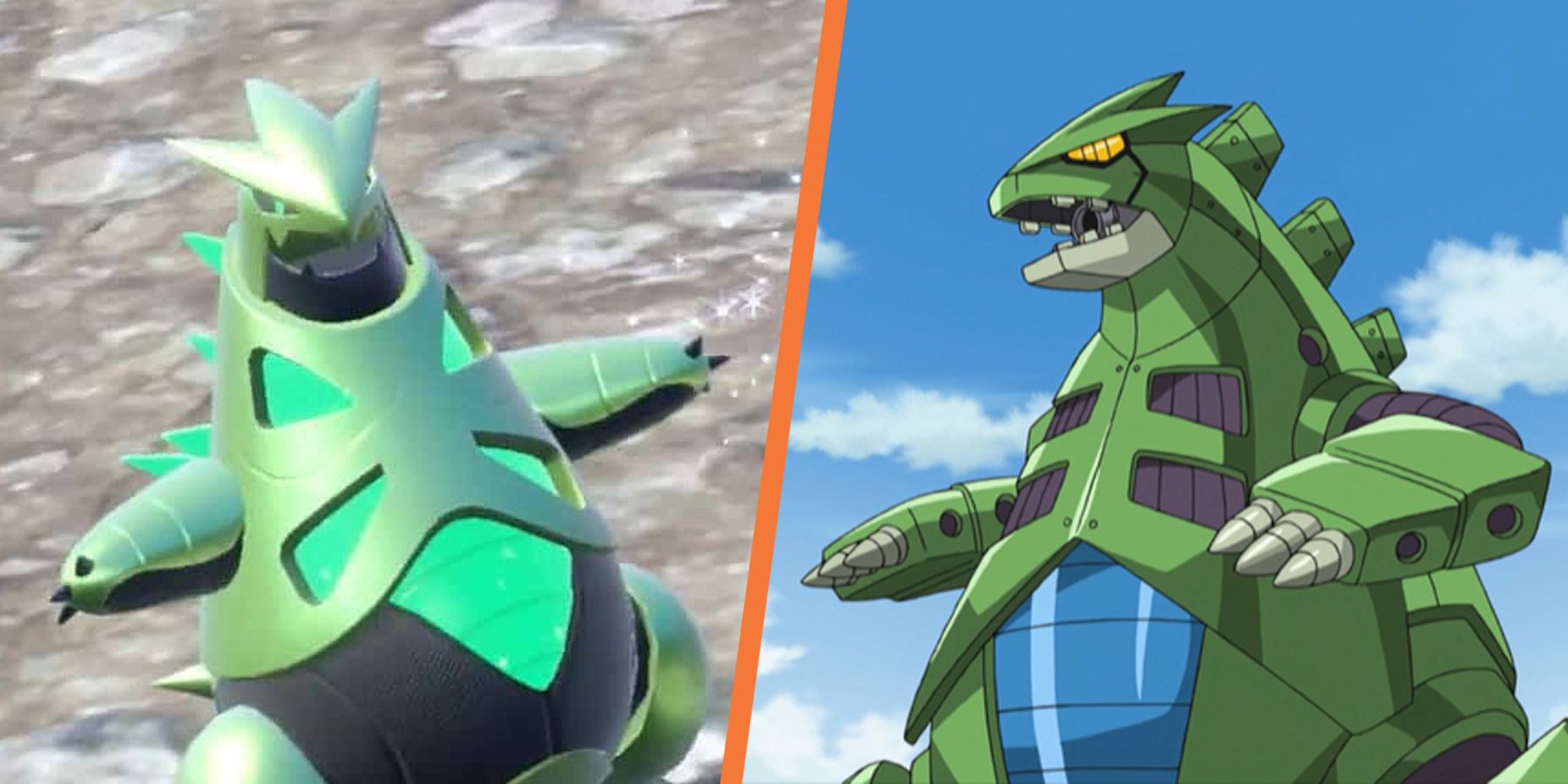 Godzilla was introduced by its creator Ishiro Honda and consequently spawned an early cinematic universe around the kaiju and various others. It's undeniable that Godzilla was and still is a cultural icon of Japanese entertainment, leading to an impressive impact across pop culture. For a series focused on controlling powerful monsters that can fit inside a pocket then, it's no surprise that Pokemon was one of those games that saw itself influenced by the King of Monsters.
Over the years, this relationship has typically been characterized as Pokemon speaking up to the likes of Godzilla, where many designs, in-game events, and concepts are surface-level references to kaiju. For example, while some Pokemon can be likened to existing kaiju as stated, other instances like Black 2 and White 2's "Big Monster Series" are much clearer tributes to Hollywood and kaiju movies, with Mecha Tyranitar paralleling Mechagodzilla were introduced back in 1974. However, as Pokemon has reached similar levels of cultural significance, it seems that Godzilla and Pokemon share an amicable, symbiotic relationship.
As of late though, this relationship appears to have become far more beneficial to Pokemon where Godzilla's influence can be more keenly felt by players. In Sword and Shield, many fans pointed out how the games' dynamax gimmick allowed the series to live its kaiju fantasy, especially when Gigantamax forms seemed to reference other kaiju such as Butterfree as Mothra, Drednaw as Gamera, or Garbador as Hedorah. Therefore, it seems more than a coincidence then that one of Violet's future Paradox Pokemon is Iron Thorns, a mechanical version of Tyranitar in what could be one of Pokemon's most meta-references to Godzilla.
Baxcalibur's Godzilla Inspiration Explained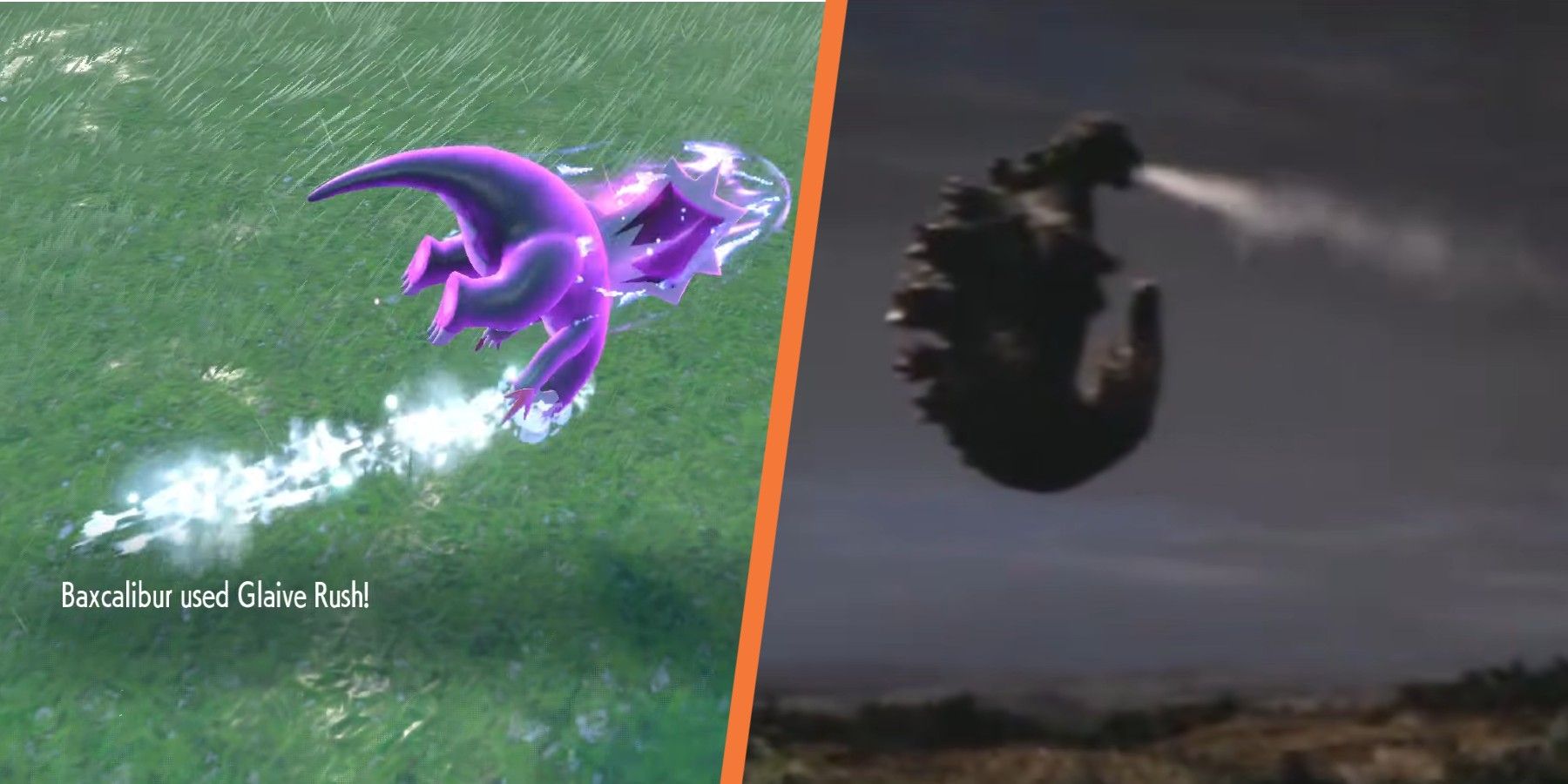 At face value, Baxcalibur's design feels slightly disproportional, such as its exaggerated height, elongated torso, short arms, and stubby legs. However, this could be intentional, not least because it calls back to earlier Dragon Pokemon designs like Haxorus or Duraludon, but because it's a potential nod to the fact that Godzilla is traditionally a performer in a suit. Despite being based upon reptiles and dinosaurs, as Godzilla needed to conform to a human's body size, this resulted in disjointed proportions – or rather, it resulted in things like an exaggerated height, elongated torso, and oddly short limbs.
Beyond its surface-level design though, Baxcalibur has much clearer references to Godzilla than the likes of other Pokemon. Its back for example is designed to resemble a blade or glaive, hence its namesake combining the word "back" with the famous sword excalibur, but this design also looks uncannily similar to Godzilla's own plates on its spine. But in performing its signature move Glaive Rush and using its back to attack, Baxcalibur's movements directly parallel Godzilla's "radiokinetic flight" seen in Godzilla vs. Hedorah, right down to the way the pair blasts from their mouths to propel themselves.
Pokemon Scarlet and Violet are available now for Nintendo Switch.
bottikcointo
bottikcointo
bottikcointo
bottikcointo
bottikcointo
bottikcointo
bottikcointo
bottikcointo
bottikcointo
bottikcointo
bottikcointo
bottikcointo
bottikcointo
bottikcointo
bottikcointo
bottikcointo
bottikcointo
bottikcointo
bottikcointo
bottikcointo
bottikcointo
bottikcointo
bottikcointo
bottikcointo
bottikcointo
bottikcointo
bottikcointo
bottikcointo
bottikcointo
bottikcointo