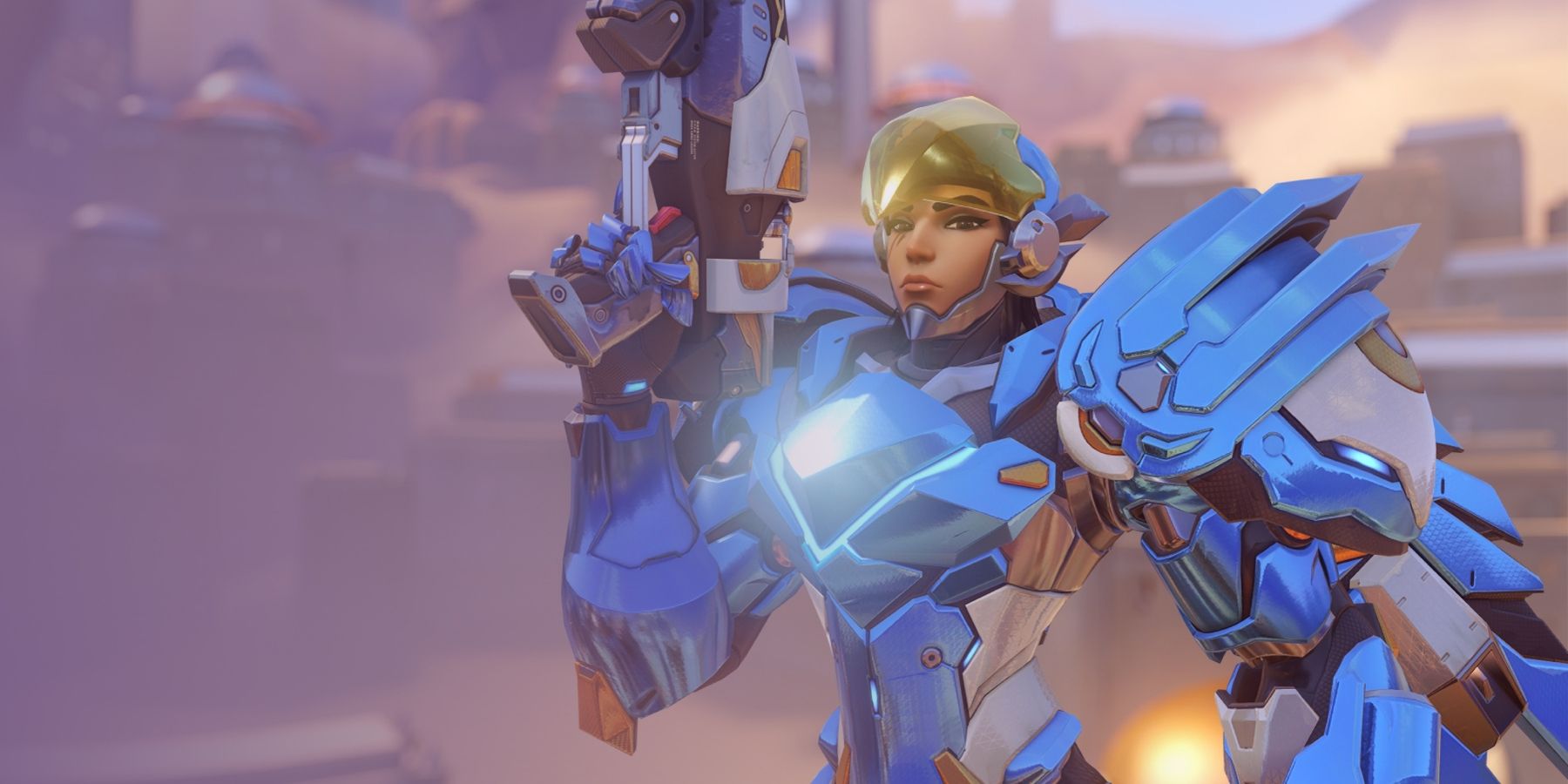 A bug allowing Pharah's Ultimate ability to be built much faster than intended has been confirmed in Overwatch 2. While Overwatch 2 has a sizable roster with a diverse range of characters to play, there are many surprisingly important counters necessary to maintain balance. Pharah's ability to fly above fights and rain destruction down is one such counter, forcing certain powerful team compositions to respond. A bug impacting Pharah's Ultimate in Overwatch 2 should understandably be a potentially very impactful issue, then.
First, here's how Pharah's Ultimate ability currently works. Each character in Overwatch 2 slowly accrues Ultimate ability energy over time by dealing damage, as well as a trickle of energy passively. Ignoring the trickle, Pharah needs to do approximately 2,100 damage to opponents to fully fill her Ultimate bar. Considering her rockets do 120 damage per direct hit, that's at least 18 (17.5 exactly) rockets to build an Ultimate ability. Suffice to say, it's intended to take quite a bit of time given the strength of Pharah's Rocket Barrage.
RELATED: Overwatch Fan Makes Adorable LEGO Models of Pharah and Brigitte
In a test performed by Overwatch 2 player and meta analyst KarQ, Pharah is shown to be building Ultimate energy significantly faster than intended in the game's current build. A recent video from KarQ shows him shooting training dummies with Pharah's rockets. Only, instead of filling her Ultimate bar at 2,100 damage, the bar is filled with just 1,600 damage. At 120 potential damage per rocket, that's just 14 necessary direct hits to fully built an Ultimate — more than 1/5th fewer shots.
It's fair to point out that most players won't be hitting 14 or 18 direct shots in a row. But even accruing Ultimate energy through area-of-effect damage will prove much faster with the bug than without. That means more Pharah Ultimate's in general and, assuming Blizzard has balanced Pharah's Ultimate timings based on relative strength, the character is overperforming strength-wise.
How such a big bug managed to get through testing and into Overwatch 2 isn't clear. The biggest question is whether it has made a significant difference. Only Blizzard will be able to tell if Pharah is winning more games, though. It's possible she isn't, as it's very easy to counter Pharah with long-range hitscan characters like McCree, Ashe, and others.
There's even a possibility that this change was intended by Blizzard and simply slipped through without notice. There's no denying that Pharah is out of the meta right now. She's fun, and she's not weak by any means, but other characters deal more consistent damage, have more consistent Ultimates, and are just as survivable. The Sojourn meta apparently hardly notices Pharahs even with significantly faster Ultimates.
Overwatch 2 is available now on PC, PS4, PS5, Switch, Xbox One, and Xbox Series X/S.
bottikcointo
bottikcointo
bottikcointo
bottikcointo
bottikcointo
bottikcointo
bottikcointo
bottikcointo
bottikcointo
bottikcointo
bottikcointo
bottikcointo
bottikcointo
bottikcointo
bottikcointo
bottikcointo
bottikcointo
bottikcointo
bottikcointo
bottikcointo
bottikcointo
bottikcointo
bottikcointo
bottikcointo
bottikcointo
bottikcointo
bottikcointo
bottikcointo
bottikcointo
bottikcointo