Like the regions seen in previous Pokemon games, Pokemon Scarlet and Violet's Paldea is based on a real-world location. In this case, it is the Iberian Peninsula, a part of Europe comprising Spain and Portugal. Spanish and Portuguese influence can be seen throughout Pokemon Scarlet and Violet, ranging from the architecture to the fashion to the Pokemon native to the region. And, of course, many of the open-world Pokemon game's towns and landmarks are inspired by real-life locations from Spain and Portugal.
Early Pokemon games were primarily based on regions in Japan, such as Kanto representing Japan's main island of Honshu and Sinnoh representing the northernmost prefecture, Hokkaido. Later games moved to other parts of the world, including France in Pokemon X and Y, Hawaii in Pokemon Sun and Moon, and the United Kingdom in Pokemon Sword and Shield. Fans guessed that Paldea would be based in Spain as soon as the gen was revealed, and the game's official release confirmed this theory. While not every city, town, and province in Paldea is a direct 1:1 correlation to somewhere in the Iberian Peninsula, many iconic Spanish landmarks can be found scattered throughout the game.
RELATED: Pokemon Scarlet and Violet Player Finds An Easy Method to Climb Slopes
Uva and Naranja Academy – La Sagrada Familia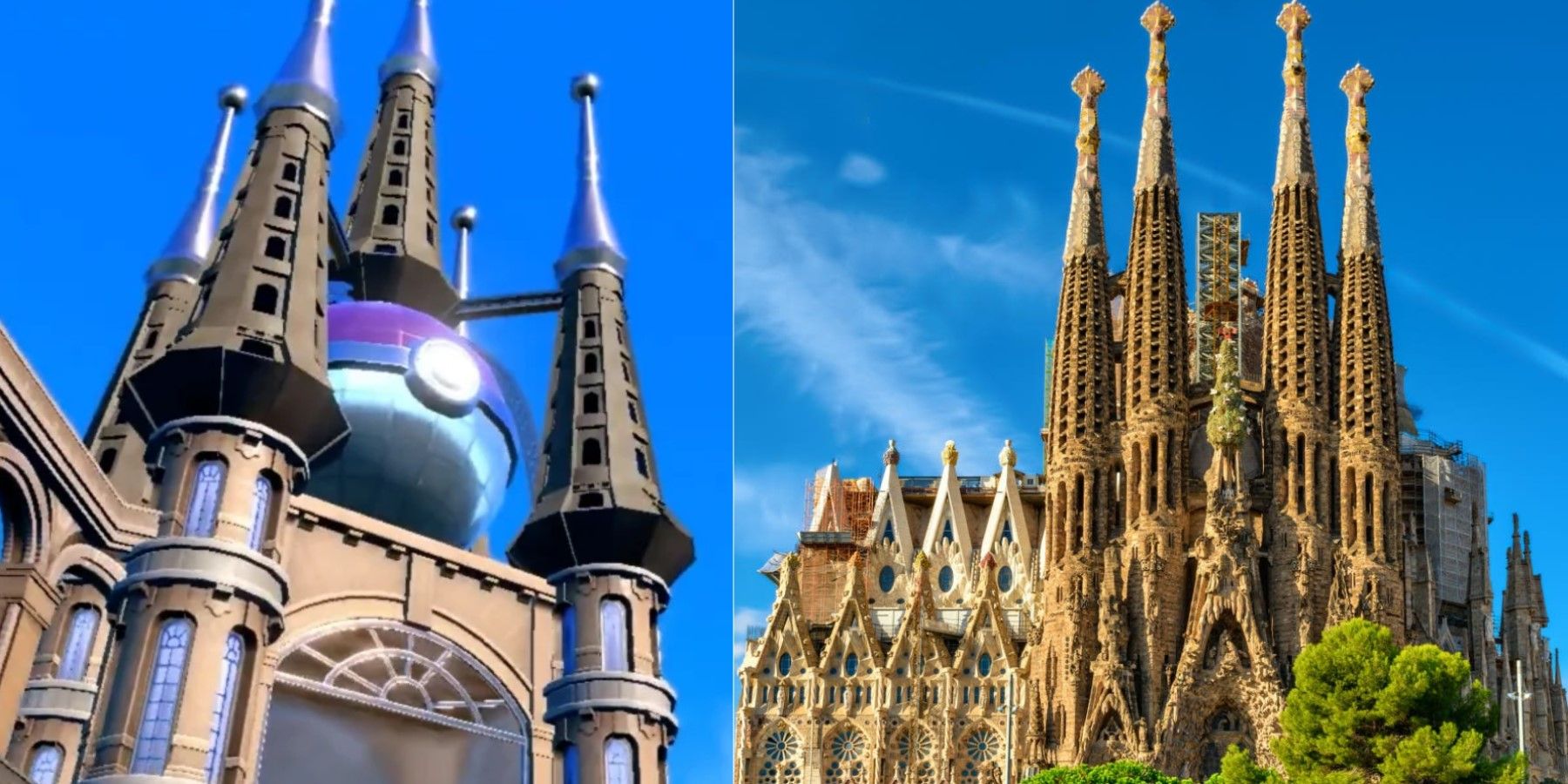 The player starts Pokemon Scarlet and Violet as a student at either Naranja or Uva Academy, depending on the version of the game played. The Academy is located at the heart of Mesagoza, the largest city in the Paldea region. The design of the school's building, which features peaked roofs and a cluster of tall towers, is a clear homage to La Sagrada Familia, Barcelona's famous cathedral. Of course, the Academy adds a unique Pokemon-themed twist to its rendition of the iconic cathedral: a giant representation of a Pokeball nestled between the towers on the roof.
La Sagrada Familia is one of Spain's most recognizable landmarks. Located in Barcelona in the Catalonia region, it was designed by famed architect Antonio Gaudi, but sadly not completed at the time of his death. Today, it is a designated World Heritage Site and has been officially consecrated by the Pope. Construction work remains ongoing today, including a plan to construct ten additional spires. La Sagrada Familia fuses Gothic and Modernist architectural styles, and Gaudi's love of Modernism can be seen in other buildings throughout Barcelona. This is mirrored in Mesagoza, which is significantly larger than any of Paldea's other towns and features tall, modern buildings housing barbershops, cafes, sandwich shops featuring traditional Spanish ingredients, and more.
Levincia's Skyscrapers – Madrid's Four Towers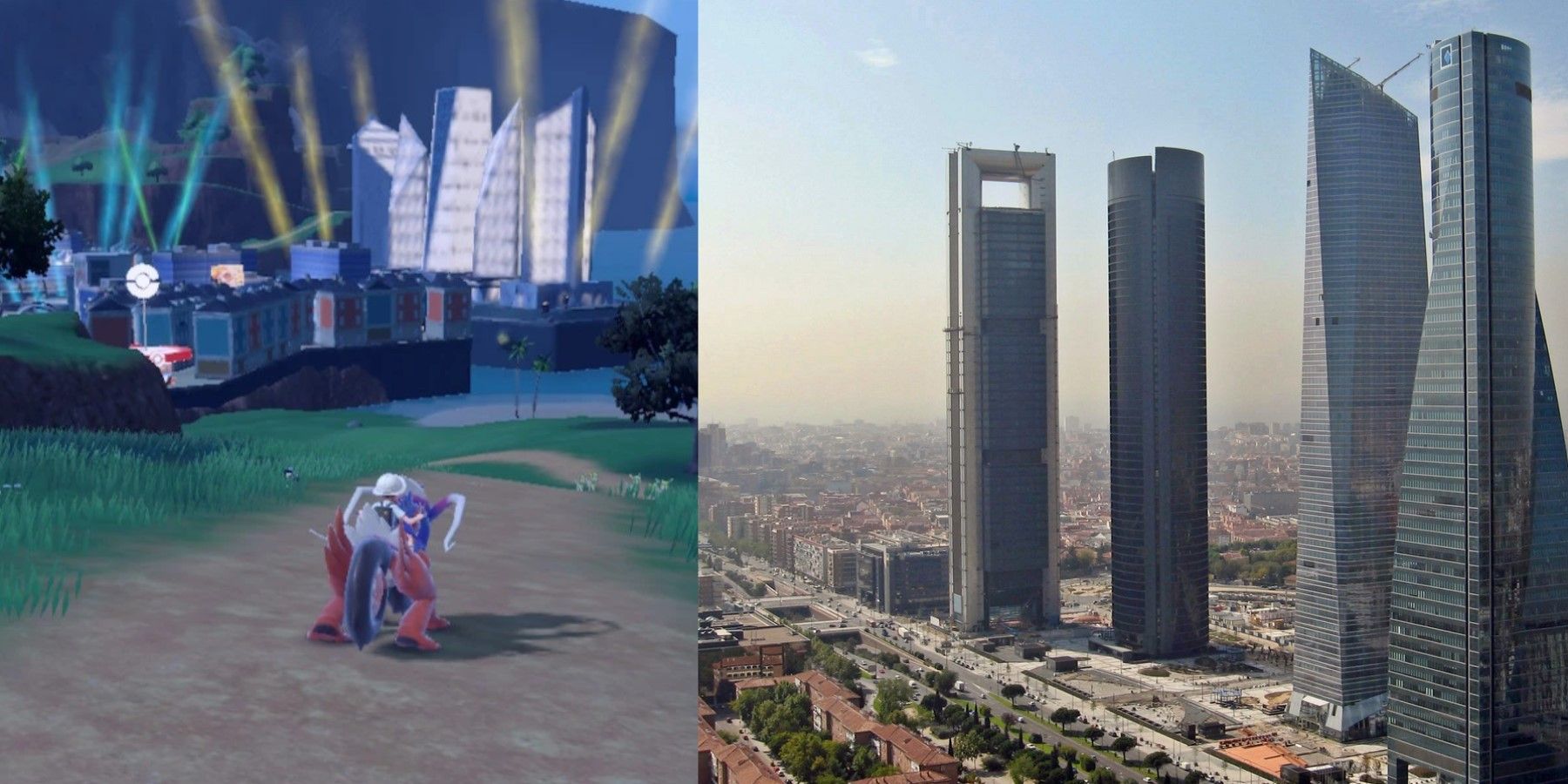 Levincia is a hip, urban city that is fittingly home to Iono, a popular streamer as well as the Paldea region's Electric-type Gym Leader. Located by the sea, Levincia is home to almost as many stores and restaurants as Mesagoza and is a great option for fashion-forward Trainers who want to purchase new accessories or give their character a makeover. Although the name "Levincia" is most likely a reference to the real-life Spanish town of "Valencia," the town's most striking sight is actually drawn from somewhere else entirely.
Levincia features five extra-tall skyscrapers that are framed by a backdrop of the Paldean Sea. Their function is unknown, but exploring around them can lead to players finding several useful items and hidden Gimmighoul Coins. These towers are likely based on the Cuatro Torres, or Four Towers, Madrid's tallest skyscrapers. They consist of the Torre Emperador, home to multiple international embassies; the glittering Torre Cristal; Torre PwC, which contains a five-star hotel; and Torre Cepsa, currently owned by a billionaire fashion businessperson. A fifth tower is currently under construction, which may be the reason Levincia's version of the skyscrapers features five towers instead of four.
RELATED: Pokemon Scarlet and Violet Compilation Video Showcases Some of the Funniest Glitches
Porto Marinada & Cascarrafa – Portuguese Coastal Towns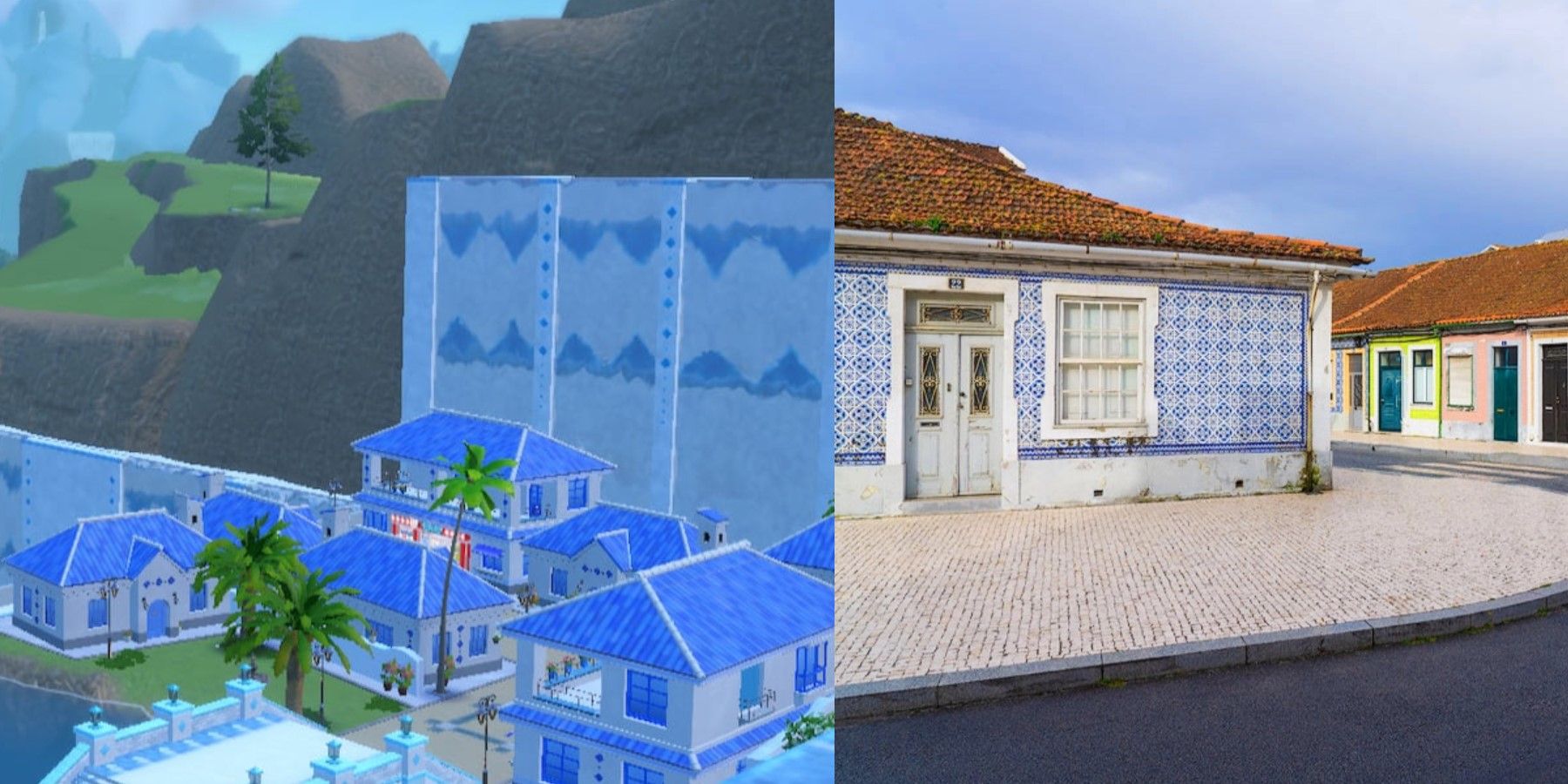 As the entire Iberian Peninsula is encompassed by the Paldea region, Portugal's architectural styles and town designs were of course not neglected when the region was created. The strongest Portuguese influence in Paldea can be seen in the town of Cascarrafa, home to the Water-type gym led by Gym Leader Kofu, and the nearby port town of Porto Marinada. Porto Marinada does not have a Gym but is the site of the unique Marketplace where players can participate in auctions for various items both common and rare.
Cascarrafa features the iconic blue-and-white buildings and streets found in Portuguese towns such as Porto Novo. Porto Marinada, in addition to using the "Porto" prefix like many locations in Portugal, has striped buildings that bring to mind Costa Nova in the Aveiro region. The presence of an open-air market is also a common sight in Portuguese towns – one famous example is the Mercado de Bolhao, which is found in the town of Porto. Porto Marinada's lighthouse, which players can climb to test out Koraidon or Miraidon's flying skills after beating a few Titan Pokemon, greatly resembles the one found in the town of Nazare.
Of course, the architecture of Paldea's towns and cities is far from the only inspiration the region draws from the real-life Iberian Peninsula. The final evolution of the starter Quaxly brings to mind carnival performers, while the Generation 1 Pokemon Tauros gained three regional forms based on the Toro Bravo, the type of bull used in Spanish bullfighting. Even the restaurants around Paldea include some Spanish favorites, such as paella, churros, and the tasty meats and potato tortillas that can serve as sandwich fillings when trainers picnic with their Pokemon. As with previous regions, Paldea did a good job of incorporating its real-world inspiration, making Pokemon fans happy both in Spain and Portugal and around the world.
Pokemon Scarlet and Violet are currently available for the Nintendo Switch.
MORE: Why Larry is Subtly The Best Pokemon Scarlet and Violet Gym Leader
bottikcointo
bottikcointo
bottikcointo
bottikcointo
bottikcointo
bottikcointo
bottikcointo
bottikcointo
bottikcointo
bottikcointo
bottikcointo
bottikcointo
bottikcointo
bottikcointo
bottikcointo
bottikcointo
bottikcointo
bottikcointo
bottikcointo
bottikcointo
bottikcointo
bottikcointo
bottikcointo
bottikcointo
bottikcointo
bottikcointo
bottikcointo
bottikcointo
bottikcointo
bottikcointo