A Genshin Impact fan-made concept manages to combine the Zubayr Theater star Nilou and Yu-Gi-Oh!'s Dark Magician Girl into one character.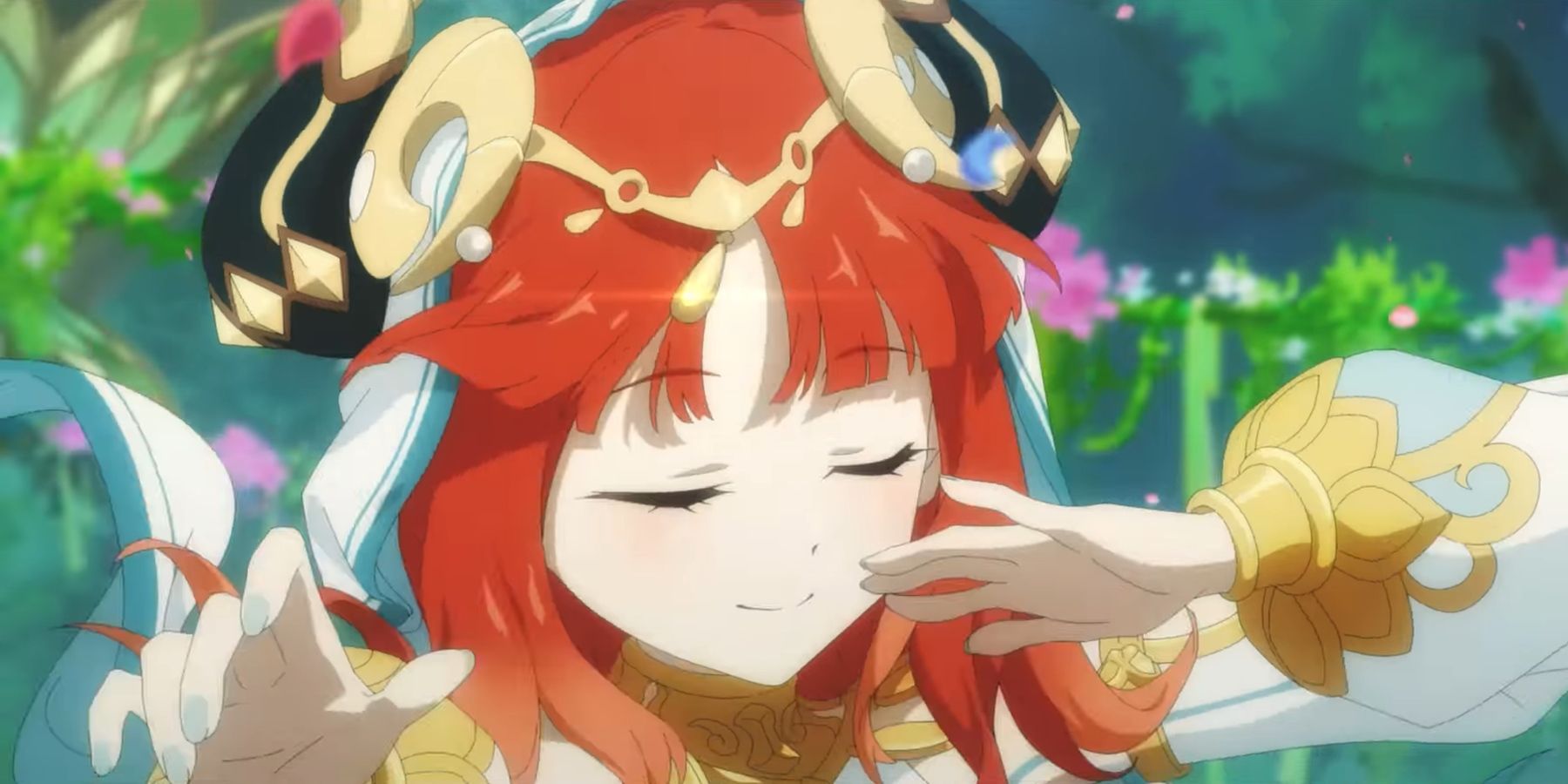 A Genshin Impact player has shared an interesting fan-made concept that turns the recently released Hydro user Nilou into the Dark Magician Girl from the Yu-Gi-Oh! franchise. The concept also features another popular character named Cyno who is known to be an experienced TCG player.
Both Nilou and Cyno were released in the previous Genshin Impact version 3.1 which also included a new four-star character named Candace. What's even more potentially exicting for fans is that the game's official social media accounts have officially confirmed that a new type of permanent game mode is scheduled to arrive in the next update.
RELATED: Genshin Impact Helpful Infographic Shows Daily Domain Rotation Materials
Reddit user Moodycat12 has shared an impressive piece of art showing Nilou dressed as the Yu-Gi-Oh! character named Dark Magician Girl, the female counterpart of the Dark Magician who is one of the most popular characters in the franchise. Developer HoYoverse has recently announced a new type of permanent game mode named Genius Invokation TCG which could be the main source of inspiration for this type of artwork. Moodycat12 is very popular in the Genshin Impact community for creating similar impressive pieces of art and this one is no exception, reaching over 7k upvotes.
A couple of comments claim that this concept makes players even more excited about the upcoming Genshin Impact TCG mode which will apparently feature over 200 different cards. While there is still no official information about how the rules of the game, recent leaks have been hinting that it will revolve around using up to eight different elemental dice for each turn. Fans seem to like the fact that Nilou was chosen to be the main character of the concept since she shares a similar personality with Dark Magician Girl.
She has a unique type of play style that revolves around one specific elemental reaction named Bloom. Nilou's kit is designed to enhance this elemental reaction that can be triggered by combining Hydro with the new Dendro element. The Dendro Cores dropped by Bloom become much stronger thanks to one of her passive talents which has a great impact on the damage potential of the whole team comp.
The second character shown in the concept, Cyno, plays an important role in the Sumeru storyline. Known as General Mahamatra, he is the leader of the Matra which is a special group of disciplinary officers who serve the Sumeru Akademiya. Unlike Nilou, Cyno is a strong Genshin Impact DPS character who thrives while staying on the field. Players often tend to pair Cyno with another Electro user like Fischl who serves as the battery in case he runs out of Energy.
Genshin Impact is available now for PC, PS4, PS5, and mobile devices. A Switch version is in development.
bottikcointo
bottikcointo
bottikcointo
bottikcointo
bottikcointo
bottikcointo
bottikcointo
bottikcointo
bottikcointo
bottikcointo
bottikcointo
bottikcointo
bottikcointo
bottikcointo
bottikcointo
bottikcointo
bottikcointo
bottikcointo
bottikcointo
bottikcointo
bottikcointo
bottikcointo
bottikcointo
bottikcointo
bottikcointo
bottikcointo
bottikcointo
bottikcointo
bottikcointo
bottikcointo