A Disney Dreamlight Valley player creates a stunning entrance for Merlin's Home using the Celestial items, complete with a wishing well.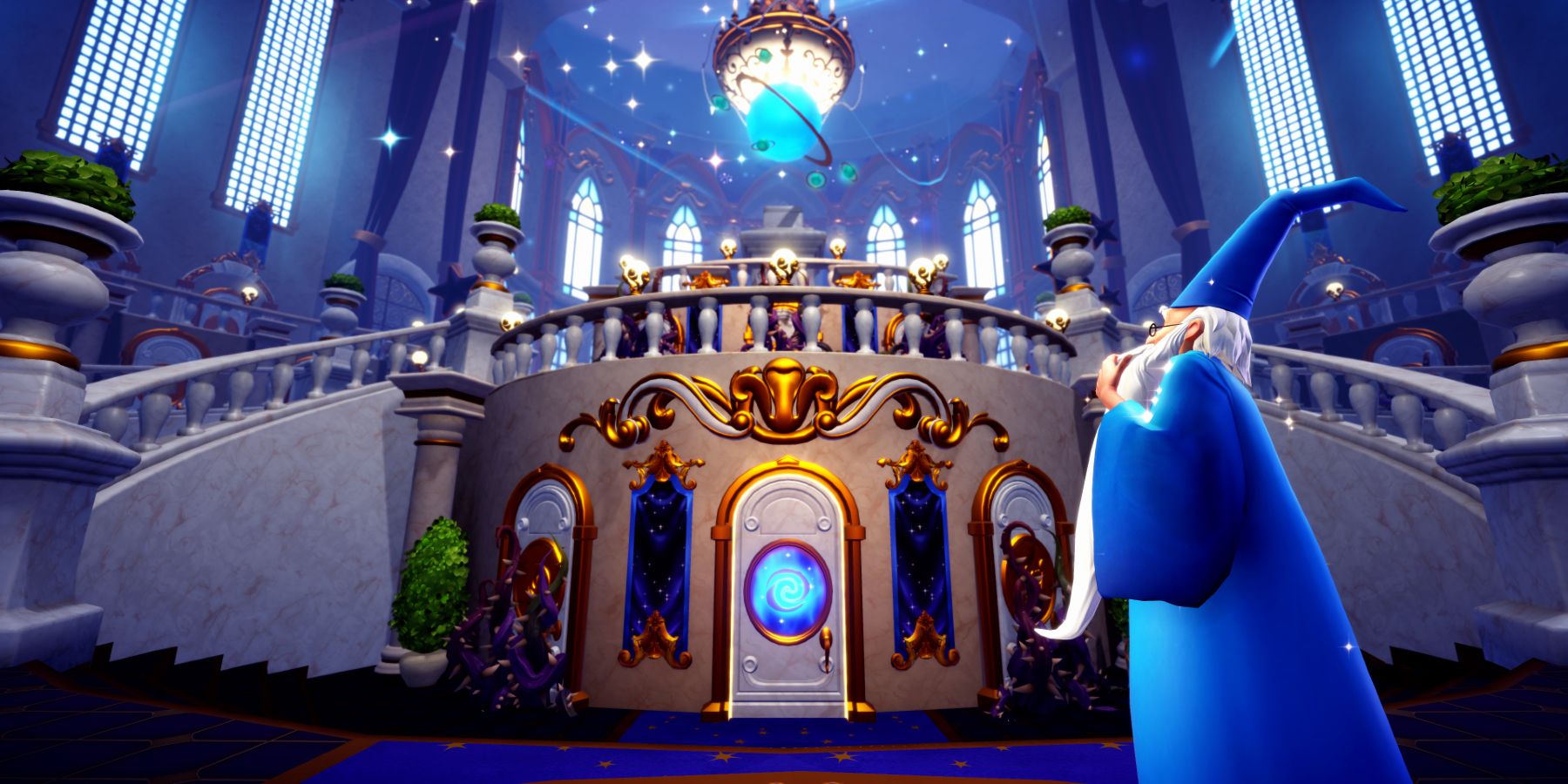 A Disney Dreamlight Valley player created a grand entrance for Merlin's house. There are plenty of items for gamers to acquire in the life sim, which in Disney Dreamlight Valley range from clothes to home decorations. This grants players a ton of freedom as they use what is found in any manner that they wish.
Gamers are able to use decorations in order to change the look of their valley. Disney Dreamlight Valley players can customize areas in a large variety of ways, making each playthrough unique. One gamer was able to use a group of items in order to help upgrade Merlin's home.
RELATED: Disney Dreamlight Valley Player Recreates Hogwarts' Dining Hall
A Reddit user named TillThatTime posted images of the upgrade that they gave Merlin's home. Using the Celestial items, they created an amazing entrance for the character's abode. It includes blue bushes and flowers, banners featuring the sun and the moon, and a wishing well. According to TillThatTime, they struggled with using the Celestial items in their village and felt that Merlin's house would be the perfect area to use them. The decorations fit the Disney Dreamlight Valley character's home incredibly well and give it a much more magical feeling.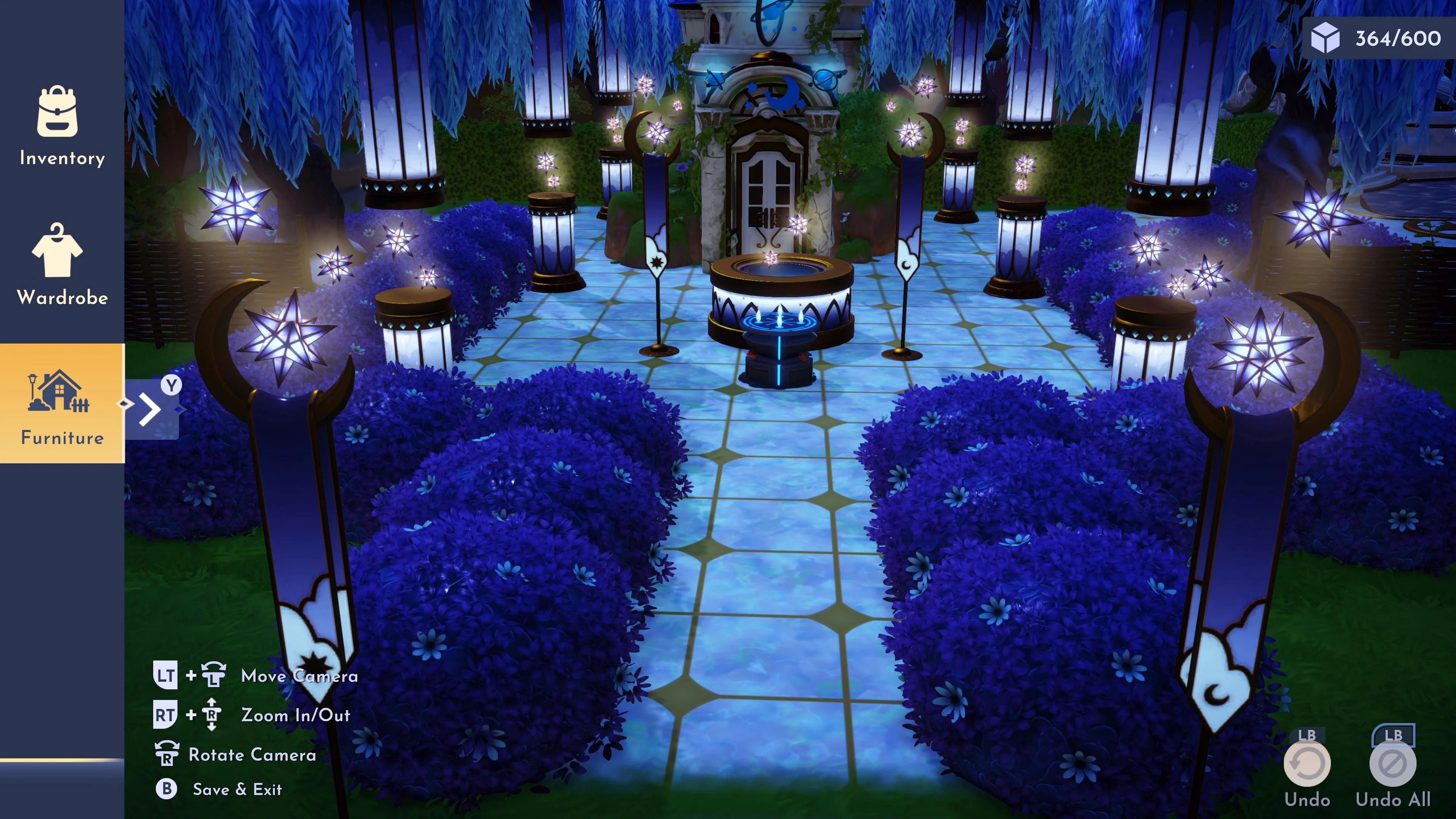 More images can be seen at TillThatTime's original Reddit post.
A number of gamers feel that the Celestial items look good around Merlin's house, with one stating that they did the exact same thing. A few users brought up how much work it must have taken in order to place everything correctly, which led TillThatTime to joke about placing down the paving. There were also a number of other Disney Dreamlight Valley players discussing where they used the Celestial items, with one saying that they used them for Anna's home, as the gamer felt the decorations went well with the iced trees.
Merlin is one of the first characters that players will come across in Disney Dreamlight Valley. He will act as a guide to the valley and helps gamers find the tools that they need to shape up the area. Merlin's house can be found in the Peaceful Meadow and will give players a number of quests to complete. These quests include unlocking the Dream Castle, building friendships with a number of the characters that reside in Dreamlight Valley, and progressing the story. Merlin's friendship rewards include a number of Motifs and the Wizard Hat for gamers to wear. Out of all the residents of the Dreamlight Valley, Merlin is probably one of the most important as he helps players progress through the story and slowly guide them in their playthrough.
Disney Dreamlight Valley is available now for PC, PS4, PS5, Switch, Xbox One, and Xbox Series X/S.
MORE: Disney Dreamlight Valley: 5 Things That Should BBe Improved Before The Game's Full Launch
bottikcointo
bottikcointo
bottikcointo
bottikcointo
bottikcointo
bottikcointo
bottikcointo
bottikcointo
bottikcointo
bottikcointo
bottikcointo
bottikcointo
bottikcointo
bottikcointo
bottikcointo
bottikcointo
bottikcointo
bottikcointo
bottikcointo
bottikcointo
bottikcointo
bottikcointo
bottikcointo
bottikcointo
bottikcointo
bottikcointo
bottikcointo
bottikcointo
bottikcointo
bottikcointo