Yae Miko is a great Sub-DPS at C0, and her Genshin Impact Constellations can significantly increase her performance.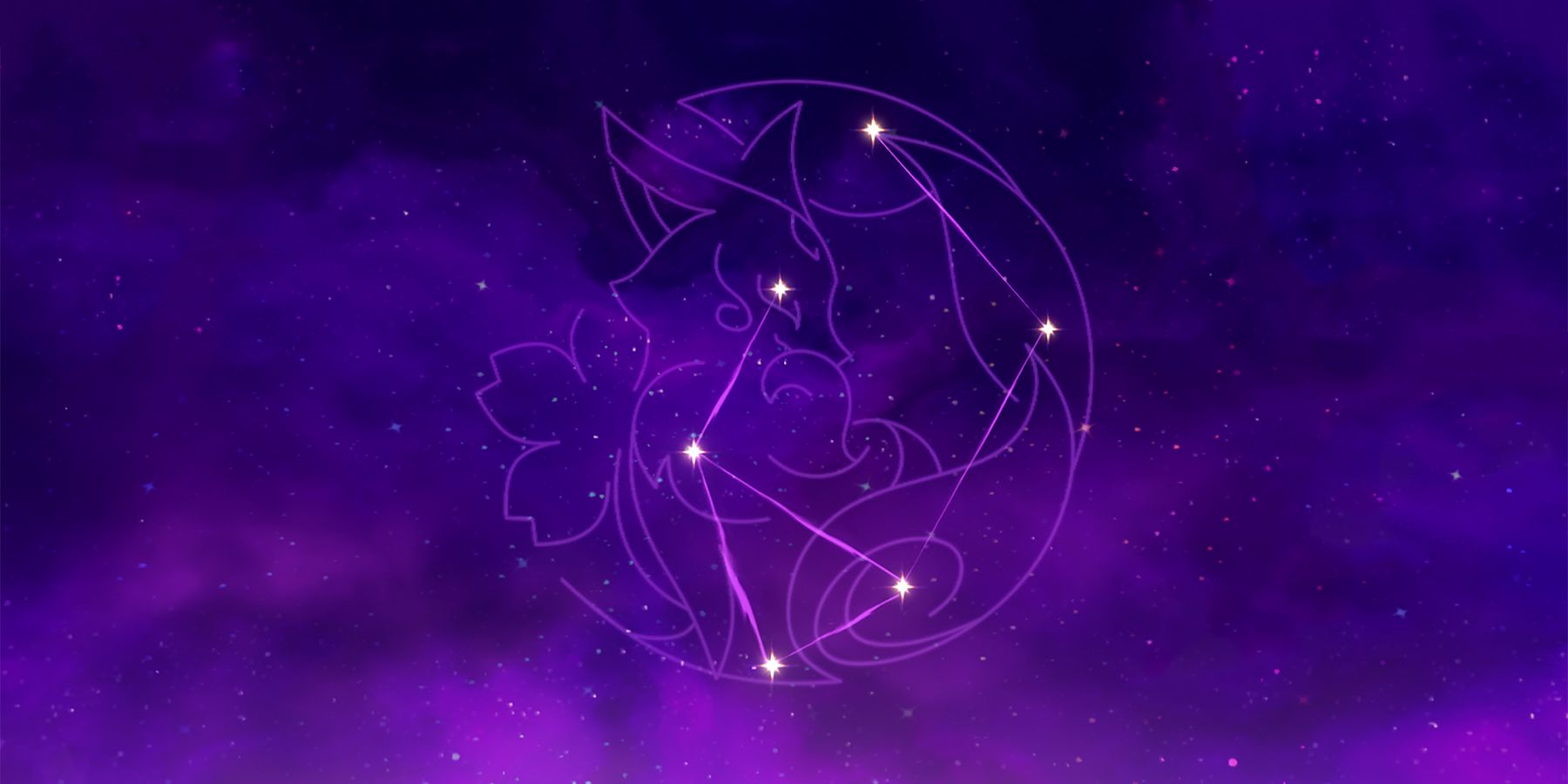 The Guuji of the Narukami Shrine is an amazing Sub-DPS in Genshin Impact, once players get over the fact that she takes a while to set up her "Right here, right now," Skill. She can deal decent Electro damage effortlessly, and with the existence of Dendro Elemental Reaction in Genshin Impact 3.0, her performance surely sees some improvement.
Other than relying on Elemental Reactions, however, players can also aim to get copies of Yae Miko to unlock her Genshin Impact Constellations. This article will explain the worth of each of Yae Miko's Constellations before Travelers spend their Primogems.
RELATED: Genshin Impact: Best Weapons For Layla
Is Getting Yae Miko Constellations Worth It In Genshin Impact?
Yes, getting Yae Miko's Constellations is worth it in Genshin Impact. Her C2 and C6 are her best Constellations since they help maximize her DMG, especially when she's off-field. For players that aren't planning to go all out on Yae, reaching her C2 is enough progression to get more DMG on her Elemental Skill.
C1 – Yakan Offering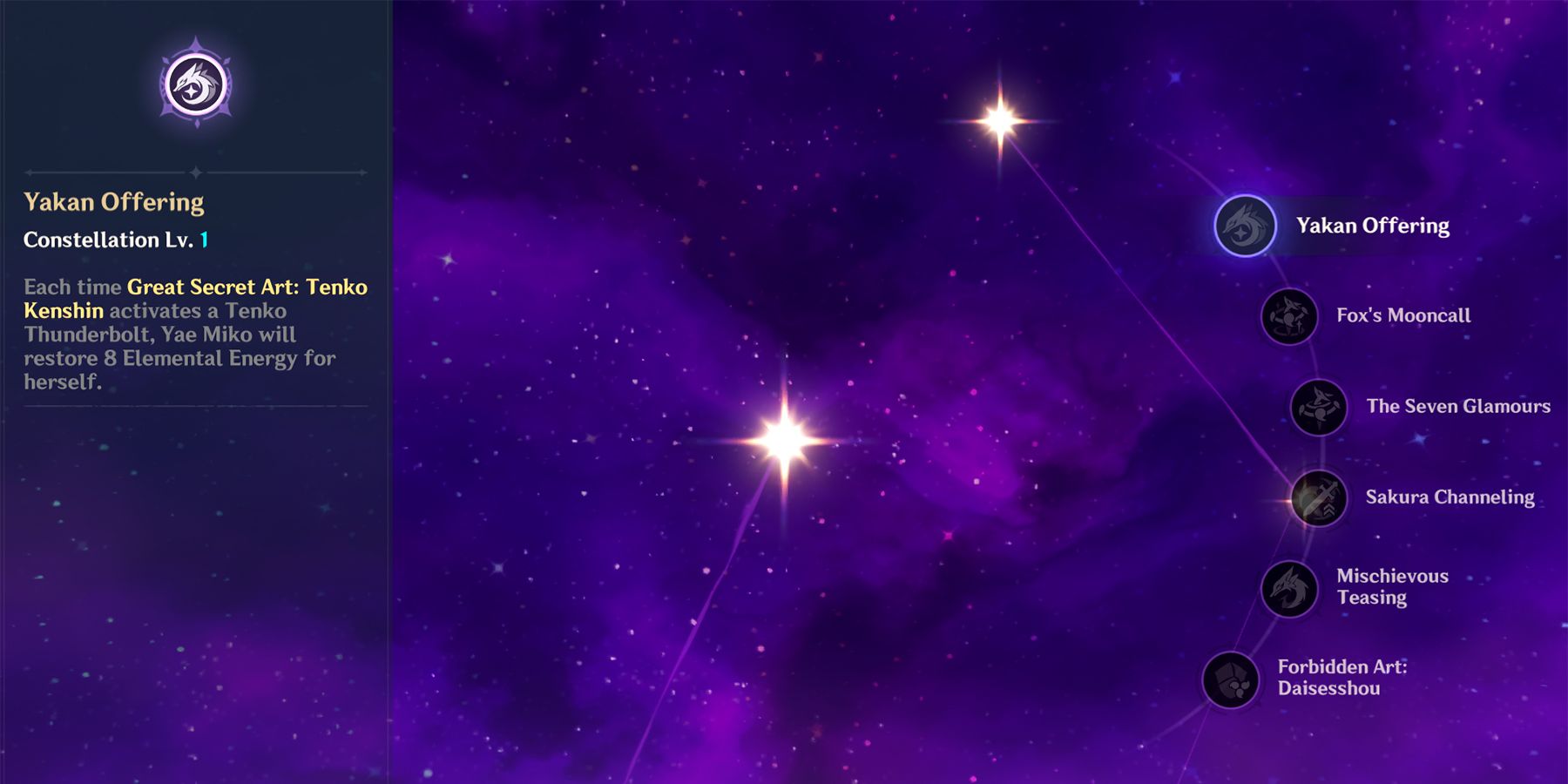 Effect: Each time Great Elemental Burst activates a Tenko Thunderbolt, Yae Miko will restore 8 Elemental Energy for herself.
Importance: High
People should not underestimate Yae Miko's Elemental Burst in Genshin Impact. While it's great, it also requires 90 energy to get it back. That requirement can be met with different methods, like having two Electro units in the same team, buff Yae's Energy Recharge, or, unlocking her first Constellation, which will regenerate up to 24 Energy.
C2 – Fox's Mooncall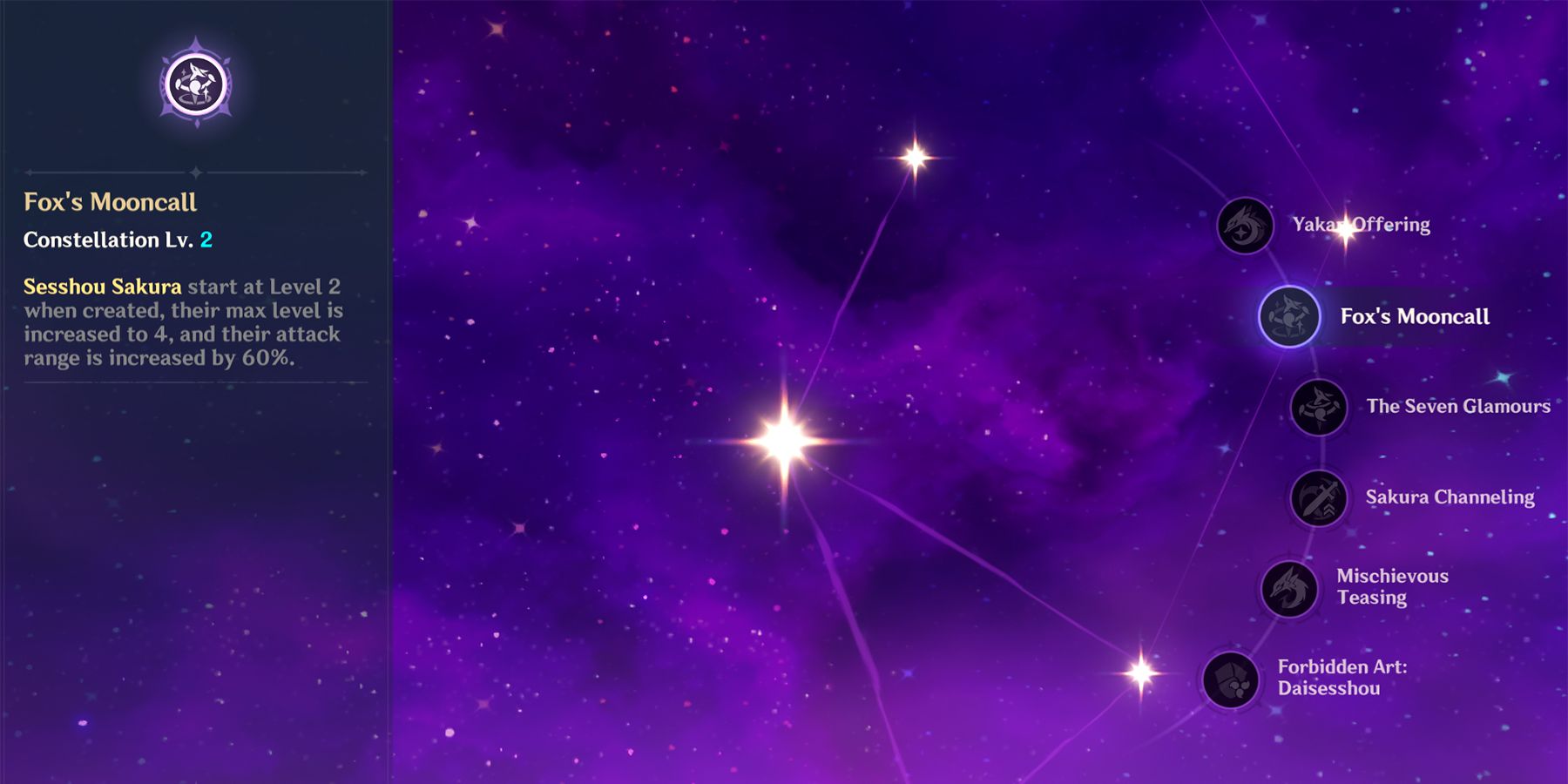 Effect: Elemental Skill start at Level 2 when created, their max level is increased to 4, and their attack range is increased by 60%.
Importance: Priority
C2 Yae Miko increases her DMG and range. This helps enhance Yae's role as an off-field Sub-DPS.
C4 – Sakura Channeling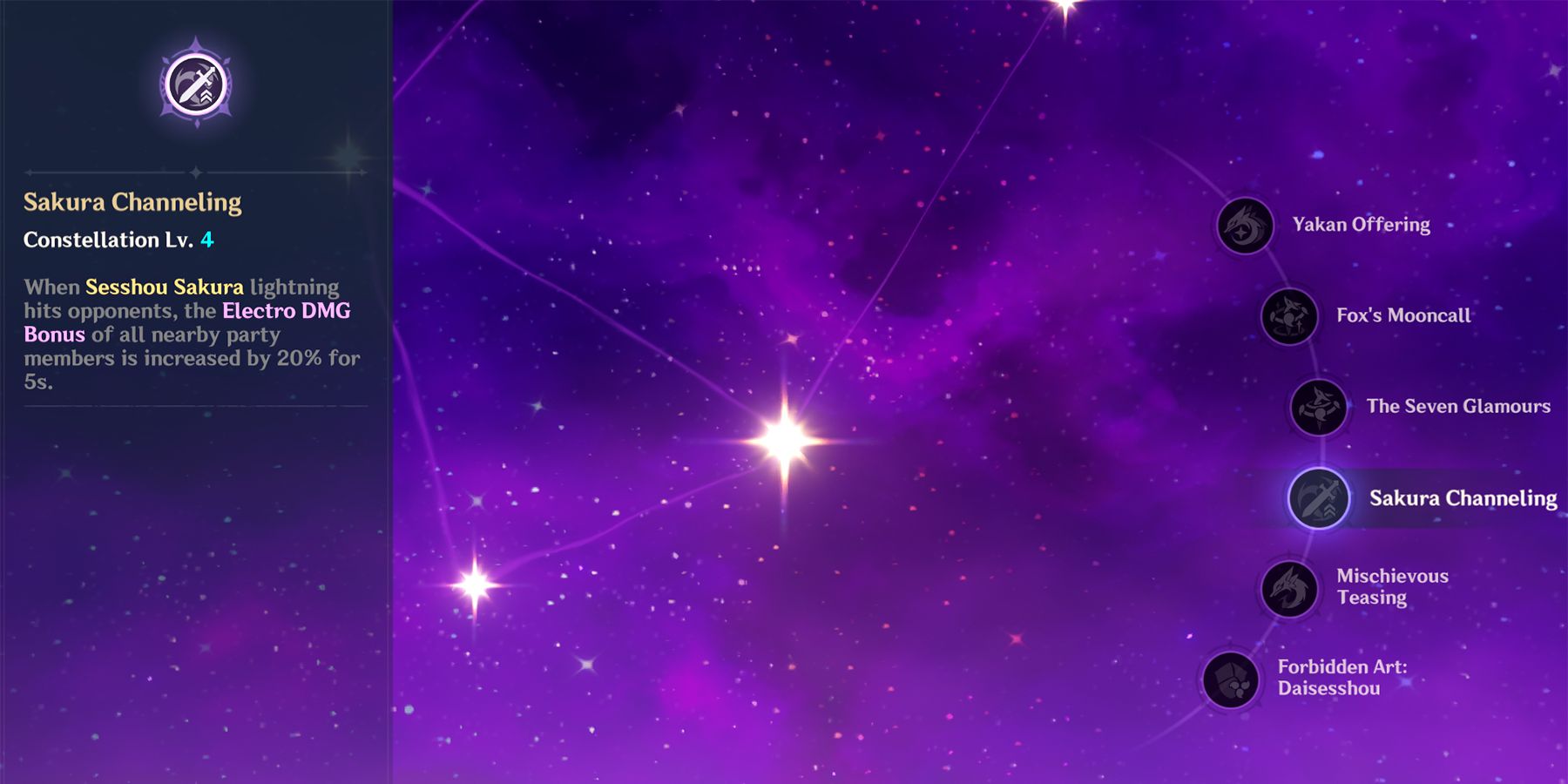 Effect: When Elemental Skill's lightning hits opponents, the Electro DMG Bonus of all nearby party members is increased by 20% for 5s.
Importance: Low
Unfortunately, Yae's Constellations can't continue to be perfect with one after the other. C4 Yae Miko offers a small amount of Electro DMG to her team for five seconds as long as her Elemental Skill hits an enemy.
C6 – Forbidden Art: Daisesshou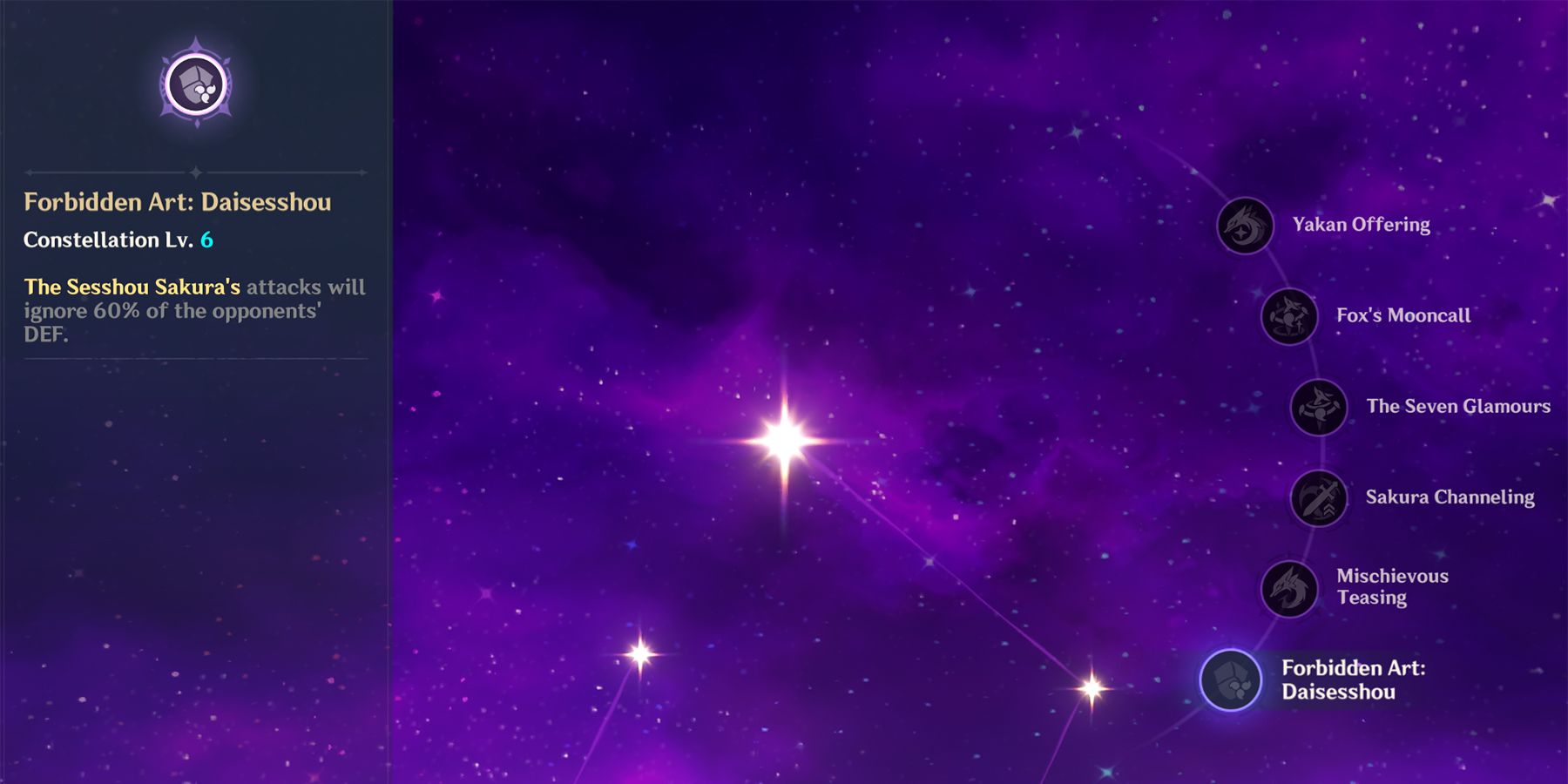 Effect: Elemental Skill will ignore 60% of the opponent's DEF.
Importance: Priority
Unsurprisingly, here is where the true power resides. Players who got C6 Yae Miko can now enjoy her ignoring a whopping 60% of enemies' DEF on her Elemental Skill. That kind of DMG combined with the Electro and Dendro reaction in Genshin Impact will provide some crazy off-field numbers and add more effectiveness to the team.
Genshin Impact is now available on Mobile, PC, PS4, and PS5. A Switch version is in development.
bottikcointo
bottikcointo
bottikcointo
bottikcointo
bottikcointo
bottikcointo
bottikcointo
bottikcointo
bottikcointo
bottikcointo
bottikcointo
bottikcointo
bottikcointo
bottikcointo
bottikcointo
bottikcointo
bottikcointo
bottikcointo
bottikcointo
bottikcointo
bottikcointo
bottikcointo
bottikcointo
bottikcointo
bottikcointo
bottikcointo
bottikcointo
bottikcointo
bottikcointo
bottikcointo