While it can be fun to play other positions in Madden NFL 23, it's hard to argue that a great quarterback doesn't directly contribute to wins. When building a team, starting with anything other than an elite quarterback is likely going to be a mistake.
RELATED: Madden 23 Should Overhaul In-Season Player Progression
Of course, if the goal is fun, go ahead and pick a favorite team or position. No true gamer can argue against games being a good time. But if the stakes are high and pride is on the line, Madden NFL 23 strongly incentivizes using one of these players. They'll be able to cover for user mistakes and team flaws.
Updated on November 20th, 2022 by Hodey Johns: With the regular season about halfway over, it's now time to have a new look at these players. As usual, there are some ratings that proved to be frighteningly accurate and others that have left gamers scratching their heads. There is no single rule of thumb regarding the way players dramatically exceed or fail to live up to expectations. The Madden franchise has generally not made changes due to injury, so that's off of the table. Still, the year has a way of showing other sides of the previous estimations, giving ratings adjusters new estimations. This is where the players stand now at this point in the season.
Tua Tagovailoa – 84 OVR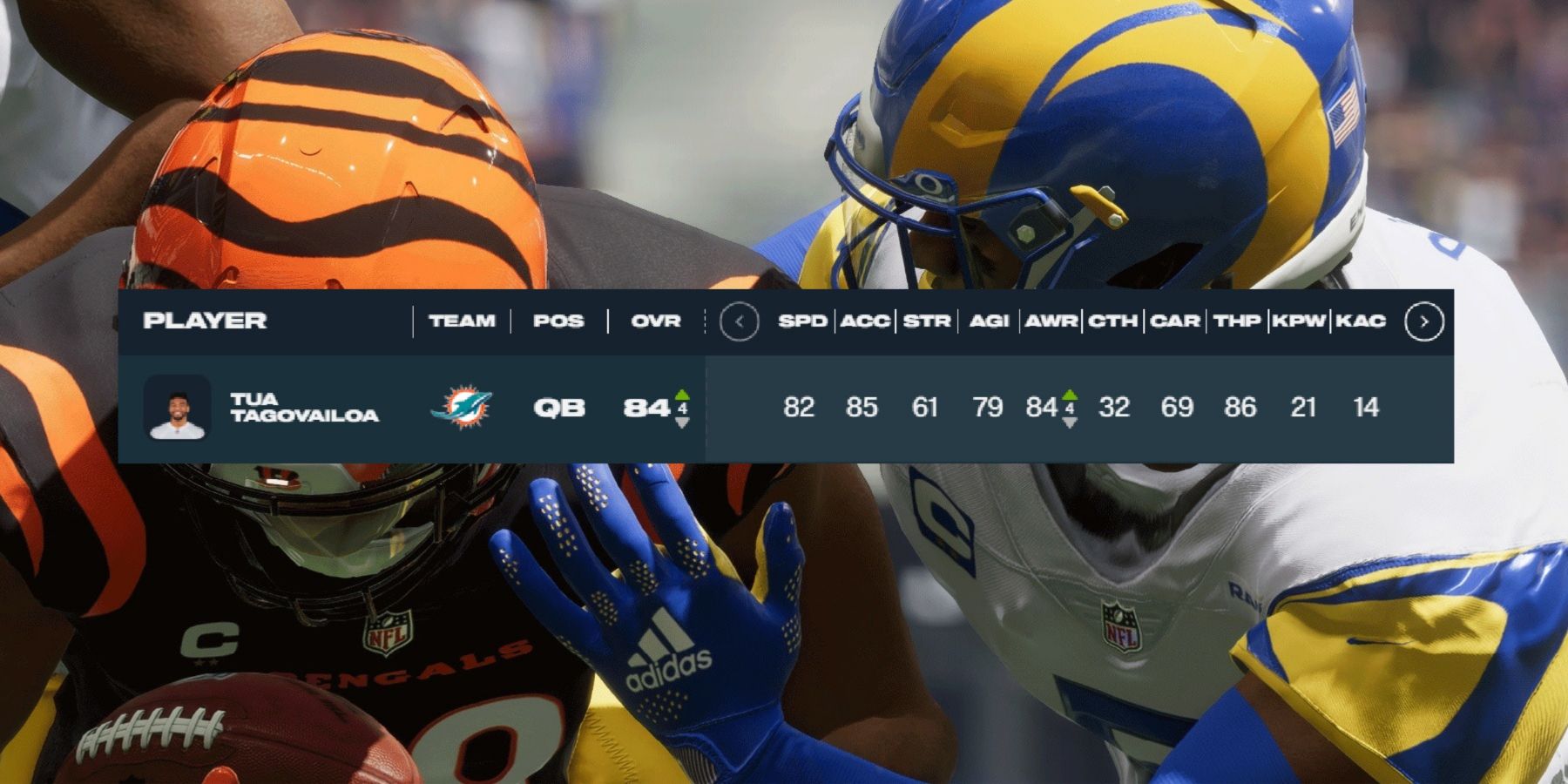 The Miami Dolphins flirted with the idea of jettisoning Tua Tagovailoa but instead decided to build around him. That move proved to be genius and Tagovailoa has increased by nine points in rating, putting him in the top ten list.
After one of the scariest concussions in the history of sports, fans are hoping Tagovailoa remains healthy. He certainly deserves all the accolades he's getting, clearly being one of the most underappreciated players for the last several years.
Deshaun Watson – 85 OVR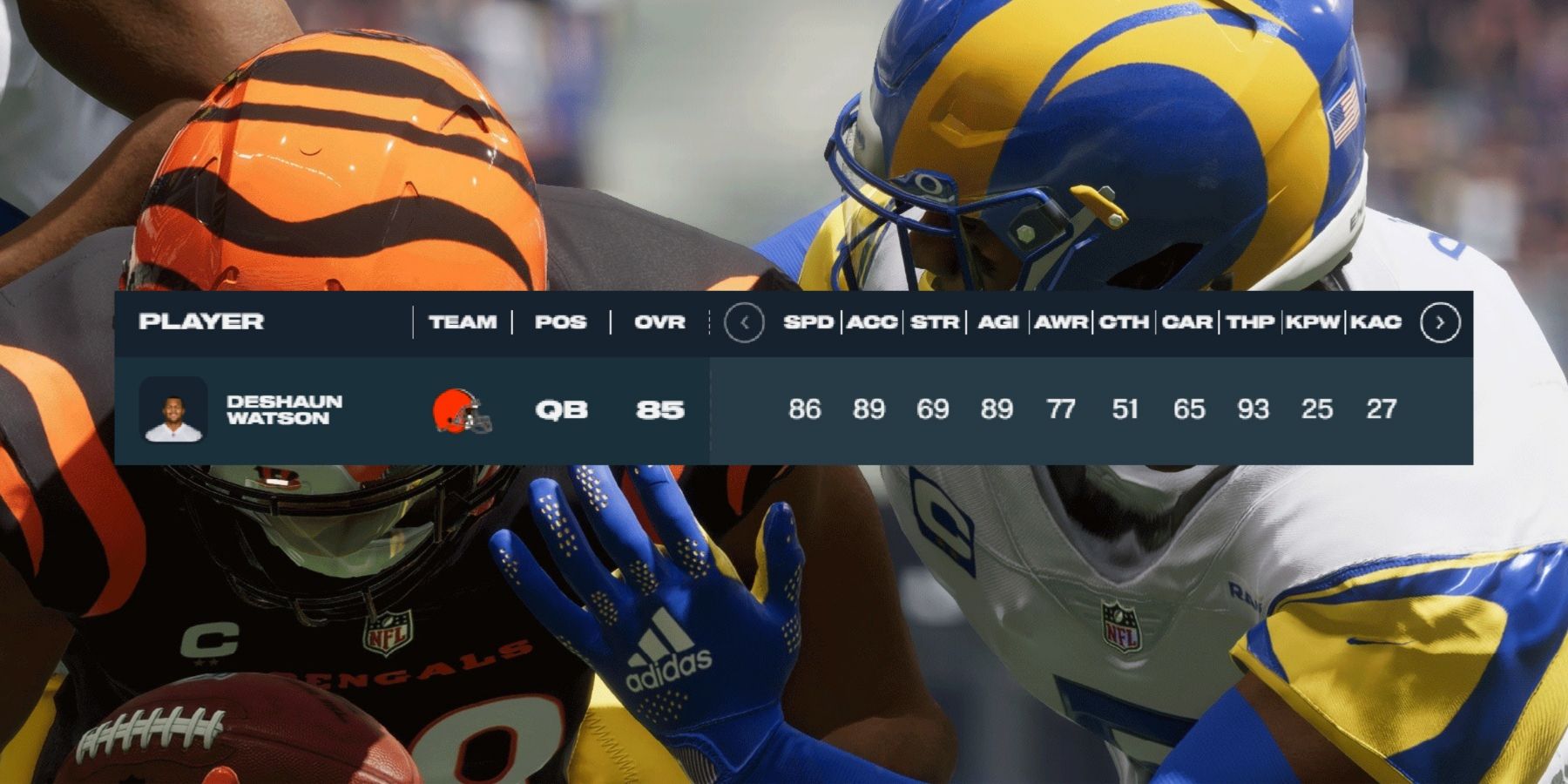 Sexual assailant and quarterback Deshaun Watson has, for some inexplicable reason, been adjusted several times during this season to increase his attributes. This is despite not being allowed to be around team facilities due to his aforementioned sexual assaults.
His talent is undeniable and his current rating may even prove to be too low. But how he's increased from a 71 awareness rating to a 77 is beyond comprehension. Especially for somebody who has so little awareness of how to apologize without taking it back.
Dak Prescott – 87 OVR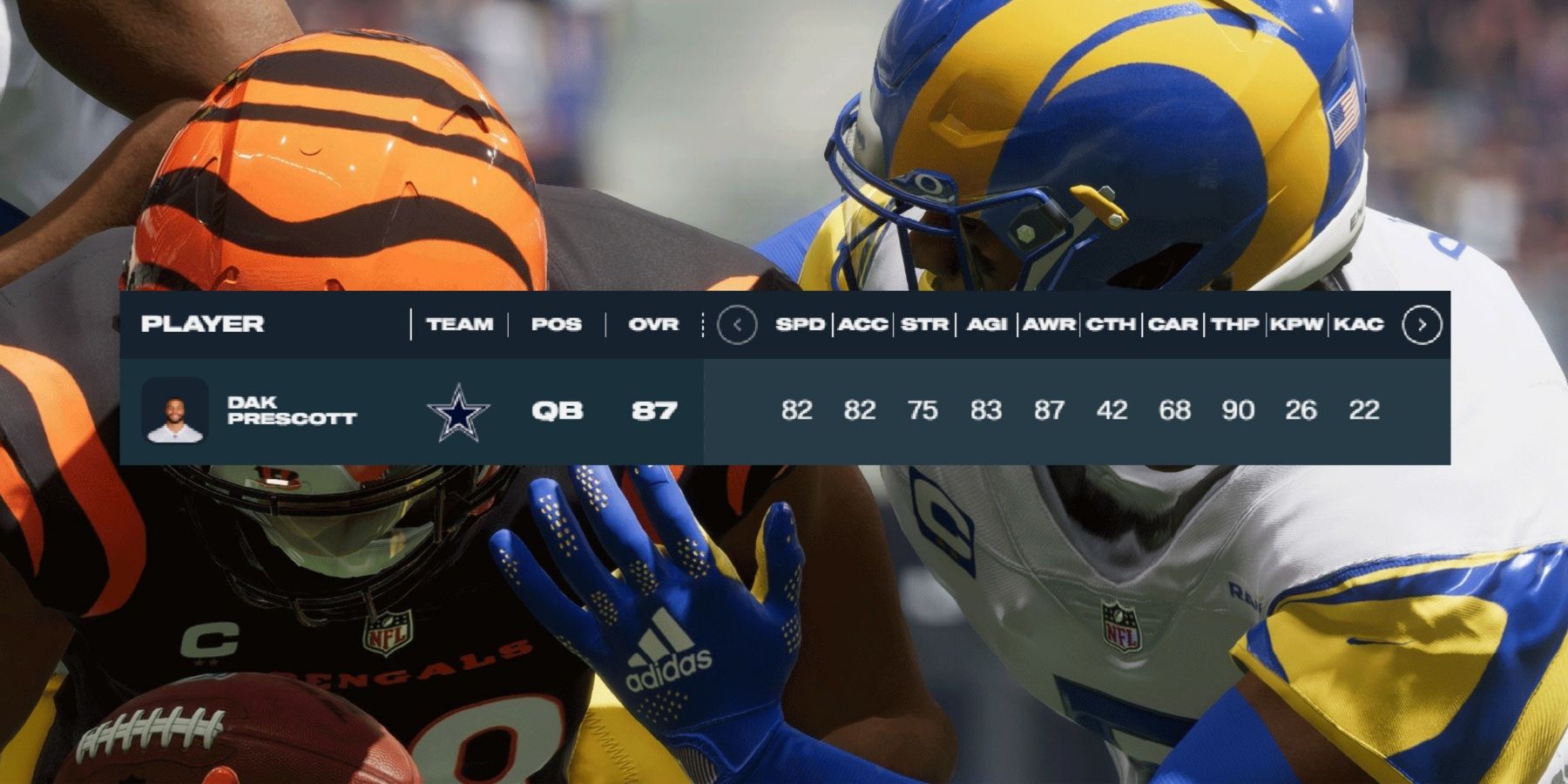 If it weren't for Aaron Rodgers (who will be mentioned later in this list), experts would be nonstop raving over how smart Dak Prescott is with the ball. For the number of touchdowns he throws, his interceptions are so low. With a little consistency and a quiet season from the usually lively rumor mill this year, Prescott and the Cowboys could have taken an impressive step forward.
Things didn't go according to plan. Prescott was injured and his backup, Cooper Rush, went on a winning streak without him. Now with Prescott back, the wins have been hard to come by. To be fair, most experts believe Prescott is the better starter, but this development certainly wasn't helpful for Prescott's ratings.
Justin Herbert – 89 OVR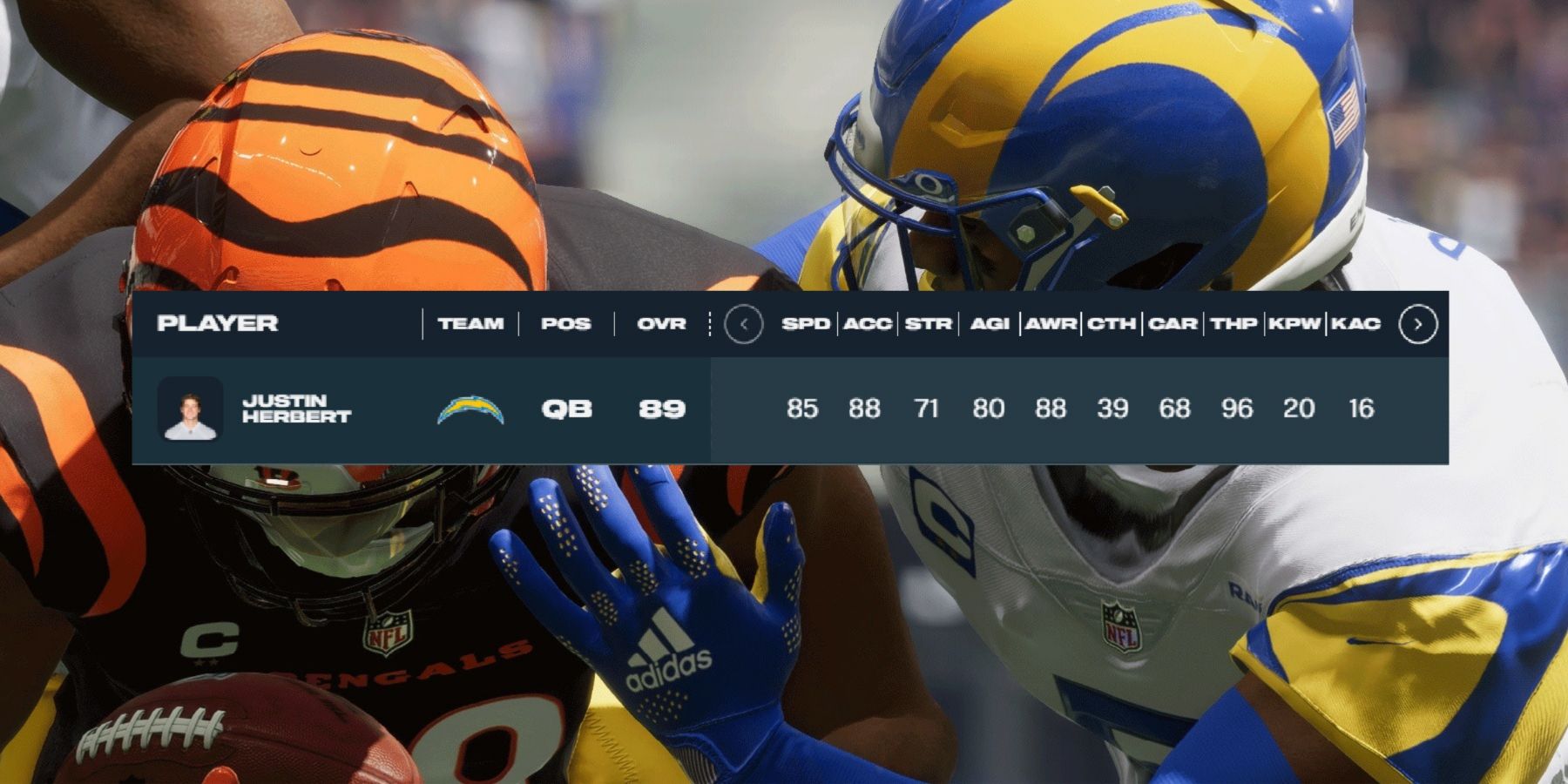 The defense for the L.A. Chargers is as flashy as the game's cover art. It's clear that somebody in upper management believes that improving on defense is all the Chargers need to do to make the playoffs. They probably think that because Justin Herbert is their quarterback, so no extra help is needed on offense.
RELATED: Madden NFL 23 Reveals Another 99-Rated Player
Last year, Herbert cracked 5,000 passing yards and was third in passing touchdowns with a subpar supporting cast. Unfortunately, not giving Herbert more weapons has proved to be a costly error. This year has been ugly for the passer's team as it seems every starter has been racked with injuries. Herbert has actually increased in rating by a single point in recognition of him doing everything he can on an offense in absolute shambles.
Joe Burrow – 90 OVR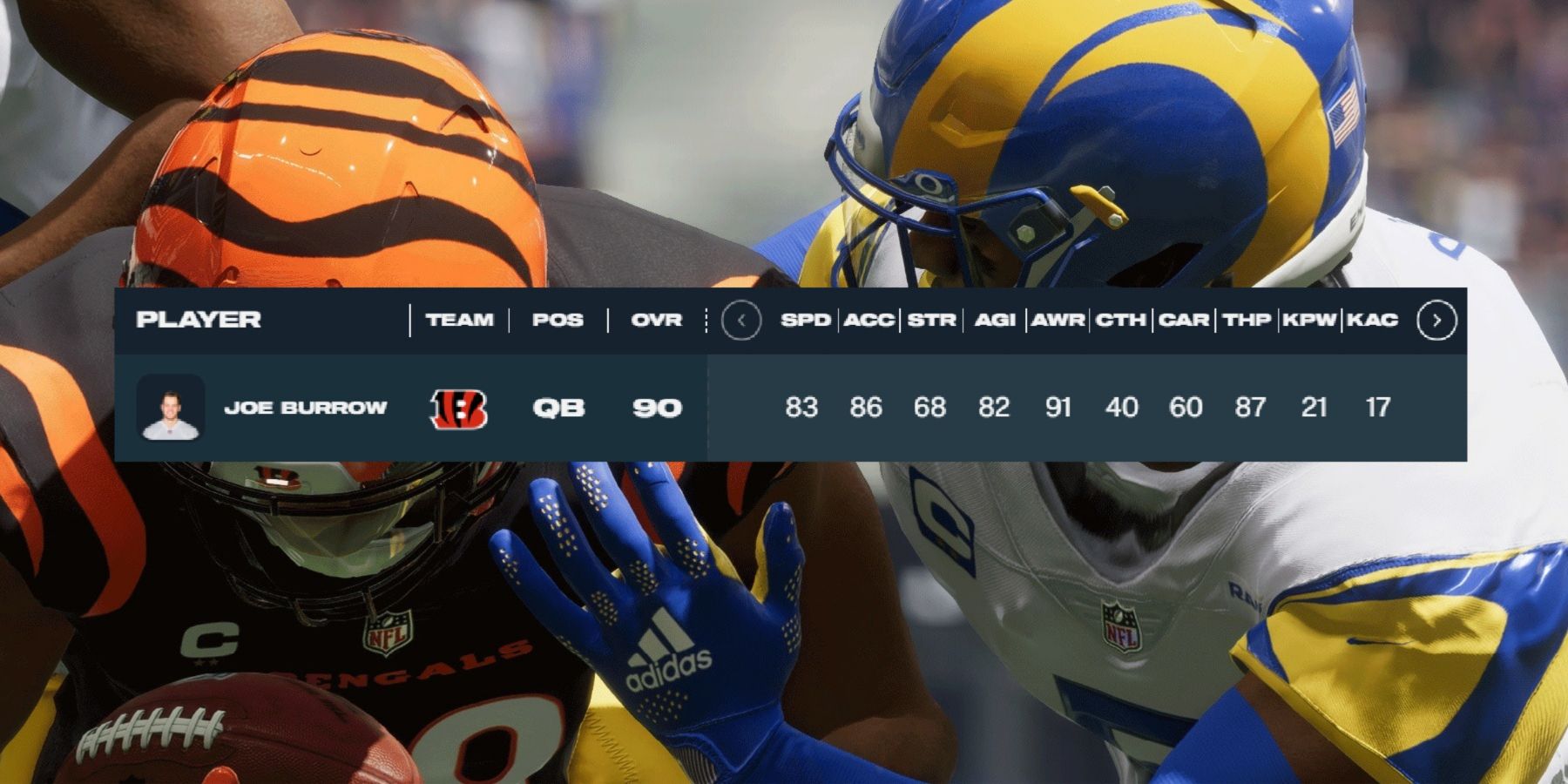 As Madden NFL 23 is seeking ways to improve its franchise mode, it'll be going on a similar journey to the Cincinnati Bengals. Despite making the Super Bowl last year and leading for a good chunk of the game, it was clear that changes were needed for the Bengals to contend again.
The Bengals made those changes on the offensive line but the line looked awful at the start of the year. They're finally starting to play like the Pro Bowlers they are. As a result, Joe Burrow began the year tanking in rating and now has risen again to the same rating and rank that he was to start the season.
Aaron Rodgers – 91 OVR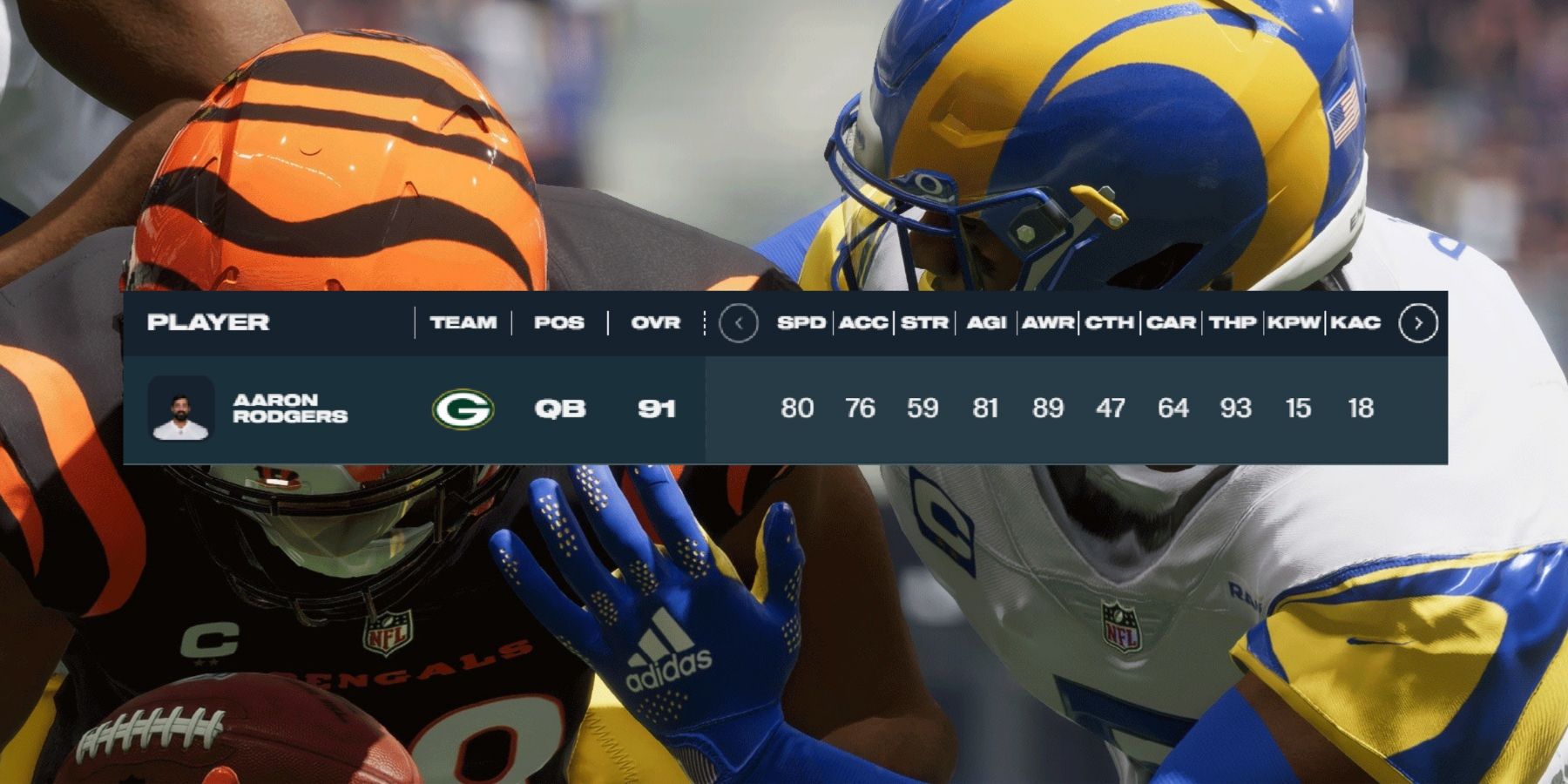 When comparing Madden NFL 22 to Madden NFL 23, it should be pretty clear that Aaron Rodgers deserves respect. He won the last two MVP awards and was second on this list at the beginning of the year. But a hurt thumb and the loss of Davante Adams this offseason have sent one of the game's best-ever quarterbacks spiraling downward.
Some theorize he's just now developing a rapport with his younger wide receivers. Christian Watson had some horrific drops early but is getting things turned around. Sammy Watkins is making plays. Randall Cobb has returned from injury. Allen Lazard, Marcedes Lewis, and Robert Tonyan are becoming more dependable. Rodgers has fallen on this list, but it won't be surprising if he turns it around before the year is up.
Lamar Jackson – 91 OVR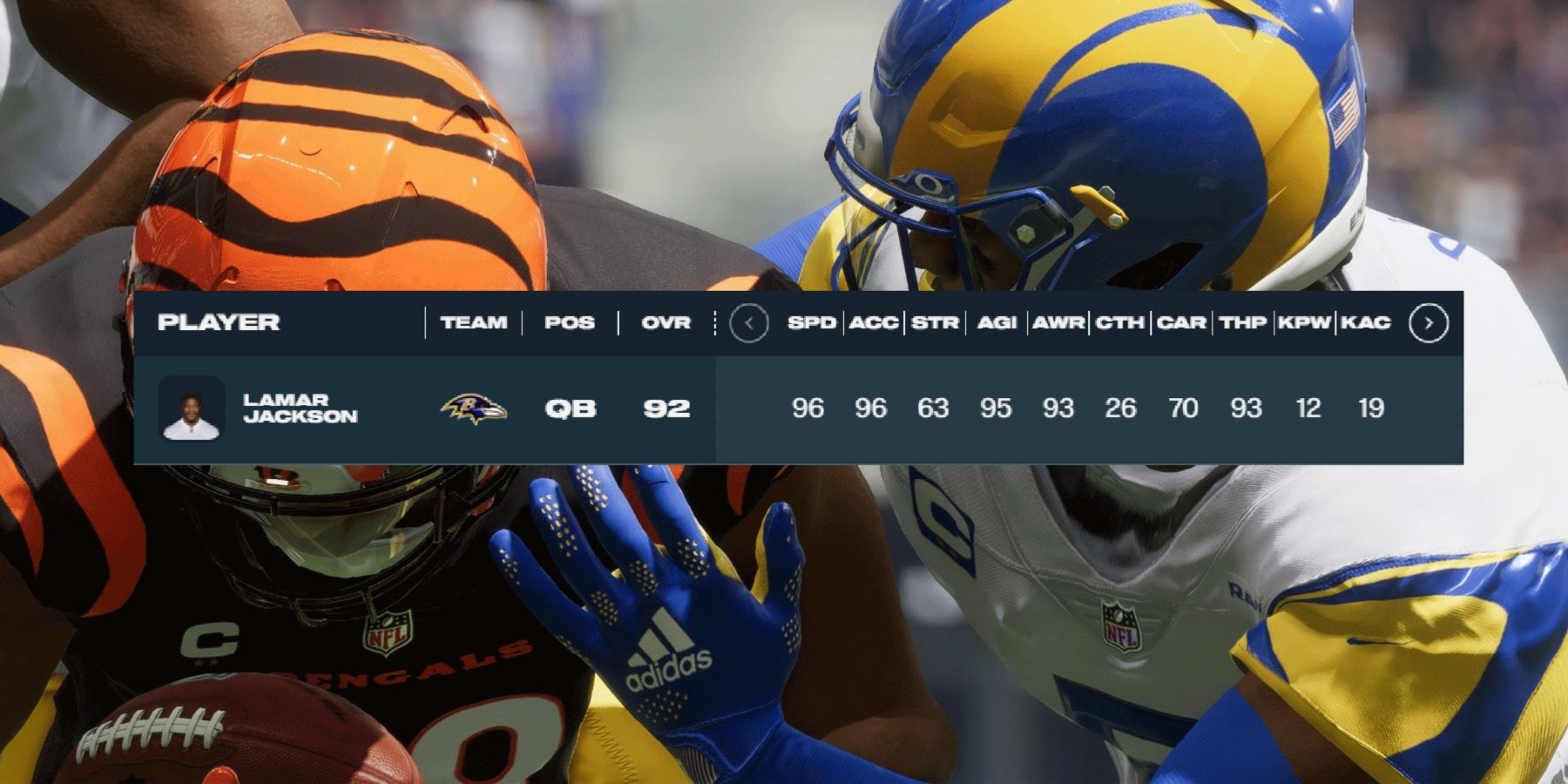 If it weren't for injuries, there is a case to be made that the Baltimore Ravens would be in the thick of a dynasty right now. Unfortunately, this team has had to deal with brutal injuries to key players, most of the time before the regular season even begins.
Lamar Jackson is no exception, missing a huge chunk of the last season with an injury. Not given a new contract, perhaps due to this injury, Lamar Jackson is having the typical "prove it" year, putting the team on his back at clutch moments. He's way higher on this list than he was when the season started.
Tom Brady – 93 OVR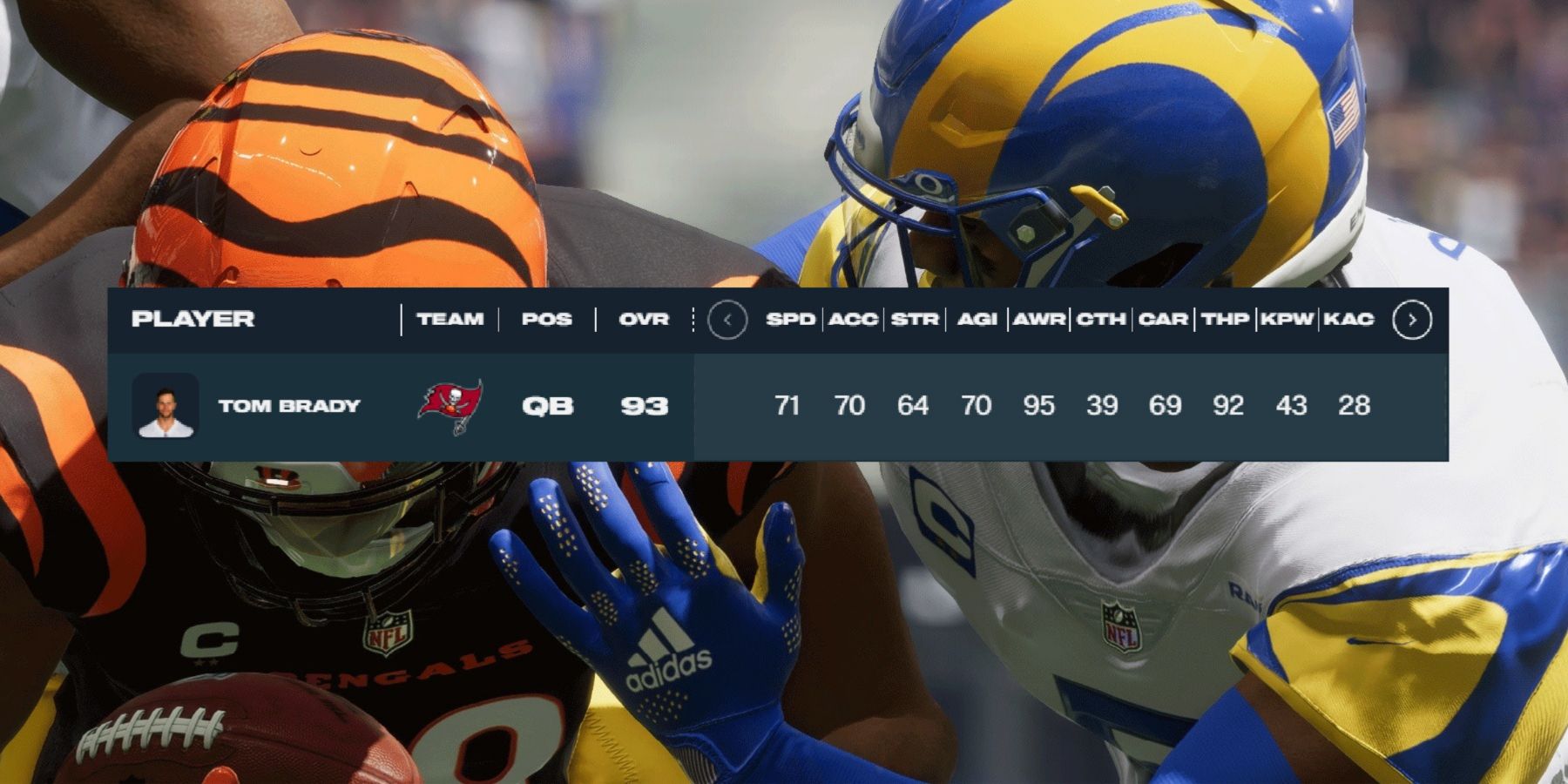 Although Aaron Rodgers got 39 votes for MVP to Tom Brady's 10, the ratings adjusters weren't convinced that Brady wasn't the better quarterback in the 2021-2022 season. He started the year at the top of this list, but things haven't gone as planned.
RELATED: New Madden NFL 23 Trailer Details FieldSENSE Gameplay System
Despite leading the league in touchdowns (43) and passing yards (5,316) last year, Brady has fallen into a slump, often getting carried to slight wins thanks to his defense. Injuries, trades, and retirements have not bolstered his surrounding cast. Even so, Brady has been ageless, and some have made the comparison to Peyton Manning's final year where he managed the game just well enough to win a Super Bowl. This could easily be a template for Brady this season.
Josh Allen – 94 OVR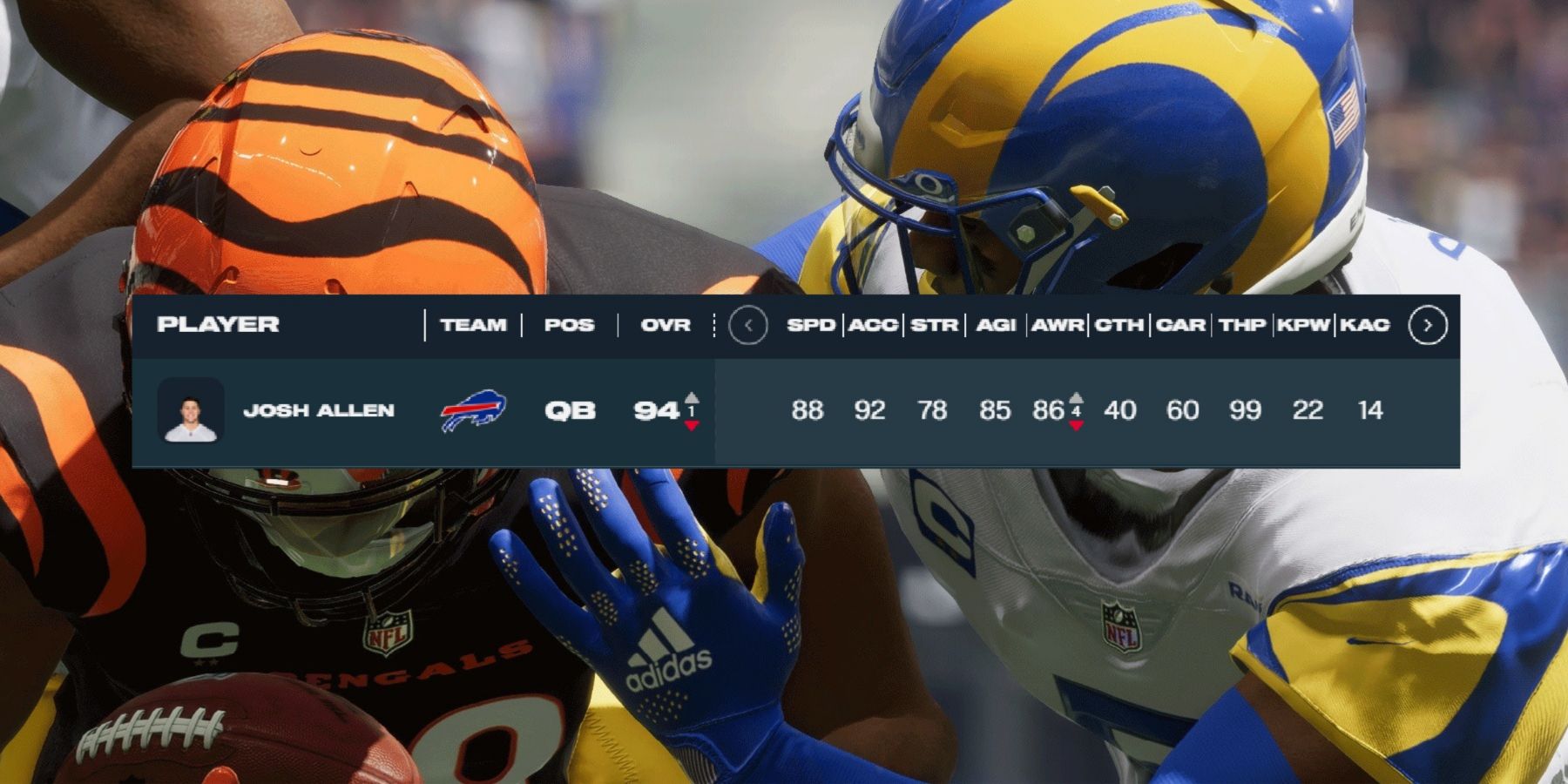 The Buffalo Bills have been a trendy pick to win the Super Bowl this season. Between bad calls and bad luck, this team was robbed of achieving greater heights last year. They've had a few more losses than they were expecting this year, but Josh Allen has improved significantly.
Josh Allen was fourth on this list at the start of the season but has improved to second. His arm strength has never been in question, though his decision-making can certainly be classified as high-risk, high-reward.
Patrick Mahomes – 97 OVR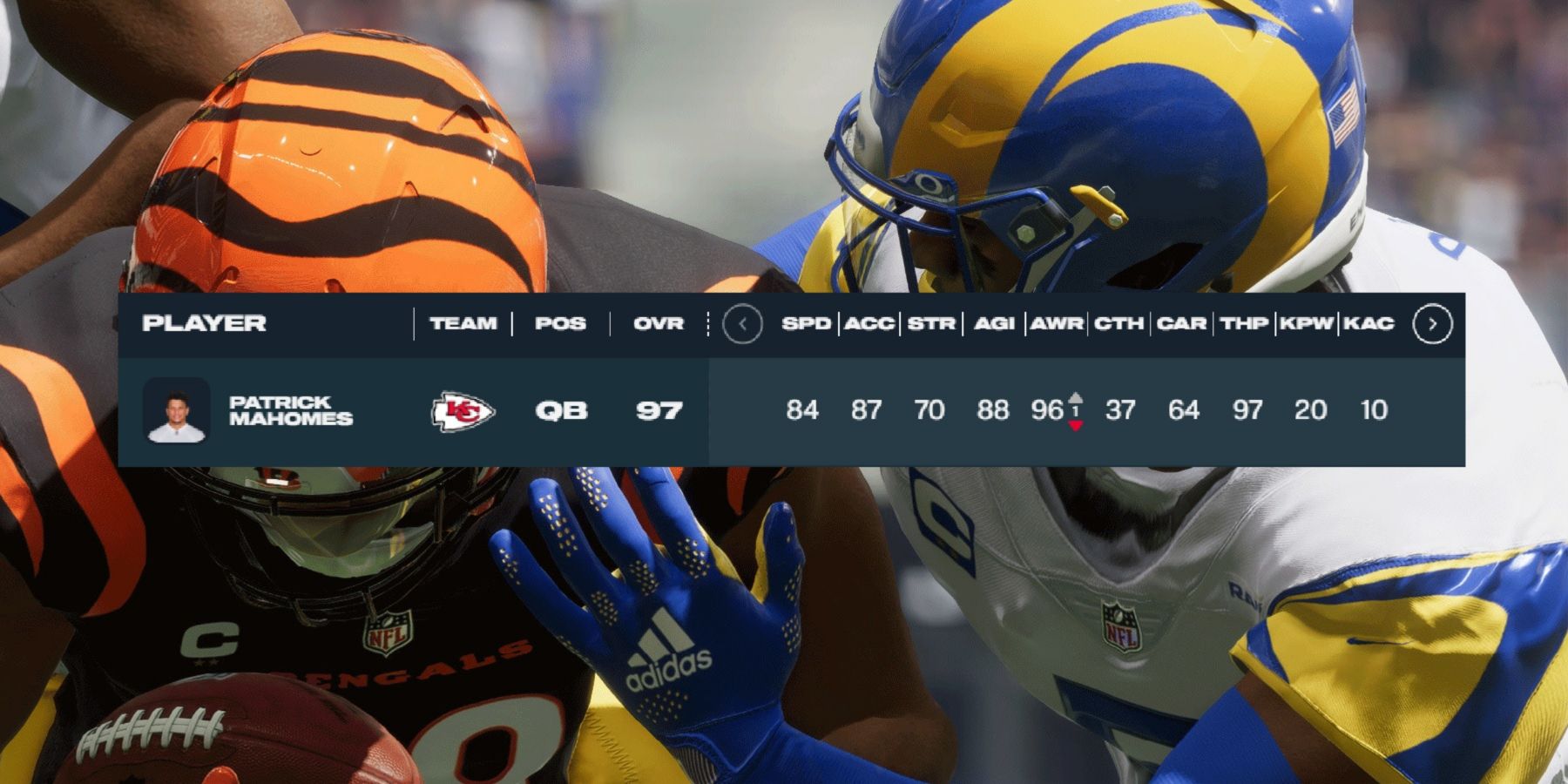 When trying to predict how players would be rated, it's tough to say where Patrick Mahomes was going to land. Aaron Rodgers had two consecutive MVP wins. Tom Brady was a close second. Yet everybody had a feeling that Patrick Mahomes was the most talented.
This season has proved that Mahomes is here to stay while Rodgers and Brady have taken steps back in their production. All three of these quarterbacks lost some weapons but Mahomes has become even better while the other two haven't quite compensated. Starting the year in third, Mahomes now has first place all to himself.
Madden NFL 23 releases on August 15th, 2022 for PC, PS4, PS5, Xbox One, and Xbox Series X/S.
MORE: Madden NFL 23 Details Big Changes Coming to Franchise Mode and Free Agency
bottikcointo
bottikcointo
bottikcointo
bottikcointo
bottikcointo
bottikcointo
bottikcointo
bottikcointo
bottikcointo
bottikcointo
bottikcointo
bottikcointo
bottikcointo
bottikcointo
bottikcointo
bottikcointo
bottikcointo
bottikcointo
bottikcointo
bottikcointo
bottikcointo
bottikcointo
bottikcointo
bottikcointo
bottikcointo
bottikcointo
bottikcointo
bottikcointo
bottikcointo
bottikcointo