New Tales from the Borderlands, like its predecessor, serves as a solid jumping on point for new players due to its standalone nature. The story focuses almost exclusively on new characters like L0U13 and Anu, with little connective tissue to the rest of the series. While Fiona briefly returns, she does so in the very last scene, staying out of the way so that Anu, Fran, and Octavio can complete their character arcs on their own. However, the game's handling of gun company CEOs could have a significant influence on the series going forward.
Alongside Athena's cameo, which has sparked discussions about which weapon manufacturer she has gained ownership of, players get to spend a fair bit of time fighting against the villainous Susan Coldwell. Not only does the CEO of the Tediore corporation tarnish the reputation of her brand by attacking the people of Promethea, but she is transformed into a monster and killed at the end of the story. With Susan committing some major crimes as well, her final moments deserve to be brought up in the next major game.
RELATED: Athena's Appearance as a CEO in New Tales from the Borderlands Raises a Big Question
Tediore Needs a New CEO to Replace Susan Coldwell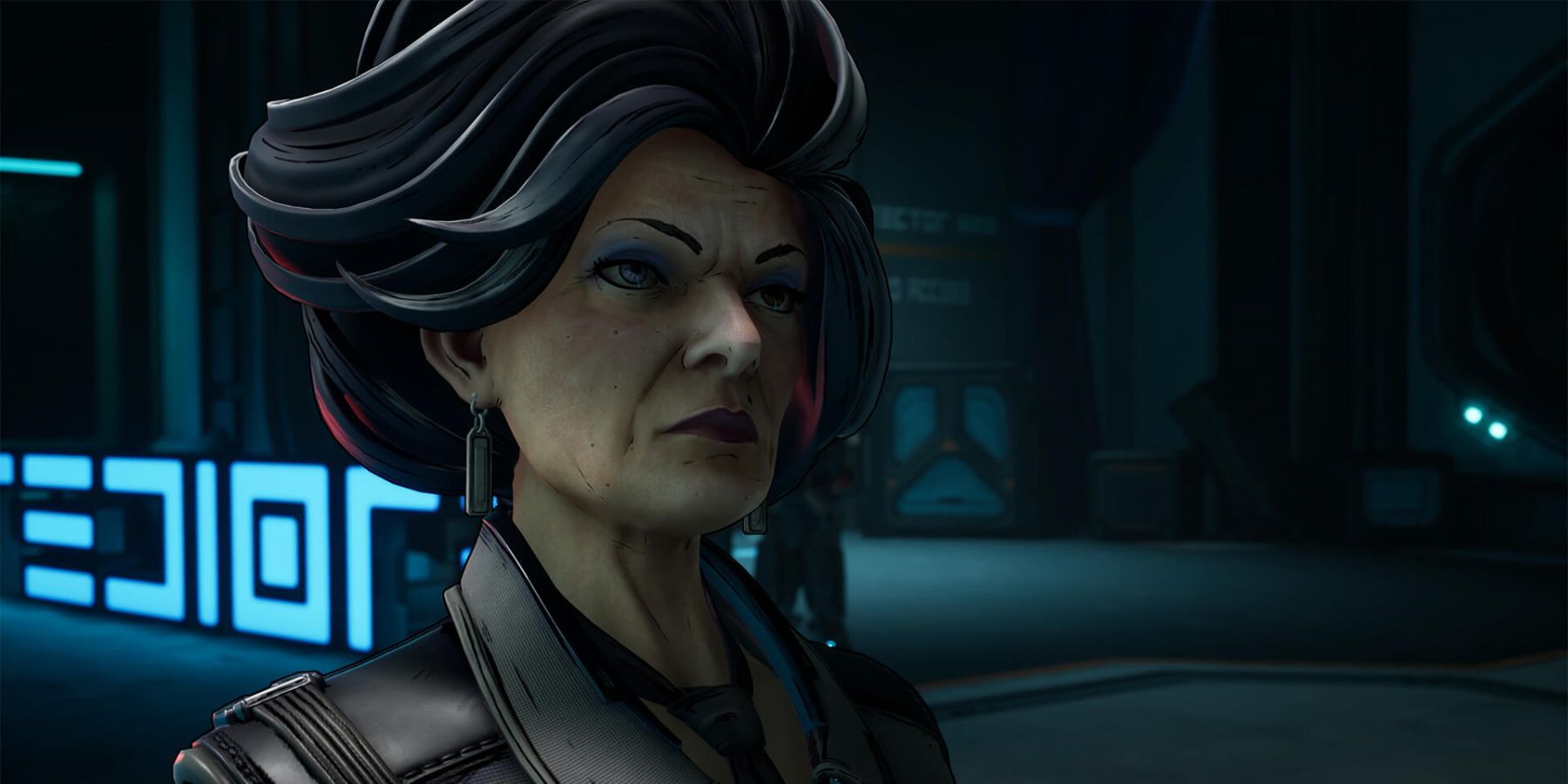 With Tediore losing its leader, it is going to need someone new to take her position. Though this is surely not an attractive position now, as Tediore will be despised by an entire planet and word of what happened to Promethea will surely spread, there could still be some figures waiting to seize the role. After all, the company could be far cheaper to purchase than it would have been in the past, allowing any wealthy investor to take control of the Tediore brand.
One interesting option would be Mad Moxxi, as she has quietly been building up a business empire through her arena in Borderlands 2 and the Handsome Jackpot in Borderlands 3. When taking these two major businesses into account, as well as all her bars scattered throughout various planets, she may have enough capital built up to earn herself a position as a CEO. Seeing Tediore rebranded around Moxxi's innuendo and visual style could be entertaining, and she could transform one of the most notoriously weak companies into a powerhouse.
If Mad Moxxi does not try to buy up Tediore, there is another potential buyers that come to mind. Perhaps Marcus Kincaid will move away from his profitable vending machine and SDU upgrade business, using all the profits from these endeavors to purchase a company. He certainly has the expertise to thrive in this area, as he has been selling guns to Vault Hunters and bandits for several years.
There is also the possibility that someone strives to take ownership of two gun brands, similar to how Handsome Jack had the deed to Atlas while operating Hyperion. With Tediore having its own military (albeit a clumsy one), anyone taking control of the company would have some serious military power on their hands – especially if their other company already has soldiers like Atlas or Maliwan. While a villain could make a move on Tediore, too, it may be more interesting to see someone trying to get the company back on track following Susan's hunt for power.
Regardless of who takes control of Tediore, it would be good to see Gearbox address the elephant in the room during Borderlands 4. Knowing how people view the company now will be important, and it would be nice to see who has started running it as well. While New Tales from the Borderlands will likely not have a major influence on the next game, the Tediore situation is one thing that deserves to be talked about.
New Tales from the Borderlands is available now on PC, PS4, PS5, Switch, Xbox One, and Xbox Series X.
MORE: New Tales from the Borderlands' Fran Could Make For a Surprisingly Fun Vault Hunter
bottikcointo
bottikcointo
bottikcointo
bottikcointo
bottikcointo
bottikcointo
bottikcointo
bottikcointo
bottikcointo
bottikcointo
bottikcointo
bottikcointo
bottikcointo
bottikcointo
bottikcointo
bottikcointo
bottikcointo
bottikcointo
bottikcointo
bottikcointo
bottikcointo
bottikcointo
bottikcointo
bottikcointo
bottikcointo
bottikcointo
bottikcointo
bottikcointo
bottikcointo
bottikcointo