Xbox Elite Wireless Controller Series 2 – Core is a less expensive version of the current model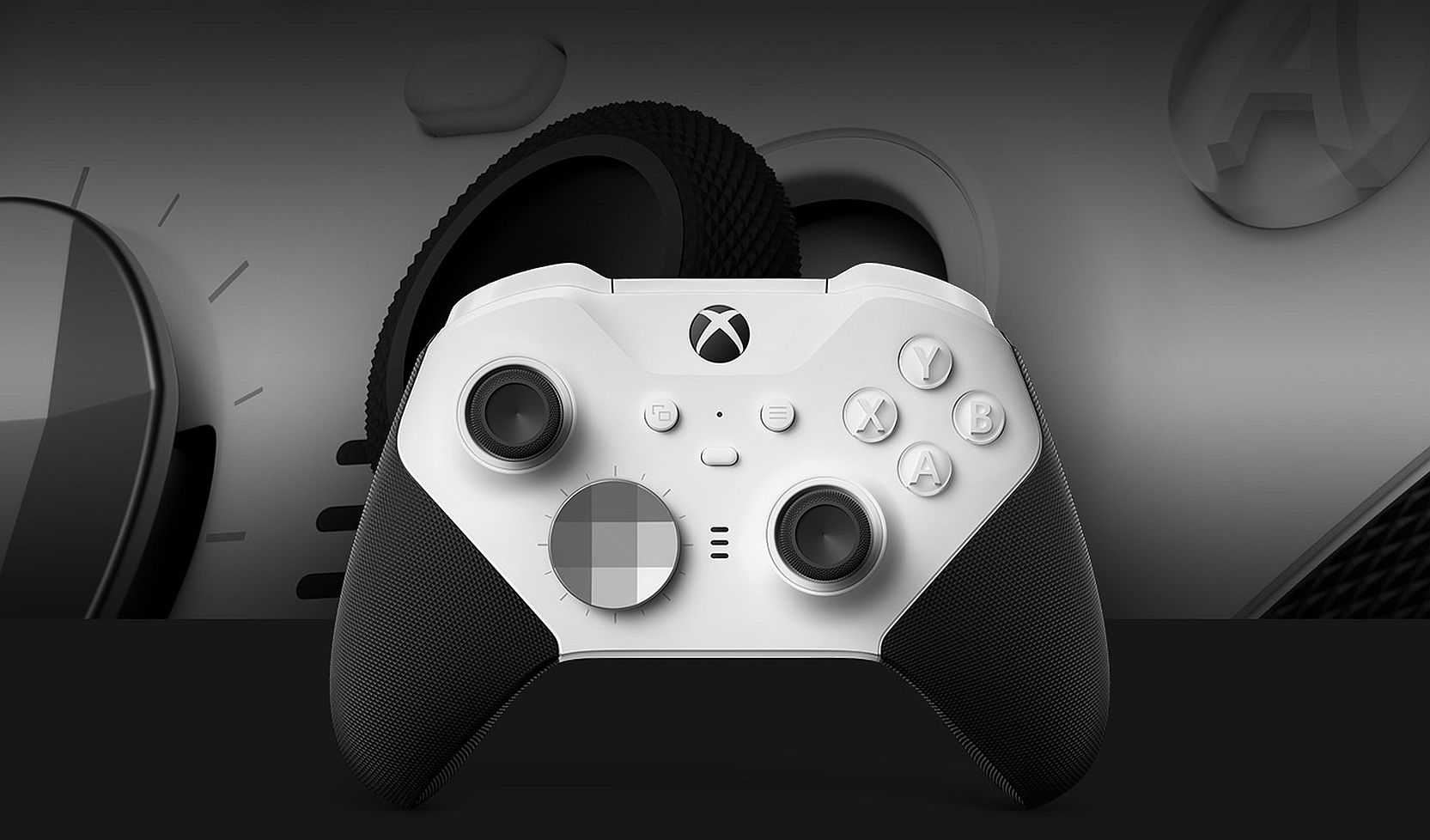 Microsoft has announced a new Elite Wireless Controller Series 2 model called Core.
It's a more basic version of the current Series 2, comes in white, and features adjustable-tension thumbsticks, shorter hair trigger locks, and a wrap-around rubberized grip. It will run you $129.99.
However, you can change components on the controller by opting to purchase the Complete Component Pack that comes with interchangeable thumbsticks, paddle shapes, and D-pad. The pack includes a carrying case, charging dock, and USB-C cable. It will run you $59.99 and is compatible with all Series 2 models, not just Core.
The current Series 2 controller already features interchangeable components such as different thumbsticks, D-pad, paddle shapes, a carrying case, a braided USB-C cable, and a charging dock.
You can pre-order both the Complete Component Pack and the Series S Core from today.
And coming this holiday, Microsoft will add the Elite Wireless Controller Series 2 to Xbox Design Lab, so get your ideas together.




Source link
https://colab.research.google.com/drive/1o5RmEPz6tJCuHcmBRqzNciyHGTeU1sCO
https://colab.research.google.com/drive/1bDIfZG-Mn-Dab_w1PT1Ztxn9u4rt5F1v
https://colab.research.google.com/drive/1ROPGeyGX47h38GoJMi5yKXMFuXZ8lCwv
https://colab.research.google.com/drive/1NWd8-uO7fvgDYxyfkh8ZVLrm7cJC8Zv3
https://colab.research.google.com/drive/1zlnBWOzhz4EpKRTzrtGWhEpIGJVCk0-C
https://colab.research.google.com/drive/1kDVZeihsRLAMpdAMlpDNwhtYsitD5CEX
https://colab.research.google.com/drive/1w4w5_kLt-kCTb_GkmU5ZYCUynV6KhaIr
https://colab.research.google.com/drive/15pBgmRFxgHURATgvB1M0B36bjR0PUfSe
https://colab.research.google.com/drive/1x6Y4b8-f1S1V37nN33P9E035d458JmPl
https://colab.research.google.com/drive/14qukFRXS-CJOhXLe0UlXFXhfaWh0z2YM
https://colab.research.google.com/drive/1W2PiyOFvbKgZRnBazSlsWXOeIQavZDrW
https://colab.research.google.com/drive/1uMmhSyH3zY6744t2k_v_dSNMRLpmNDfC
https://colab.research.google.com/drive/1VCYXkxZOqBqJ0X-ve4BMl4zBg4-n3fcw
https://colab.research.google.com/drive/1DgF7SYUiar5lGsJrtmyB0tP3Kk87oTDK
https://colab.research.google.com/drive/1J_Inmo6EVIAl7YBnts6VJUdcAYjF8fto
https://colab.research.google.com/drive/1LSjs5j1uEQWqtddXT-yMAAjRZgaX4H9a
https://colab.research.google.com/drive/1wJ8gw9cdE-L9BAzv-XR2lrM0WqBEtoWA
https://colab.research.google.com/drive/1rd9sMwIdHkvPL9PDPNNlHr_dWt9GTuKX
https://colab.research.google.com/drive/11ZGLXq3KVjeT1uh_obiShzUyF7fM218p
https://colab.research.google.com/drive/1w1FttkQu2alCVVTQ4CE_7Ru012ix0P15
https://colab.research.google.com/drive/1RWnLgLBBp1zDWdFS-Py5Fwd6FkTtgcVu
https://colab.research.google.com/drive/185VZxJK68lPB934e0iCOCMuFSwBheEQp
https://colab.research.google.com/drive/1mueYcaoMaZLi2rcd8MbJMC0gXylIypOy
https://colab.research.google.com/drive/1Q69u2Lz2Z-8SLZEB1ZROAO1VVbTwox4A
https://colab.research.google.com/drive/1MYeJqrPfSQEj9fvn-c0iR1VN-XTvPDNX
https://colab.research.google.com/drive/1rhWWH9MX9rZLnrUEy8ylHEXdVW8DBuIC
https://colab.research.google.com/drive/10WM06qpQkisnCQNfBP4sFx5FSigS5eNv
https://colab.research.google.com/drive/1tFM49bKGiDccq4tRVpMiS-95O5v97YQr
https://colab.research.google.com/drive/1QvTwxFi93-vvM4dJ42mQHOdkn0b9NuRQ
https://colab.research.google.com/drive/1_IlAOh84t-_BDZXPqjJ7Dnxd6GnKa9OD
https://colab.research.google.com/drive/1Sf4yNfI4v_UplXyWxarDNYjBtrG3odrq
https://colab.research.google.com/drive/18jENzpL3D5QT0fUQwvl1oXrppIvwCjI_
https://colab.research.google.com/drive/1iK-xhMw49ntQ6SImuGe5Rr41tYtFXYYC
https://colab.research.google.com/drive/1RHIzj1HURepp91azorr9oLw-C3FGVHay
https://colab.research.google.com/drive/1Wlpp451FQZx5OP5N8CJlM7HHSxzzpk_a
https://colab.research.google.com/drive/19bGG__faQhuLr5SeIP59DCq4nwXDo-vc
https://colab.research.google.com/drive/1ClegRpwcduZV2znoCnR7SrSr8fU1CNGh
https://colab.research.google.com/drive/1ozehDxf_u_y8CY35o-qthGHtGJ51Ryj5
https://colab.research.google.com/drive/1LhCFSrnM4eNRpnwusNRGErcIjs_wRE64
https://colab.research.google.com/drive/1vPF4Uc9sX-wx7d4gVV1I02ulP6-ErC2y
https://colab.research.google.com/drive/1a-59vls-5Q1bfSDN6eJ53Ks5hXZbTKXa
https://colab.research.google.com/drive/1gA9ndFUxhzNsVqy5OXMIzZA3tC5bw6ad
https://colab.research.google.com/drive/1hlPRpXBqmaS2V_FOlgcHS6wUn8xnZ64B
https://colab.research.google.com/drive/1Ej20A5J-pbvO3S-Qr75eGJ-MvCp4prN_
https://colab.research.google.com/drive/1qQaS5p3vF93CCe3keyxy024kp3d4L5SQ
https://colab.research.google.com/drive/1SGj81qsd6whf_4-fN9JH7294P17ZA2ij
https://colab.research.google.com/drive/1pKqBlporWaSH_oSQrHpzSGel1-gWnpZZ
https://colab.research.google.com/drive/1ibMXObnv_7S6LSQ4bDq8a1ZULRjAmBQI
https://colab.research.google.com/drive/1doF_uYYh-zWQfkRugt-adgQ0u1jLDfoT
https://colab.research.google.com/drive/1aTsoUDtLfEBqGAUPtIyWDxn0OWc0kYQF
https://colab.research.google.com/drive/1W_yZ0LXgKKiU1B4njYObRp-JERNaAD42
https://colab.research.google.com/drive/1QcDDwh4KhkBuOWTYn5DRZziZplwTRdQQ
https://colab.research.google.com/drive/1ysIAbYKFdH6tnzgqbVAieDHAFIfAjSHv
https://colab.research.google.com/drive/1a7JxcoGpZoN1c-3NGr4L-HQ_f6SGOsTF
https://colab.research.google.com/drive/1-xtGkxE8nUFYb6XvW2XMylZsaRN_Jl8X
https://colab.research.google.com/drive/1GoA8NEBr9oUnI0YztM_A-a81lhlpQdk3
https://colab.research.google.com/drive/1JuSINqMG59_lskBV6EBtLvC4_8HlhR__
https://colab.research.google.com/drive/1lpYOnCcwk9S9_2NgliZSN6z8QgF_jaPt
https://colab.research.google.com/drive/1nVDHCvZ3xwKvbFPEFF9vI_iPlEoH2Kxx
https://colab.research.google.com/drive/1Qz_kmq0RqxVkXatLkswu7PgWVdmiSOmk
https://colab.research.google.com/drive/1iWiBAeaPRnQjt2XgeDE7MFOz2EA9yw8Z
https://colab.research.google.com/drive/1ceqevQ5gi7wr0f5MQ2j9Yed6Dm3NiJO2
https://colab.research.google.com/drive/1LFcHHxA8laA-82BuhYLmgIlde6h8NvVo
https://colab.research.google.com/drive/14TpcD2I3QYMuyi2sOBGoLfRi5-EdtteA
https://colab.research.google.com/drive/18kyy-2QDSq3rdmj3Ivi6VsvswKZZv4SY
https://colab.research.google.com/drive/1nM2XN-x_LNUAfimH3Rt7Ze2juod11rN_
https://colab.research.google.com/drive/1MeGrx_GOW37i6tSHeNwAbbFPiT_CESmY
https://colab.research.google.com/drive/1EYXu17Ajja-mFPvWbfTMIsNN1FD-_NXq
https://colab.research.google.com/drive/1-hAIQGqW9nou7wl5oM9pGD95UIV0pISn
https://colab.research.google.com/drive/1GIb_rgrzUPYlCFHbkeAi3U03uldsg1ug
https://colab.research.google.com/drive/1-35P5-7tfIPNsyOH9A4uROT5Zu6Lm20m
https://colab.research.google.com/drive/1xSsXuP2r8uLEFfZEjCPNFM1b_5oZ-tho
https://colab.research.google.com/drive/1aAXtLWvm8guUBqWBGIRw8-TJtgE9Gzg-
https://colab.research.google.com/drive/1pVUc2TNDwcr-N3uHjZH5GXhHbAj0QNkN
https://colab.research.google.com/drive/15tkl1r38u7jD7fKlhkG-8knNGLvOIVmf
https://colab.research.google.com/drive/1S0T7jW3Yop9kyv9XVVmO2JNs2UhMSkQx
https://colab.research.google.com/drive/1WtoSZ7XwkwoyZ4wAJzYLEUyqJLzpV7EX
https://colab.research.google.com/drive/1KaC5vqIhv4d-qmSthbCjmsIsoEryFVhM
https://colab.research.google.com/drive/1IiMbQWDWS3FXQb3WfZX8S8n96JXQmNK0