Cyberpunk 2077's first major expansion set for 2023 release, Edgerunners-based update coming today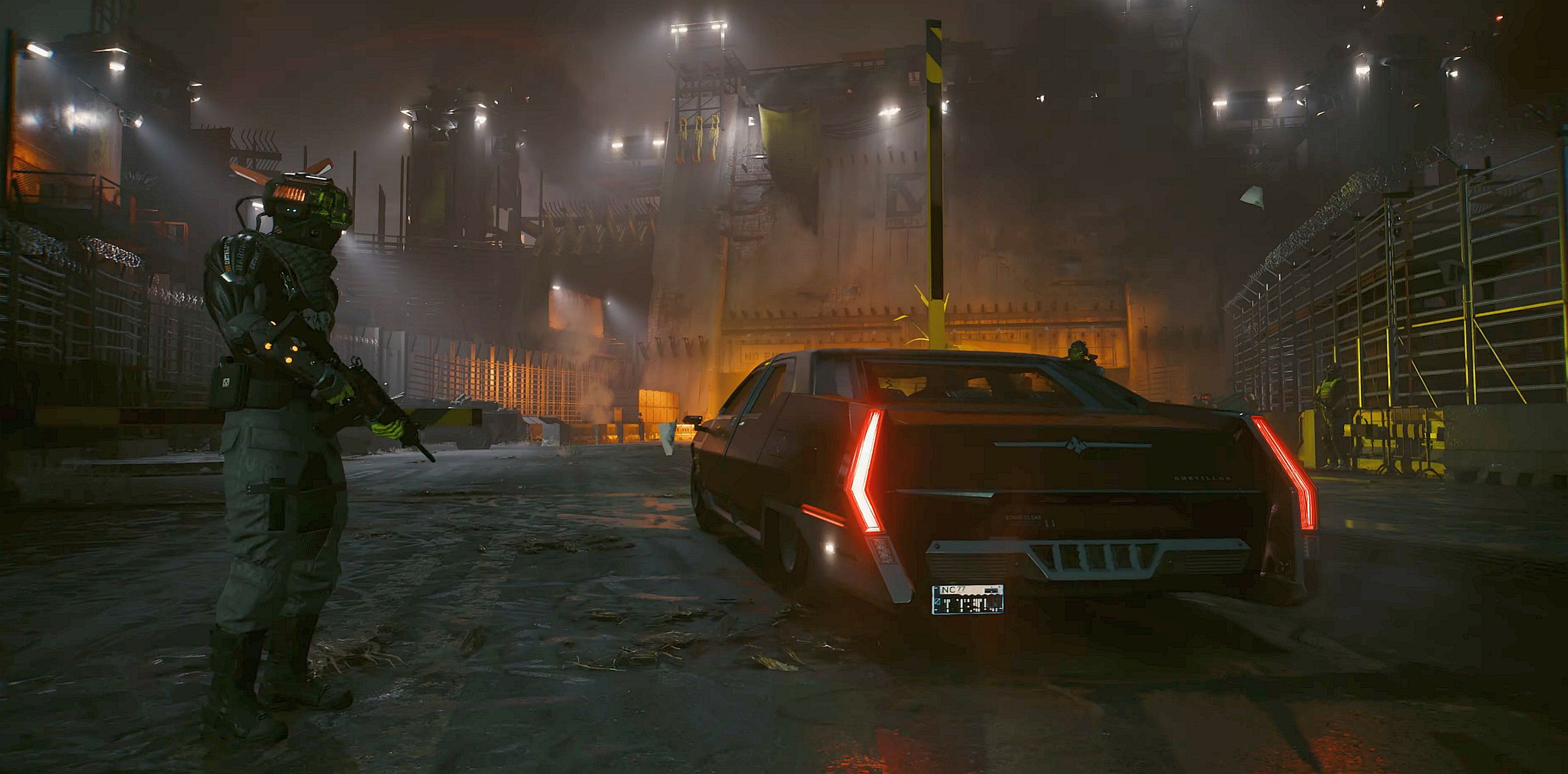 CD Projekt RED has released a teaser trailer for the first expansion to Cyberpunk 2077.
Titled Phantom Liberty, it's described as a spy-thriller expansion that will be set in an all-new district of Night City.
Not much is shown in the teaser trailer, but the country looks like it's in trouble. As far as the storyline is concerned, well, the teaser doesn't give us much in the way of that either.
What it does hint at is that V will be "faithfully" serving "the New United States of America" and will be interacting with a new cast of characters.
Keanu Reeves will also reprise his role as rebel rocker boy Johnny Silverhand for Phantom Liberty.
The teaser notes it is coming in 2023 to PC, PlayStation 5, Xbox Series X/S, and Stadia. There wasn't any mention of PS4 or Xbox One.
CD Projekt Red also announced today Cyberpunk 2077 is getting new DLC today based on the Edgerunner anime airing on Netflix September 13.
The DLC will appeard to be story-focused and introduces equippable items from the anime to the game. Players will have the chance to don the jacket worn by the series' protagonit David Martinez, and wield a shotgun used by another character from the show.
Alongside Edgerunners-inspired items, the update also brings a swathe of features to the game including a clothing transmog system, cross-platform progression, playable Roach Race minigame arcade cabinets, and much more.




Source link
https://colab.research.google.com/drive/14Q-G1Dhpnw73e2MVjAqjmEXaLWY_LXX3
https://colab.research.google.com/drive/1iL3SIb-AQiTz-T8fYDNmtuJt-S7ykapY
https://colab.research.google.com/drive/19b-gs2Njkf1SppqdV9rnIBXa5lGJqAv1
https://colab.research.google.com/drive/1wgSmzqMN3ufVMFXqgseLNs893rukRtjx
https://colab.research.google.com/drive/1UnRbXKpL5yknVK-_Vlyqv4qapWHFA4je
https://colab.research.google.com/drive/1c2YkS50vG5CeFtBybvRodcabGQkWOKtK
https://colab.research.google.com/drive/1QmtaUedzfizch1TEB8rBnH5PS0nY5XHI
https://colab.research.google.com/drive/1fxGG1UbJ0SpVnYpCLEe1GxuI8gmCL3GE
https://colab.research.google.com/drive/1p_BlVVQcD-fMFDDftvM1LUBgb8tTNc7T
https://colab.research.google.com/drive/1Feo4ocL22EEy2fieIPdFTKYlkKhaPq-Q
https://colab.research.google.com/drive/1B8_syfW0VPwqjqmk_ob3kjiYbmIpDNxM
https://colab.research.google.com/drive/1Kin1_ODie8K4FgVSC14zh4JHyRd2V3Sv
https://colab.research.google.com/drive/1eb7WJsJEeT6oRyWtsuyzLuU8yCSf8n12
https://colab.research.google.com/drive/1MTI_qHGf3_agZEPXIHsQ1g5lII2BZsmi
https://colab.research.google.com/drive/12Ex3A3IYH4ndbKr3F5lW58uDwe1iH-zJ
https://colab.research.google.com/drive/11hMPXKXcdmO4Le0x9kmsm0uC7E4OM2lI
https://colab.research.google.com/drive/1UmwDyVUvA4UGk2oEbEOld4Wm2tSJPBWR
https://colab.research.google.com/drive/1Xpj6GTlnkDRX4a-7PpzFOFCUbTszVeft
https://colab.research.google.com/drive/1emrinVhWfXfO3X7I4tJKC0FmjP4g_YY_
https://colab.research.google.com/drive/1oCzRtByiAHodGgSiwhLFpZSsfxWlAzAV
https://colab.research.google.com/drive/1YwPWgkRi1cNBvLautCVaOuj-Rw3P-eTh
https://colab.research.google.com/drive/17r9VShVrMEAay4ElqSbFGOOjq7wfYI7u
https://colab.research.google.com/drive/18FrYOTUaILEpDTDFgR0YjTV614UMxTYv
https://colab.research.google.com/drive/1o5pmh2W-0OufB2aYJfWORjhAd9ZUVSjW
https://colab.research.google.com/drive/16x3Zs1jb8i7lv1D3GDFD9CjqkdmkjpT-
https://colab.research.google.com/drive/1thHH7liRlgzdi37SbqIIuhOo3RU_p_Ci
https://colab.research.google.com/drive/1g_79_6RonXL7STuWsD2OXPbgzaHi1Aow
https://drive.google.com/file/d/1ftFys81Q8xaibcqxbXvmi5sPNyH6tf4B/view
https://colab.research.google.com/drive/1G43XmN0V04ntrERZ_Xan6NFlnWAD9o0A
https://colab.research.google.com/drive/1hqEQCmbEdnNAmDa3IJQiwHO3DkvJBpKb
https://colab.research.google.com/drive/1xnMT4Qgtfd2ido5LFiGLPHT81HbmCPBG
https://colab.research.google.com/drive/1FlOluKuYQfgPO_x37QCQBwHr4Ryr0W3C
https://colab.research.google.com/drive/1RghbjwOleuVs42gKxdV_NqSWqU7lYCpT
https://colab.research.google.com/drive/1657rR-JfYtn8CpZnSrHpB3YC9PmRiwsK
https://colab.research.google.com/drive/1nEnprigNL6Eb0EcJfKG3JwLMM6VuyWk5
https://colab.research.google.com/drive/1BEMjJ-0wo4K_4afF-GekkOmmZQ7y8OBo
https://colab.research.google.com/drive/1c0sP8DluhQqm8ZS0d37Op2s05oWZnBrV
https://colab.research.google.com/drive/1H0NRXlMZ48kVqZ0P-5I_7Cht6X6JMBGy
https://colab.research.google.com/drive/1rKEU0L3QMX3vUK63ODi2gumRdp0OS0a5
https://colab.research.google.com/drive/1qkQQAgBn-wkUC-OJJEk1JbTyKeTjToeS
https://colab.research.google.com/drive/1rbXFHqDJeoIqJtYLfabWWCx6oTF1WU1D
https://colab.research.google.com/drive/17rA8pjO68_ZJo62vuc7tdCkgmS4MvSE9
https://colab.research.google.com/drive/1XvvGDDaVpHi4BMCfcEi5wX9Y638B6bFg
https://colab.research.google.com/drive/1f-DBqcG6KmVBLwTu2pznw2sKQq6G9HJj
https://colab.research.google.com/drive/1pJyQ-g6hiZG4hwH3wP3aTkgIRwWzNAlI
https://colab.research.google.com/drive/1uZiE9wXERuGeVsyI27GETqsVElxRU_At
https://colab.research.google.com/drive/1awqXnEl_89MQE4dvHQT1dEI1y6gSng-0
https://colab.research.google.com/drive/1CDT6MWnTrGdrGjNMXOzl6N3idA_mKbmr
https://colab.research.google.com/drive/1bPdQFtxjdnVOy7SZ-B1XIyJlffjsSbPc
https://colab.research.google.com/drive/1ZUHRMeGMVSr0_wEKVxfQCXU1-a5kVZVo
https://colab.research.google.com/drive/1PIR9Eo6rbDmT8OXmqRsGCDN6kN-IrxaC
https://colab.research.google.com/drive/1F_G1hj4qIv2PDKRxvDtXEeDbM_HYHdNN
https://colab.research.google.com/drive/1vsUyXfbCVSKRw4BADvGK6zJh6a4mojjj
https://colab.research.google.com/drive/1YimJ10tuoxzIuJLy1RcP5BxOr4L6hzSZ
https://colab.research.google.com/drive/1ugXqUQxmAHMVdI8cSqidexjjEgn4bNcn
https://colab.research.google.com/drive/1zviJZ32ezGzsA-aHtmx1z9hWW2ilDL9q
https://colab.research.google.com/drive/1RHt6PUyTthMYq7LwSRderaG4ncKBs-sm
https://colab.research.google.com/drive/15tdE_hSxVS-5wWZN9uwJzkr__hxaGf9E
https://colab.research.google.com/drive/1aKhhMNjB3l8pI6LoSNSywXUWFoX-Tfx8
https://colab.research.google.com/drive/1vUEL5dzXOP4HzJNnJ1WEXo2KiJ4HOy7h
https://colab.research.google.com/drive/1xOLpT-yOOxeFsGTMlPvq0sFQ6nL_nkAG
https://colab.research.google.com/drive/1r2q3zu1XCrbcheftgcrj534u1v9Q1Gmf
https://colab.research.google.com/drive/1RoUlX_5LggfPQFcxLx10ichcLYSYdE2r
https://colab.research.google.com/drive/19rOzaiFrAlk0AP4zZCeYU7civQMLrkbJ
https://colab.research.google.com/drive/1SOfdIFqFRsfHOGp4I3rGebgLpu5Po3Bq
https://colab.research.google.com/drive/152seBaexWdhZtwdXaHjHkigJsK-A9AN-
https://colab.research.google.com/drive/1E2YouIEzq3zS2486Lly-QQezdvjlOp0V
https://colab.research.google.com/drive/1N3iGqQvXt3Mwn8Y5rUb3jCoQL9wCbebm
https://colab.research.google.com/drive/1p76b8LOPLjUHgFgybTlcwm6P-pUdyyTK
https://colab.research.google.com/drive/18mbmhhbs9udHB3W7y8TjdtOP3wq4Ghf1
https://colab.research.google.com/drive/1Sk_4d4RfrCtA8KLob1llRP1pTDorVv_E
https://colab.research.google.com/drive/1oMjlLZgwDXXkT2o9OjDh6UhXgXLe6CfL
https://colab.research.google.com/drive/1OnWAIcCVChNaO9bPf7zKV4s4gAX-CGZs
https://colab.research.google.com/drive/1Efc2Bf4RQr6V5vdCLU9YJ42eORaEeRpG
https://colab.research.google.com/drive/15WPYDiSi3qpF9zgIN7_jvuawuXEk5mSj
https://colab.research.google.com/drive/1wN4l2-yepUztMAas1SlTsZw_qHMdVu5W
https://colab.research.google.com/drive/1uyI9qos-NQHMI3DvgNztMQhaxqCADcuA
https://colab.research.google.com/drive/1QpvF5IJAPLYf-7XGMDMCWdbd-yhfx1pa
https://colab.research.google.com/drive/1l6cVpd0C2KcoheikfUFaqhZYOZp5OnYA
https://colab.research.google.com/drive/1mejdqoE8XthQga9cV0qzmLSxVxoquj1-
https://colab.research.google.com/drive/1GT2LB7ZAKGZUKC7qe1XwHoDdfzdwlBUE
https://colab.research.google.com/drive/15J0GpDcHp9H7CIUhdMlVTFn6NWUJQmKV
https://colab.research.google.com/drive/1P3drlorL1OIIolGQd9KKn2ekQUk35fzx
https://colab.research.google.com/drive/1eZHikuEqZvv9-R5AiyWpVe7iFasuMqgy
https://colab.research.google.com/drive/1tMYAcB1Z0VTX-RGSdGzLRWxyAtOMpCRq
https://colab.research.google.com/drive/1c9VNdLnhSzncwOrc1IjzRGlwSoOLPAH_
https://colab.research.google.com/drive/1-zORKAiBgjnrt_pG5bvAqYBKhJIkfIzE
https://colab.research.google.com/drive/1WSpcAoAcYggkTQTHnL_6fWGUgKoVZHBC
https://colab.research.google.com/drive/1NHmCp973Uxt5yVRnphVvfU_6_m9w8-ao
https://colab.research.google.com/drive/1tcP2_DWXwWmdlaYcIq5brAwi3cDi1Dwn
https://colab.research.google.com/drive/1J0Ym4X7RVyuss-ZPITHetSbW-V7ZbFx1
https://colab.research.google.com/drive/1pdc5f5CUOsgeP3cYPJihkgFpmTh4tPVc
https://colab.research.google.com/drive/126feKaKwYkGnkIq80kcX1eW2fj5uzMYb
https://colab.research.google.com/drive/1xmpmTBGpltWyYKpPYd3b6TmVUxAUIrN-
https://colab.research.google.com/drive/1OMzBJzkkOPoIxgxfD407CXiESqnfYHE4
https://colab.research.google.com/drive/10dP-GLSzWk8dggHVKNafEPribDt7k-T1
https://colab.research.google.com/drive/1aldE0EdUoyxKPYQt3FpBi5Qbwr035mQm
https://colab.research.google.com/drive/1nU9sCWcqB-la8YXCDL-kANg6xebYRozE
https://colab.research.google.com/drive/1JuIQM1LnyUaDhsjaVy61DhfvPwx8wzlr
https://colab.research.google.com/drive/1u_g9X3PJzvsoz3PTJBOP3oXFyCmFrmiD
https://colab.research.google.com/drive/1D-mTXYeNcBp0VkXko7d2A9IdmZUpfO2_
https://colab.research.google.com/drive/1-U96sigO0cIdFJ_TWTG6llQgcd_7ZJNB
https://colab.research.google.com/drive/1A0K4oCuyFIOqjT7HxKP6KVKakp8l22lr
https://colab.research.google.com/drive/13fOc6mAQk02hwkjR46Nd36kfK0C1TAuC
https://colab.research.google.com/drive/1VAPnQRvTkqBRF2T0EQWC9wusa7XnV6rH
https://colab.research.google.com/drive/1MtYY8wChaOa_pJJTzr5lKPO3ZpFBSKJT
https://colab.research.google.com/drive/1F9kTKsNzW3IgTogtZcziJY2nYA4pEEEh
https://colab.research.google.com/drive/1YDBnb2X5leEyim0cPiMtmgxOxNRCKg3b
https://colab.research.google.com/drive/1B-cdfy9edHbkHMA49rMDWP1Cd5zVCnYI
https://colab.research.google.com/drive/15po6hYfss8eUVA-6YjGpGRJKun_0yrry
https://colab.research.google.com/drive/1n_NuFsM9HEDI55tAYBKbQiZqrKnEmquh