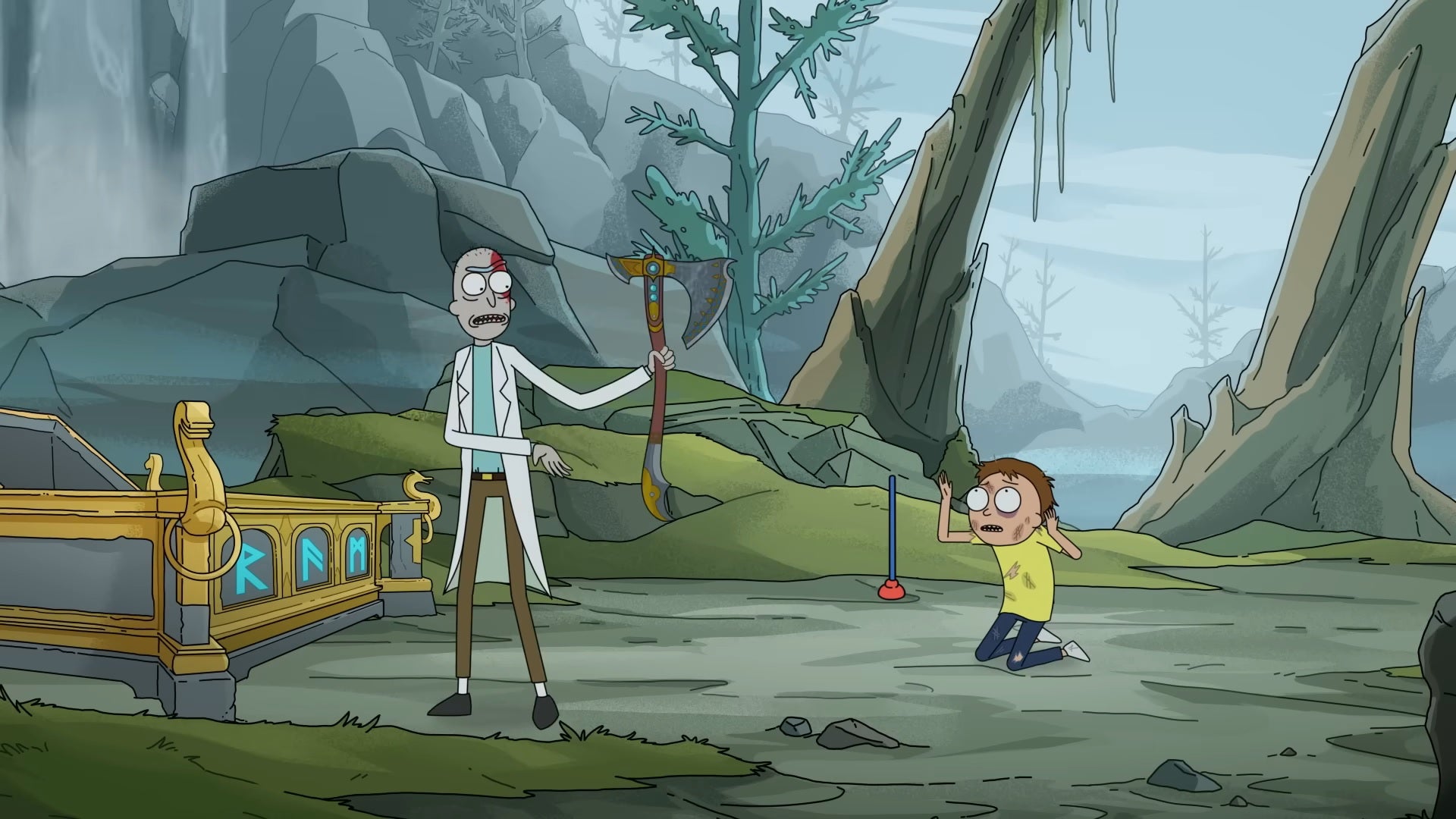 There's a new ad for God of War Ragnarok, featuring both Rick and Morty in a crossover I can safely say I wasn't ready to see today. The game, launching on both PlayStation 4 and PlayStation 5 on November 9 takes place in a mystical norse world filled with gods and monsters, one which the duo visited briefly all for the sake of a shiny new axe and a few gags.
The ad itself does, admittedly, have a few jokes that made me giggle. Rick drunkenly summarising the base plot of many AAA narrative action adventures like God of War as journeys to make choices and face the consequences, as well as opening a massive golden chest to find the leviathan axe and "other unannounced upgrades" was just meta enough to get me on board.
This isn't the first crossover ad Rick and Morty have been a part of. Back in 2020, American fast food restaurant Wendy's partnered with Rick and Morty to promote some of their breakfast menu, with humanoid breakfast baconator, honey chicken biscuits and an frosty-ccino rushing down and attacking the pair with pipes and bats. Fun stuff.
Look, video games shouldn't be taken too seriously regardless of how dramatic and heart wrenching their story is. I'm looking forward to the latest romp featuring Kratos and his kid as much as the next PlayStation owner, but a few lighthearted jabs are welcome. If anything, they enhance the experience, even if they come from a corporate advertisement.
But what do you think? The trailer is embedded above so check it out and let us know what you think! For more God of War Ragnarock, check out our report on the new moves coming to God of War Ragnarock, as well as this God of War story recap that'll get you ready for the game's release!




Source link
https://colab.research.google.com/drive/1lkw1-6Ng4sXaOgWGaNCPl6lWLAxSv0BN
https://colab.research.google.com/drive/1ZjM-3-KkzGV7aYDRVMMN0-NFQS4cVF-R
https://colab.research.google.com/drive/1Kvs8fxCcMJpJ2Y2upOpC49TfwVd_eDkg
https://colab.research.google.com/drive/1Rf-d5WrhV3cJAG1DB0T1z__YEwknoirL
https://colab.research.google.com/drive/1bEJ_AGcGgx0Afm5vEldQ17WIuzzyKEg_
https://colab.research.google.com/drive/1F4xkEhsxZ98XRITFY6c7asT3CwQhxtTi
https://colab.research.google.com/drive/13PIZbkX9G8xo_XeldPFgUFsLvi5tjx63
https://colab.research.google.com/drive/1Ulu3foVFnvHUW3iZdSEoQ5t9Rw1rYdQ7
https://colab.research.google.com/drive/1eHNxmXze40VEfhFk-rP_YPxHtfuwdATl
https://colab.research.google.com/drive/1cEmUeQPFPMX7plwBhnbSof_qR0iQEyLV
https://colab.research.google.com/drive/1wUVp97jOs-zjTHLO1kblxkxXd8ITp2wD
https://colab.research.google.com/drive/1eES3WjbTTsJ6uBzrJ23b9XVPsbx950Cy
https://colab.research.google.com/drive/1k8TW_tdBVs1FAZIQyCLK5jli8LkkUF6N
https://colab.research.google.com/drive/1BVhoWC4Ym9gZzw4TqFjNUxkOF0_rbZwx
https://colab.research.google.com/drive/1nvZcEtexhOBGdmLkDujJ_lxSskuqe070
https://colab.research.google.com/drive/11ZUuvO4mgiCptgpDXsUBE-GwolFY6_bJ
https://colab.research.google.com/drive/1LsuLXGEBJdZljWt7bvbCaDwOuhBGcdi3
https://colab.research.google.com/drive/1eDSbXCaV8XyNw7aY–YXjMWUPOoZvnS_
https://colab.research.google.com/drive/1rJHw-juDRoGASLU_WJ1iRDRj4PVuRYAI
https://colab.research.google.com/drive/1MnHmMIT9Amvk_paZVWxV61Uix8_ukJht
https://colab.research.google.com/drive/1MO68zSgwJqeWOfwaopsmo-4XGQCRnHh3
https://colab.research.google.com/drive/1lW23aYKEFxiNagIqoegRVn10x28nrXd7
https://colab.research.google.com/drive/143QyS80D5DwY2Vr6_UlHQmYubIfNheUI
https://colab.research.google.com/drive/1YEK3W-JLepN-k2YNG5oOk2hwDLoRLhOY
https://colab.research.google.com/drive/1iOU9Y4XlfsraCkoEPxO_8H5lU9U8ipwb
https://colab.research.google.com/drive/1zUT6DzenhCJK3AnopAhrI7nZLWF5xWTx
https://colab.research.google.com/drive/1n-Ur9lJOzedagTSh-ka4gzK8XfB9A5UO
https://colab.research.google.com/drive/1bQR3y0eCVQe8SyNAIHf9TZHzsOJo4Q74
https://colab.research.google.com/drive/152Gck20bstJBr-bGrb2J7BOdtpgIWtZv
https://colab.research.google.com/drive/1C1FcRIDtJPob9R9TaPz1reDI62DutLnS
https://colab.research.google.com/drive/1vnNBflWckNcP4oUQUGvwV_Jsgt2qu2Rv
https://colab.research.google.com/drive/1Mtv3JEOm9FtS0eW_x-ZTaESVwJxlKCwx
https://colab.research.google.com/drive/1FoZCU1BXWq5QV0XrVpLEacxBDOOjn264
https://colab.research.google.com/drive/144tSNdxJj02U4MPA61zo3aPqpiNWoVBG
https://colab.research.google.com/drive/16kLzzFoNekbLHimu6MBgShcrL5zf7a1U
https://colab.research.google.com/drive/1L3hfLRefXMYWZyR8K0q1fl5KGOdOkdJ6
https://colab.research.google.com/drive/1w5-2WjZfU2qEi9JpfpA2erJaObuYjsT-
https://colab.research.google.com/drive/1hDt5u4dMRl_3HRh70gXv1XApSyB-TdTm
https://colab.research.google.com/drive/1iW9WsSMEI5Phd7rsvFm5sqIAdaSuTBMj
https://colab.research.google.com/drive/1jRzh9zfE8UUM-T7CjkFaGxlt3UvWUZAf
https://colab.research.google.com/drive/1kmi6tGVIY0L2YKQMA1jUO4UD58t7oHar
https://colab.research.google.com/drive/1qL_MaetwikcHNbnPxvIuyLO4XiL_9vz6
https://colab.research.google.com/drive/1t4WH7CETkjMAffbMcJNvnnDcJyp__bQF
https://colab.research.google.com/drive/1ripqgT_2kVa5a5vvdn0RDIoDViWA6-Qp
https://colab.research.google.com/drive/1l8NtUZ4g8TVUKGFCg_eAWXssr4B3oDam
https://colab.research.google.com/drive/1EDvzakXMflbkiBibyoNSg6ppKmdPV1sG
https://colab.research.google.com/drive/1bvKJbPxA0lZKnvLGm4fqDec9S-cl9-8X
https://colab.research.google.com/drive/1HMirSGz8osAjZtl3xlCTUtzuobdXGmDI
https://colab.research.google.com/drive/1J8-cfsDQ4xv-vz_s9EW2u1j1oDcv4sqY
https://colab.research.google.com/drive/1eVItcc9PMlp5zKWo53gLK8NI7cJv6Zos
https://colab.research.google.com/drive/1AlGQTEI11xSQoy_RKu4DqOFjEl1IPFVj
https://colab.research.google.com/drive/1Yf0aaTUFI5_cWeqFk98oLE1AXOIvjD2_
https://colab.research.google.com/drive/1UncAgxiLiy6sYk1wOctvC5CtGrkXGTRJ
https://colab.research.google.com/drive/1aXlDwngHEZyrm_tv634Abz8C9Wy5v5l5
https://colab.research.google.com/drive/136LVvPBmCeNyKZ8G1P_llh9Pa0NVJ54f
https://colab.research.google.com/drive/173zfjrFBpdQIPayqm_SwHM_bVuRfOOUB
https://colab.research.google.com/drive/1WCsY6_EsiBFDhfKj2udRR7gY7a5Ob-q8
https://colab.research.google.com/drive/1qwQEw77X-hbqHKWF0aKPDT1ncGpBfmpB
https://colab.research.google.com/drive/1lEUiugK5ifeTktGv4CcANfRoAOCiZGYu
https://colab.research.google.com/drive/1i_w-u3Whf_nRo99ec5JEJXGUm6UhBA5U
https://colab.research.google.com/drive/1bZh_ncfRtadAgafEos828vh65T-xObYf
https://colab.research.google.com/drive/1eMEK68gJVNk-Wpauk_GAbYCb46wlfQpC
https://colab.research.google.com/drive/1q0iUA1jPQVOsU3xq16sW7nXjEPyhUqnJ
https://colab.research.google.com/drive/1xmwTUl_ucEc5bxrUmzO_TMMECKOOSDy3
https://colab.research.google.com/drive/1N4sI7LJlRCY9dRlOOK6JtfdjrEa2SMWH
https://colab.research.google.com/drive/1xV_GAiSfSs2Ka97U-Wi0NHSywGTKJxVH
https://colab.research.google.com/drive/1r8J5bRI6hlr7Fz8SOpbBD-f7H6j8PTl-
https://colab.research.google.com/drive/1ZPzjXE3uqWoN1_92TlU3L4z9_AEqC6BT
https://colab.research.google.com/drive/1EJwQHbDipsyT6BYbva38YRgCjiUEl0rO
https://colab.research.google.com/drive/1qVJowKx0rL6M7jPiZG27aaqwg15fQOZc
https://colab.research.google.com/drive/1FHJIKY0eDsSB2DkHhQ3zRQgRf_YPH_hi
https://colab.research.google.com/drive/1O0M2JWURbF_AHdtY0pPw4orP_SZeJg5z
https://colab.research.google.com/drive/15BPRPDmfZfL8VUZBMsFEoPXsf-vTOc_m