The lead up to World of Warcraft's Wrath of the Lich King Classic launch is well underway, with pre-patch servers up and running for close to a week now. This, in theory, lets players jump in and gear up a new character in preparation for our adventure to the frozen north, but humongous queue times across several servers have made this difficult for some players to get their adventure started in earnest.
This issue is affecting two types of servers present in Classic WoW. The first are the long-standing servers that have maintained a large population since Classic first launched back in 2019, like Grobbulus in the EU region. However, newly-created Fresh servers are also suffering. These new servers allow everyone to start playing totally empty-handed with others, without inflated economies or pre-existing fortunes muddying things.
Frustration and a healthy amount of joking around the topic can be found in heaps. Looking at the Classic WoW Reddit, numerous posts from players expressing their doomer outlook on the situation are present, listing out exorbitant queue times for their chosen servers, as well as some taking the plunge into less popular servers in order to kick their levelling journey into gear.
But why doesn't everyone do that? If Blizzard are offering free transfers to less-popular servers, why brave the queue? There are several reasons of course, including the presence of popular influencers on certain servers and the desire to make a home in a bustling community without the worry that it'll die off down the line, but the main reason ties to an ongoing issue that has been with Classic for some time. Faction Imbalance.
Looking at Ironforge Pro, a website that tracks the Horde / Alliance faction split on separate servers, you'll see a huge number of once wonderful servers with overwhelming faction imbalance, such as Gehenas and Benediction for EU players.
As a game that emphasises group content, you need players in your faction to complete raids, do world PvP, etc. WIthout that, the game is substantially less fun, causing vast amounts of character migration to greener pastures. The reason why servers like Grobbulus and fresh servers have this gigantic queue is because they remain relatively balanced faction-wise.
So how are players getting around these queues? I jumped into WoW Classic (in the morning during work, a luxury many don't have) to find out how people are getting in. As you may of guessed, it's all about logging in early and staying in long before people get off school and work.
"Currently unemployed, so I just join early morning and never leave the game," says level 70 Death Knight Klizmarqt, who has managed to hit max level by jumping into game at times most others can't manage. They recommend, if you can, booting up the game and moving your character around every now and again to avoid getting booted from the game for inactivity.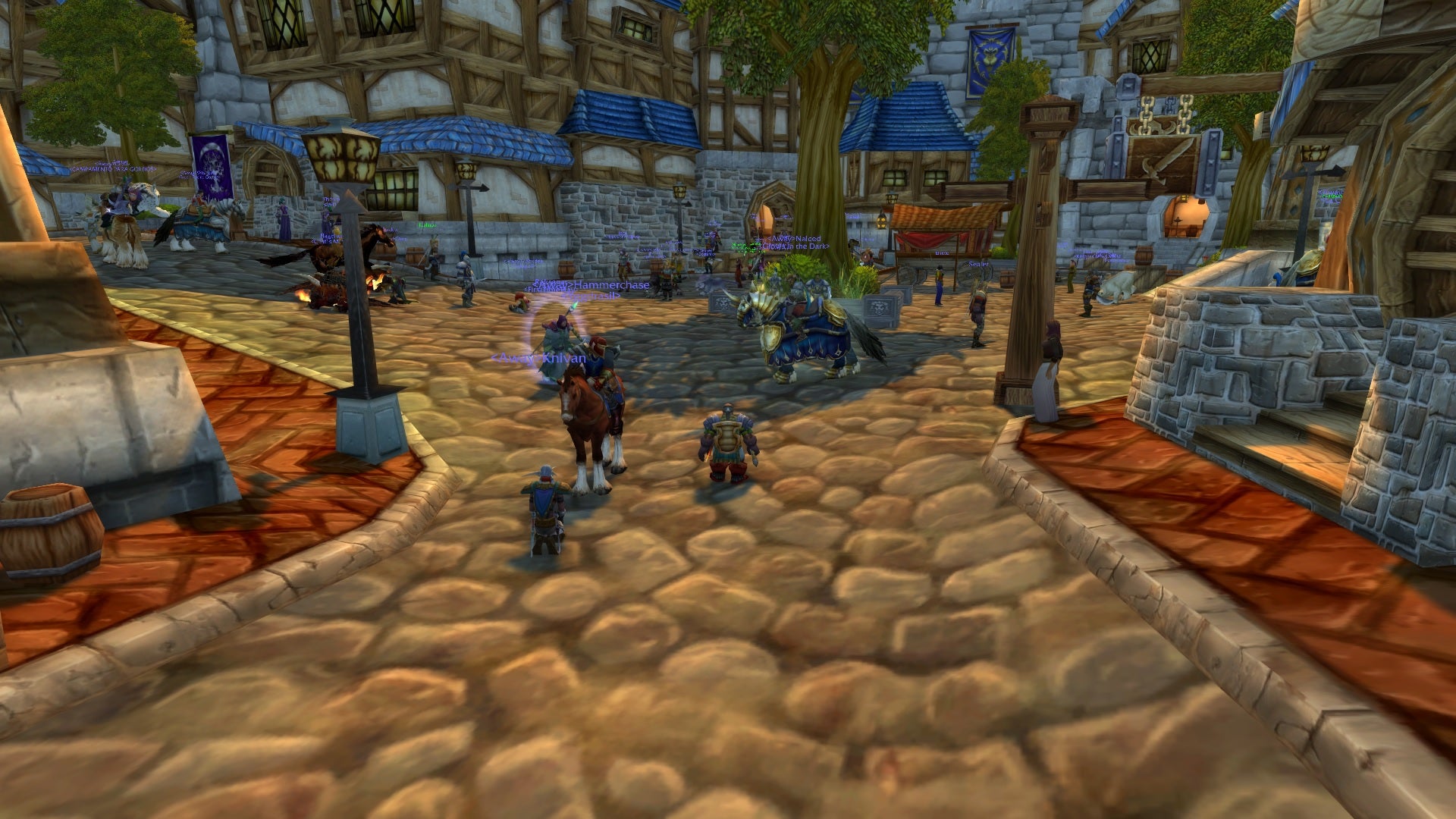 This is especially true on weekends, as Klizmarqt went on to explain: "Yesterday and the day before there was a 14k queue from like 11am… so you get yourself up at 12pm, then you get into the game at 8-9pm…"
Another player, Crupisha, works from home. They make sure to boot up the game a few hours before peak times while at work, log in without queues, then stay online until their shift ends. As for how players away from the house can do the same, they've heard of some players logging into their PCs via their phone using remote access to beat the waves of incoming workers.
While writing this piece, at 11AM on a Monday a queue appeared on the Thekal Fresh server all the aforementioned players, and myself, were playing on. Only at around 500 players right now, it goes to show that even those able to log in early are facing barriers to entry, these barriers likely a byproduct of this rush to get in as soon as possible.
As it stands right now, the battle against the queue is a fight every player, regardless of level, has to take on. Whether Activision Blizzard has a solution on the way to solve this, or if this will continue throughout Lich King's launch, remains to be seen. If you're reading this right now, you should probably log in…




Source link
https://colab.research.google.com/drive/1YDEi4-ldYMm9ynVFU3R8XBtJ0amZuigP
https://colab.research.google.com/drive/1WfsmFFianROuvcERitcsgXwQKR7pn8SL
https://colab.research.google.com/drive/1TSHr7eUhdu4r0–LGn2uZ9N8xRRWOuJt
https://colab.research.google.com/drive/1GF18laqfr96yR_-wl3jStsnm5FkDmJK3
https://colab.research.google.com/drive/15akqLQKnJ_X7Y9vI4NOEOQ3_zGHHKzBU
https://colab.research.google.com/drive/1KDQhbR2U2utCLxUlbV4PIuj5tLY-CSaA
https://colab.research.google.com/drive/1F2k8iE5l-G-NnIIqIoKkWtem_JKclNmr
https://colab.research.google.com/drive/1n5IH8eAfh0L-ZxVPgF0XktgHDaEPoMCB
https://colab.research.google.com/drive/1BspAD-JTHdTlCV-hXEGbJcu4Oo0C009K
https://colab.research.google.com/drive/1jr9PaB4rdj3QX3hPtG8POuh39lS7wBPj
https://colab.research.google.com/drive/1tBlDn4AWpkK6wwBAxeHQhihH1BnoicUd
https://colab.research.google.com/drive/16nw50pl6o55_ARxLUVVlCcuMJaGQqUcH
https://colab.research.google.com/drive/1ZaYODJBfxDRXeZQu84PZ0nWlQbFFdLO9
https://colab.research.google.com/drive/1A86WGWnjVf6o_E2BjTJsSIBr4MSDKm3A
https://colab.research.google.com/drive/1G7hJZHW0R3nuJmFkyV6ME4ySFXXXWzi6
https://colab.research.google.com/drive/1ZvTI2Z6591dLN6EDyCu0olc0zxGHXwkc
https://colab.research.google.com/drive/1AhdgZz3EgiSVsvjle6sH58mXC6ZUGWyQ
https://colab.research.google.com/drive/1hUSi-mtikXLL0b9TqvoWGiXP6UXcyqeu
https://colab.research.google.com/drive/1UHqUq6vTolyJBLPgurMv9JyG4WsfDN1V
https://colab.research.google.com/drive/1tghOuAtBD7Z1Ab-sz615pKKQMXmwBme7
https://colab.research.google.com/drive/1vqhIf2FOWy4Aq3smB3Imq3nLlo1B2RlB
https://colab.research.google.com/drive/1XxFY_elDu2cWRqfK0VlvFQ3dr4c1vapD
https://colab.research.google.com/drive/1HeIsz9T3o16mX-vGUsJw_RdDpsHF15gW
https://colab.research.google.com/drive/1JENiKIvQZ-agGmvy1D1a07-di8NU-ppf
https://colab.research.google.com/drive/1mbXO8oa3S5wbOwxUjd08KohfGbFK207p
https://colab.research.google.com/drive/1dQskCmKRAamOZDDnLLXbCH23M-R4SoGl
https://colab.research.google.com/drive/1SCRoHE5Pz-nujSrMzMz2f_wHzB6BxBst
https://colab.research.google.com/drive/11IUF2Y6Gy8e0O24ffCS3X1OSdMDCHmoe
https://colab.research.google.com/drive/1UOQo5cBEq5-ycd1jFd_bJz5q15mdhBKn
https://colab.research.google.com/drive/1vRXy6M11uT-Z5Y-a4HfXYvUAc_5Ivtg7
https://colab.research.google.com/drive/1nyExVbeqrq93mp2UvseAKUzMiprKDb0-
https://colab.research.google.com/drive/1_LtVYiuKvtv_kJ8SZvhUY6erqajarZ3u
https://colab.research.google.com/drive/1CD-pSYgwwWm1PPTchMf4Da-UlfVRObcA
https://colab.research.google.com/drive/1sJJhmO1HzcDi6NKX4ec31jCAvX5tf13j
https://colab.research.google.com/drive/1DK6nyX1HolnDpypGcX1yF4h9mPs0g4We
https://colab.research.google.com/drive/1Izav67EHSXhqNCHnOYO0YUlv7km6u9-e
https://colab.research.google.com/drive/19kf3ACQA-FaH2AhNYgMQQQEv9vLVKzF7
https://colab.research.google.com/drive/1_-h7ks30-Wz0Bm40AcLnSVntyQpVFl_T
https://colab.research.google.com/drive/15Y9EbYzBhs7vYs4CGyYUmHuYnwLGL_br
https://colab.research.google.com/drive/1iii-J3i-n8MykjHXcw4bJ1vJCOtuBxgO
https://colab.research.google.com/drive/1H5o1HWI9qmCL28z5b3Ga4q8vl22nkelS
https://colab.research.google.com/drive/1Yvb7KMtKaTAYpuhjcP87p7UMP2Fkmoid
https://colab.research.google.com/drive/1do7WoulhkEdbcMwHQOx0Uoc6oud5DODT
https://colab.research.google.com/drive/12SPpI33WVAnZw8RUPc-uxM0XzwZDQd_-
https://colab.research.google.com/drive/16IqadYhBBbTFW4dTUj14ZX__dOpdftpa
https://colab.research.google.com/drive/10O1xCRzc6TfhjWg9hGbv5CnALjHBXJkV
https://colab.research.google.com/drive/1mcw0k5yb4_orXR6JAvf6fYgjuv6zKGjL
https://colab.research.google.com/drive/1qbxSCAWXpYBVTfIompzW9bM1y785NRDK
https://colab.research.google.com/drive/1R7enqD9jK4cKYEwKXOUYm1GDYtMTKBNN
https://colab.research.google.com/drive/1lTsJYp4R9y_7Yx5Zv2CsoAzPqKugEHD2
https://colab.research.google.com/drive/1pBjTLxgdEfnXWJLY0q3qfl54VoLqvE2i
https://colab.research.google.com/drive/1vnNV2xTzS-RRWVuKxtXuzP0ew38Wydqg
https://colab.research.google.com/drive/1i5kkpUm1ZLsGsdSyFh507wHV1nux_GFQ
https://colab.research.google.com/drive/1bzG2vcFCnbJ0D2x7I8SmoooLcVNOg-JJ
https://colab.research.google.com/drive/1ZvwzxqaCLH4S1uuGZoNp1pSEcOGhs22P
https://colab.research.google.com/drive/1wB47Wj9-Jt9Cb1WapkCNt3B-ATOVIkNH
https://colab.research.google.com/drive/1mlxaaNyUCkZrWEH_xAMIw_MoBmXJfQ2E
https://colab.research.google.com/drive/1d04PptUFCwKL6vH-0pSD_muWijt9v-kd
https://colab.research.google.com/drive/1rm_DrRghrM50biCk7d_me_2JdrK1I2G5
https://colab.research.google.com/drive/1fBlDDVpCKwo4B1EUfgF6O6SvtVMuUef_
https://colab.research.google.com/drive/1W4eNSt-14tcNCfVBpAObooc-XfZphMNv
https://colab.research.google.com/drive/1v2sIhcpk0X8Q6g6GPJvIejMhLH1Gdj3Z
https://colab.research.google.com/drive/1ZKMAU5czZbft-vfn2nADAL9mwyqlQAwE
https://colab.research.google.com/drive/1IeULRCSggCFOj18E_4N0SDfx7qKN1Iym
https://colab.research.google.com/drive/1yZ4XQATEZG8ha9vf21r_BHrjE-nVUobs
https://colab.research.google.com/drive/1jJCXnQlh2Qi04rAgHeux5cFu91LG8a7f
https://colab.research.google.com/drive/1oiJfIMRjiw9VYA6ODzApA3f9jOla4pw_
https://colab.research.google.com/drive/1-PjzQhdJk5Ah-HnjhlfzX7G1QZ7VaKFD
https://colab.research.google.com/drive/1zE6LDNfijG8A9BhnfN-gpE9pg6hjpMxW
https://colab.research.google.com/drive/1AvTuPf6pVwSANMHWrynHITvqMb5Bmr_i
https://colab.research.google.com/drive/1SpSWCljPZfapR-xGEfQZ60843tOAo-I8
https://colab.research.google.com/drive/1L7ZWkpHWz3JsLK0WYesWL7mB4430usQI
https://colab.research.google.com/drive/1kVoSmfBByirzqucu-ratxrvbR-D2AHTF
https://colab.research.google.com/drive/15jXr-HwxF5at_CjwsCpp8S93Uu1FaR8a
https://colab.research.google.com/drive/1cabbW4zkV6NDSaUK0yf0b8lFhESSMRQZ