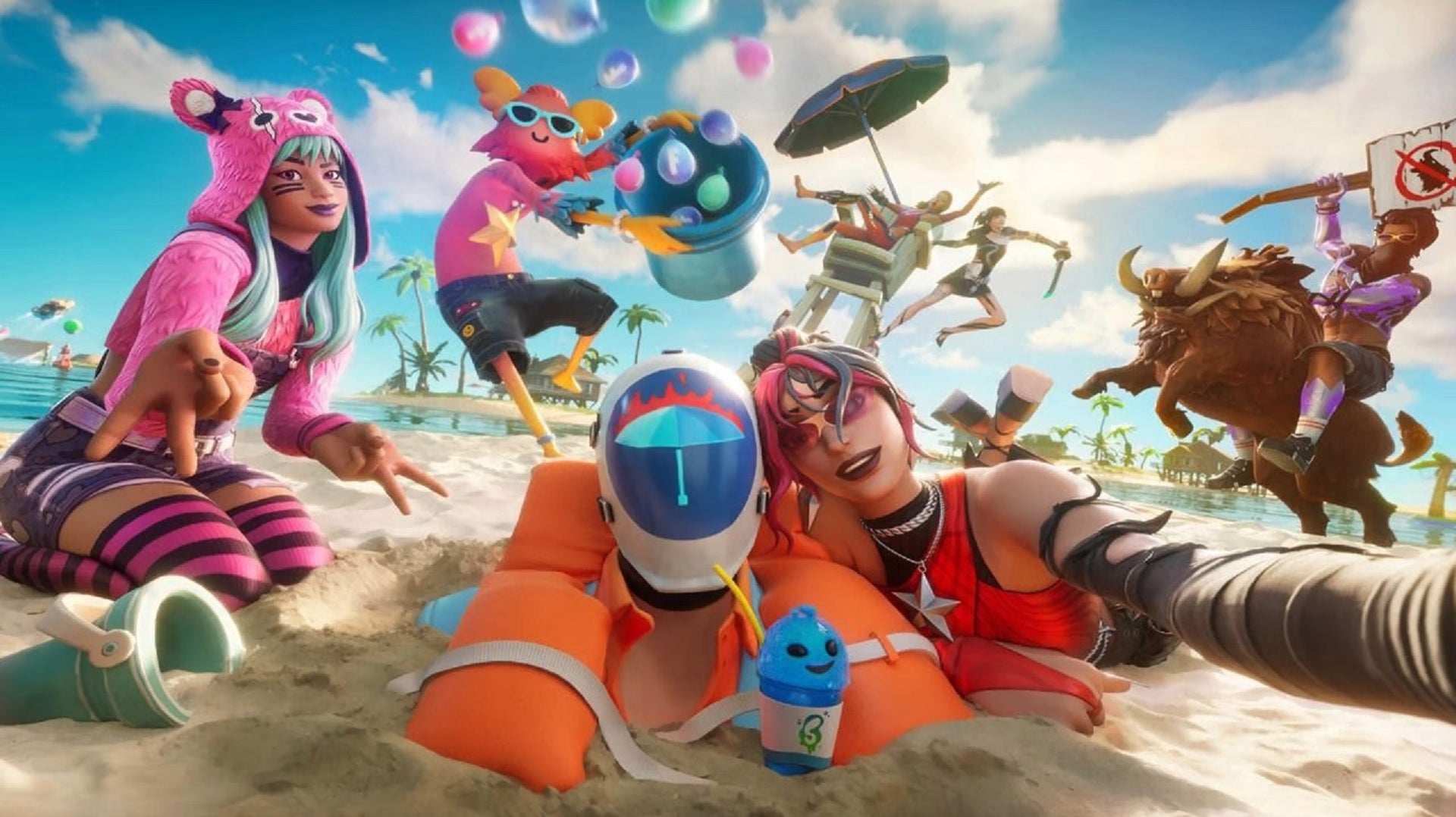 It looks like the next music act to possibly have a collaboration with Fortnite is none other than Lady Gaga.
According Fortnite Twitter account and leaker FNLeaksAndInfo, "a new collaborative emote" was added with a recent update called "Jug Band," and when four players come together to perform it, a song plays that sounds very similar to Lady Gaga's song Poker Face, as reported by GameSpot.
FNLeaksAndInfo then posted a follow-up tweet sharing the audio in question, and yeah, it sure does sound like Poker Face, although more of a southern American, country bumpkin take on the pop song rather than the original.
Lady Gaga appearing in Fortnite wouldn't actually be too much of a surprise, as she was mentioned in documents that were shared as part of the Epic vs. Apple court case. It's unclear whether just a skin of the singer is planned for the battle royale, or if a full on concert like Ariana Grande's will take place in the game.
Recently, Fortnite featured a collaboration with the ever popular manga and anime Dragon Ball, adding in skins of main characters Goku and Vegeta, as well as supporting characters Beerus and Bulma. The collab is over now, but the fact that Fortnite can feature both anime and real world superstars shows you the kind of cultural significance it has these days.
Outside of that, Epic Games has announced a pride themed event called Rainbow Royale, which adds a little LBGTQIA+ flair to the game. The battle bus is appropriately rainbow themed, and there's item rewards like weapon skins and more. Most importantly, the character Dreamer, the first transgender superhero on TV, featured in DC's Supergirl, is available as a skin in the game.
Players that tune nito the in-game Rainbow Radio will also hear tracks from artists like Lady Gaga, lending some credence to the leak, as well as Lil Nas X, Kim Petras, and Janelle Monáe.




Source link
https://colab.research.google.com/drive/1KnpkpXb8MkIw00vy1P3sjkypMGK3wUOX
https://colab.research.google.com/drive/1ZgVHuvNhC6T3scfSexpJne6EZiZqm1hD
https://colab.research.google.com/drive/1mcNhugDoPScwDTT_kLykWADYghsH3MrZ
https://colab.research.google.com/drive/15530sGJlJFZmE1UuR9SbX-Sdj8wTHWUh
https://colab.research.google.com/drive/1BEYGscU4fDiWS4WZTm2RbIuEo2dL1Wrn
https://colab.research.google.com/drive/1JP6b32I7tCx95TO305–SId82MdbYfLb
https://colab.research.google.com/drive/1EvEIa9vvlwWbc1y8iTvkDbdetiV-fgKE
https://colab.research.google.com/drive/1iksopBMUDQ5y4oEj2TXFsz3QfVJFPWEU
https://colab.research.google.com/drive/1PfdTphE2YiWwhoN_Nf31tSprQk54ncKh
https://colab.research.google.com/drive/13REOJ3w8V_TaVz7_dYKtCnCCi7ACUCjI
https://colab.research.google.com/drive/110hmGRa5Sm2SawhUe4bCsaG_cV8Aq5Yq
https://colab.research.google.com/drive/1pTjekmT4UI3VPTwfYs5tJ7tyyYKZL8hr
https://colab.research.google.com/drive/1bjF-Ui3yVdO1pIcufX46u05bal5ezrPR
https://colab.research.google.com/drive/1IPjHbWfelOZOAFXGeu8vr_zID1znMpbF
https://colab.research.google.com/drive/1snyKwgDtS_0JMo5GZBenpB3m8m-xmzbS
https://colab.research.google.com/drive/1UBHzNkitvzCf9OcU57kARBeCmnllLR7Q
https://colab.research.google.com/drive/1KWskuPCn9RGqfYt43gbYOhmdizVTo9zx
https://colab.research.google.com/drive/1sfz8DVOtnCkV7NinmD7mxE0ZkYTCNj7j
https://colab.research.google.com/drive/1SFGM8mYElXfCd7fFmiZgQb4LOzL9_lyV
https://colab.research.google.com/drive/11Y4DxlQZMKNasHVtBRaVmrZwhbnc8za5
https://colab.research.google.com/drive/1WzRyz9Uj1PcsoFTOPNdBa-aiCaljlJs2
https://colab.research.google.com/drive/17nUlz7jMmGzR-ItAbFvs3q5QuGL-KXvE
https://colab.research.google.com/drive/1FinCJhmn1myvFxC7Vv8Ge__DCPLqe_SS
https://colab.research.google.com/drive/1mB4L3QfX_sd35hy2cB3H8h2tUw0yezKs
https://colab.research.google.com/drive/1EUNpSco97kgU5ASee7VrFvYiG9oT9uAd
https://colab.research.google.com/drive/1fjHbokG07Qh33fwn8no8v9nTptyNjJaU
https://colab.research.google.com/drive/1V3DIGzy7lPG7KuDZRYEvQtWCHfATzDIb
https://colab.research.google.com/drive/12uAYkANTJ5vio5JKMfi0p1phd9I9P8jG
https://colab.research.google.com/drive/1e6iHtxzH6dT35qAhR86o3ypiRErlHhRn
https://colab.research.google.com/drive/1JS4-6GWEHzQCMM04ogqH2sM2unzj-3ia
https://colab.research.google.com/drive/1AGHXENXlE0Ge1xfk4_kCC8d3ecDXuX9R
https://colab.research.google.com/drive/1jZNMpzv0bUMy6l3vSvB6BTIX-dvT6aWa
https://colab.research.google.com/drive/1ySwl4Sitj8G9b9xrfnLFSxvFQbqIQbCf
https://colab.research.google.com/drive/1Y_ARfGn2Z-IPy8osRxHTzfQWuH9DbXEJ
https://colab.research.google.com/drive/1XTbeAxfjI_ht58dZcCDoKVfLBHhCa1pf
https://colab.research.google.com/drive/1JZNlfaAjDbkwb4M9ELiW-Gx9dh6dpJEG
https://colab.research.google.com/drive/1n-Ba5muY_ZEWIUFge1oekyxIpr6TCckH
https://colab.research.google.com/drive/11nYjC8Hi8qkTpe-4UMUV4GCYDgb4l-aE
https://colab.research.google.com/drive/1bf8_AfTPL-a0B1wm7130ZSabLG510KVT
https://colab.research.google.com/drive/1M3fOj8L0Xd1gtcB0tYH7gqowO4HGNdJD
https://colab.research.google.com/drive/1tGlYzVIxMNp87OEhxvMwsJ8ciPw7izUw
https://colab.research.google.com/drive/1ZNbtfluXawHTsYgm3lI1G5dL4uKsgQq8
https://colab.research.google.com/drive/1_pH9uG0fsepVtcaxMn1pkOTObDA691H-
https://colab.research.google.com/drive/18ShuxNE0Lk2nIL_iP0HeHzcsk0Nte_UQ
https://colab.research.google.com/drive/1fD7uJOOJ6n8kl2wY6rSTdUWSM7VUN0UZ
https://colab.research.google.com/drive/1JZ6Bixd7MOuHrCBTE2DFVtnCUq03g2Ht
https://colab.research.google.com/drive/1Z_NAwft4yZU9PLKR1e4VE-sfuynuPcbS
https://colab.research.google.com/drive/1-SemhMr4o9N4x-k6FpVIXiAFgf9wJPa1