343 Industries has provided a new roadmap for Halo Infinite that notes Forge and Campaign co-op will arrive in November with the winter update.
While that is good news, there's some bad to go along with it: split-screen co-op has been canceled.
Forge allows you to build maps using a special editor, and you can share your creations with other players. Forge will be available in beta form on November 8.
On the same day, Campaign co-op and mission replay will go live, two new maps (Detachment and Argyle) will also arrive, and the free 30-tier Battle Pass will become available.
A new game mode and two new events will also come with the update in December and January, respectively.
Things will phase over to Season 3, Echos Within, on March 7. At that time, you can expect the maps Arena and Big Team Battle to drop, the M392 Bandit will become available, and you can also expect the free 100-tier Battle Pass and new equipment.
Season 3 will also include a custom game browser, a new narrative event, in-game reporting, Forge beta updates, the VIP and Escalation modes, and the new Fracture event.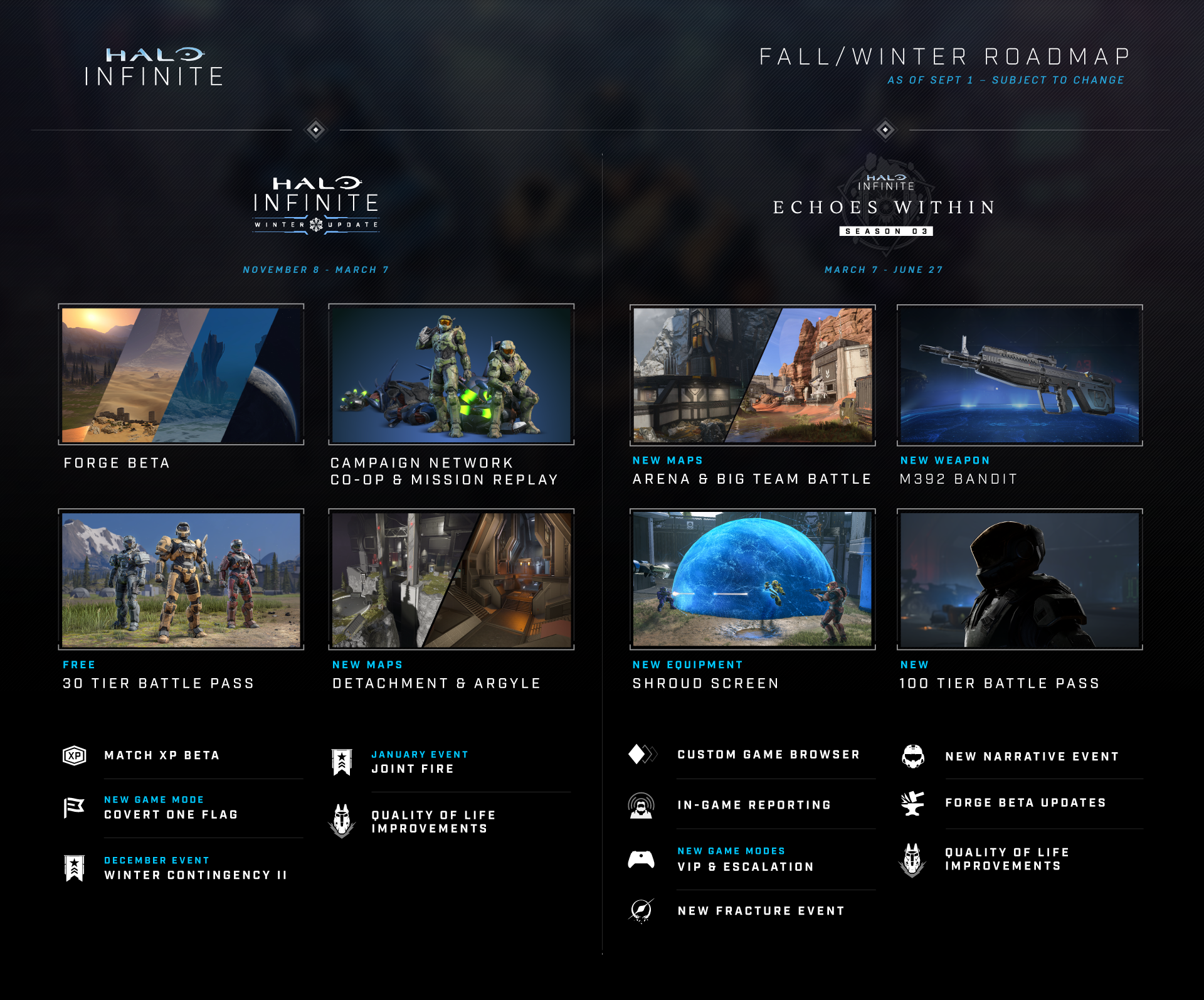 Source link
https://colab.research.google.com/drive/1SRN-A2VvBTvOgyytqjXd6PdDaFkt3jBk
https://colab.research.google.com/drive/1QhdI7Vg4dQpeqwaNPg0apFJ37DyqSPKZ
https://colab.research.google.com/drive/1iUSOVEM7dj8xVUmSjUhLaKXJUtBoBtn6
https://colab.research.google.com/drive/1GsSnF8pgWNVfx_GqM4B5EAgKdD7M0v23
https://colab.research.google.com/drive/1NEZakod1gKMuN1e4q1NcXBOyszx-TDI4
https://colab.research.google.com/drive/1DUCDukLyAOSnS-nggHlwtef8yO32phiK
https://colab.research.google.com/drive/1LL2DnHsvkdaB_TW37ngwsl9IXsFXwEsN
https://colab.research.google.com/drive/1pEN2Wdss6-zCFapvbCAJMxEmnzdm3ydx
https://colab.research.google.com/drive/1yda3p0Bx5o08wIJzJIHECHXaBgaK4R4Q
https://colab.research.google.com/drive/1fQXlNyER7xBzyY5NxQ11QEE2rwDmbMOc
https://colab.research.google.com/drive/1CoHQIvpcPKnSFG3KSf4dy4psufDxEa4X
https://colab.research.google.com/drive/1STy1SY1MekMRhLgL-Xvmtobm-Yw0boxX
https://colab.research.google.com/drive/1bi60uI6_BKegHti1afok_CnRGJ1NOYxL
https://colab.research.google.com/drive/19IoDNn-ijenMSo_CQ07uFUCU4t_13xVu
https://colab.research.google.com/drive/1PIUDfrVHVGYdWe0KYrH1bbPEPGe5XiTI
https://colab.research.google.com/drive/1rHPMZCvdJfPFSMjizaJpU2Ze498JDqZr
https://colab.research.google.com/drive/1m_3y8GvEXVTTjO-H0l2AUGZjXvDLkQzE
https://colab.research.google.com/drive/1u-qGoBK0_kqNrWjNrRdWTWeciSFSNXJs
https://colab.research.google.com/drive/1Dr0M15HGujJaIJuAPfWpZjk9nLzcL2ID
https://colab.research.google.com/drive/1gQZph5N6KKRsAABL8P9v4SSCkYdMAjrB
https://colab.research.google.com/drive/1MYlXkg7lwbt3xpA1MTgcVAbM_w-8npHa
https://colab.research.google.com/drive/10IBO8H1WV2LMO7K2jdDbUluEiTL_Kca9
https://colab.research.google.com/drive/1KxqbylWYiiaoSxiickAECINqT4hF0CIY
https://colab.research.google.com/drive/1ynlVAJwtzxpGv5M4BUK9z93fCVNukRQT