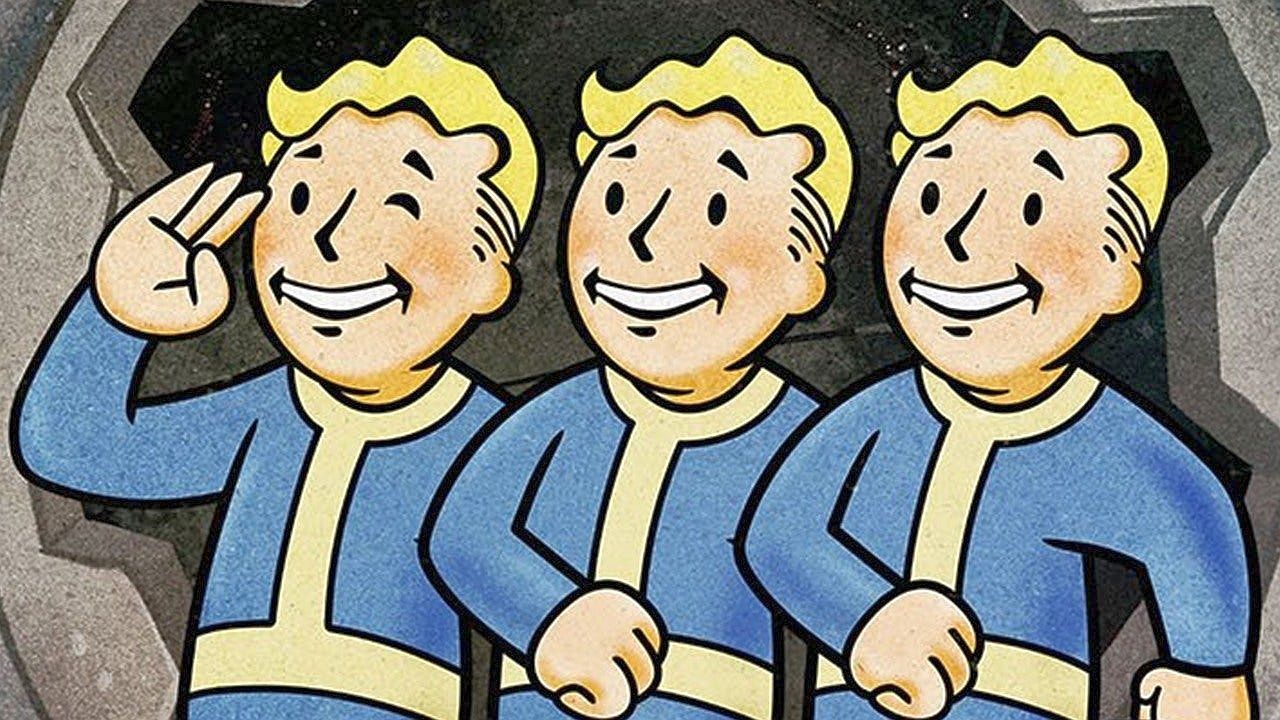 Images of Amazon's Fallout production set have leaked online.
The images are said to have come from the in-production Fallout TV series in development for Amazon and appear to show the interior of Vault 32.
Originally posted to the Fallout subreddit before being deleted, the images show a nursery, conference room, a delapidated farm, and a Vault Boy poster (thanks, RPS).
Luckily for us, and everyone else, the images were saved and posted by Twitter user Shamanomenon. Check them out below.
— Shamanomenon (@Shamanomenon) August 16, 2022

To see this content please enable targeting cookies.


It does look very Fallouty.
Announced in 2020, the Fallout live-action series is in the works by the creators of the Westworld series, Jonathan Nolan and Lisa Joy.
The duo's Kilter Films is producing the project, and Bethesda Game Studios and Bethesda Softworks will also co-produce with Todd Howard as an executive producer for Bethesda Game Studios, and James Altman for Bethesda Softworks.




Source link
https://colab.research.google.com/drive/1hGk34sJUu0h8ssh7np1cWXeZhpimfpoT
https://colab.research.google.com/drive/1V-ez0cB4fGBGw5awR19zCbfytYaEaN8L
https://colab.research.google.com/drive/1wQG-Tmkzg9ZW0UMkDq35hZU8xR4RZ9lI
https://colab.research.google.com/drive/1tFB8BhPqCU9FwvAzkLZAbtjK2Jmlna86
https://colab.research.google.com/drive/1ioHK3Dam_T8P9w6mja0wIOh0DDTfNsY_
https://colab.research.google.com/drive/1rH0rHmfdh9Gt6JuWUk4kj7JT2uYSKgVA
https://colab.research.google.com/drive/1LY4EVaE7TmvDDjf03Y6nSxgwljv33SIc
https://colab.research.google.com/drive/1bJX578o9VS1TBB4JhOnK9nzQDiTjtd1s
https://colab.research.google.com/drive/1rtSlLh0WJUyPJ4S6H_HoBCBTXb_WT_Qv
https://colab.research.google.com/drive/1IiynnfuTobqqQkcquyhOATU9pc9lCNaC
https://colab.research.google.com/drive/1g31dg68h8FQ7Z6pCmPO-_o0jeJbELsDu
https://colab.research.google.com/drive/1lPAdR4P8FUHPWJnEpK_Uso-9c7wS9htJ
https://colab.research.google.com/drive/1kyQ_zH3mjm3G-udnbDtRZR5krBhptcMj
https://colab.research.google.com/drive/1oqpLX8ef6cmcuDcXpgaVDyhu3xET4p5R
https://colab.research.google.com/drive/19wgteEwf9AKBVDcXGtQRu1lw4GrpieS_
https://colab.research.google.com/drive/1mgd-EG7SHUNprTIw2LHPpSiuhpPq4iEC
https://colab.research.google.com/drive/1baQHk4KzwQPIAa7eoO_xl7swtHO84YLp
https://colab.research.google.com/drive/1QrnY5O2zZtFTupV7J-aEEFdkmqpnszQV
https://colab.research.google.com/drive/1MlqM6K8py_H1Hm0lPkhMiyOsDs_dlXPV
https://colab.research.google.com/drive/1dJ3kp5eeH-8tuMKCSSXvbajfE8N28yEX
https://colab.research.google.com/drive/1on-gWd9fX5MF9X8pBcUcRuynBubCa5WB
https://colab.research.google.com/drive/1bI39Cxw4IpvwzC-3Bvdpao5q9s_MciMX
https://colab.research.google.com/drive/1gMpyiEgx1yIflXVoyDgmsGrnxpELbKLf
https://colab.research.google.com/drive/1tL9GCQq8KUj9jANB0CqKVLSXXA7MMtjP
https://colab.research.google.com/drive/1bIIKB3ohNi2302Bh4kPRpzPl3ot7tRnE
https://colab.research.google.com/drive/1rHlSEN055CYmf0fomdqrsyl9T5FXek1b
https://colab.research.google.com/drive/1OUkG9aHzg5aEvlTfLr6JUhySrALeAcoi
https://colab.research.google.com/drive/1teqtkhhMDbuOQjHaGo6cqxVyi99mo8Ct
https://colab.research.google.com/drive/1WkVObd0sARFb3s5cFU9iR-IjdemoG8Nl
https://colab.research.google.com/drive/1HS4xtCzxU8SL4QKRhaI0lSyiD7my7qqZ
https://colab.research.google.com/drive/1ff9mc_p0jRzyWwJGDezbZMAkAN6b9TV3
https://colab.research.google.com/drive/1SmvHqIJNOX0JHBVsq4bdJgfE4hs9gtCz
https://colab.research.google.com/drive/1zhRBYfMksqZV4fUcTuMi1bRVwV86Yl3B
https://colab.research.google.com/drive/19T-K2oMQ9Shg4ig04iWW2PVmspzGWcM2
https://colab.research.google.com/drive/1RnELyLmUT6qVnqxbJo6csvB-3qWMSERh
https://colab.research.google.com/drive/1HRYoZZaujP9gfWqanBKaTVnnV_kJm_u2
https://colab.research.google.com/drive/1eThYfSlw-TL1DhfUwyvgu_UoUCeF5mGb
https://colab.research.google.com/drive/19gctq1I9Djf85v8WeuEMDiPbMF5Fpy-J
https://colab.research.google.com/drive/1bh-ZP1jv2KzX4kAypP5Db2CbT5CSjO8b
https://colab.research.google.com/drive/1lEZDQq9nRTZ-XeXpkrxV8Ii0DcCqQWC5
https://colab.research.google.com/drive/1q6qM7QeFWi47eXTyFymFrErZg6CvWM0R
https://colab.research.google.com/drive/1UcT7Wx2kInv9WGp36D59m-W9BTqWXz8B
https://colab.research.google.com/drive/1Bt4n_jxtWpKBRfZ6OHrBmhp7DFC4kc8z
https://colab.research.google.com/drive/18IAA1Gl778-22CaidZiNaLtYHHae7gCe
https://colab.research.google.com/drive/1w43TfrVb31PaoatrGoPzTJ9B91Wgs1iE
https://colab.research.google.com/drive/1Q_JY0klBUPPxTXGQkHMC22yfF2m2Ce_t
https://colab.research.google.com/drive/1rxtVeR18u8J884hCr4XP7K52iAGMQHLQ
https://colab.research.google.com/drive/12AMGuBpwpXUyXVrqRBbz_vEDV7Q2Kpgu
https://colab.research.google.com/drive/1n2TTGnpx0do-a3d_uRfPG7FWg_j9uDFV
https://colab.research.google.com/drive/1PA0TyKFPZInqjd1rJKN2F0e62GR0WWUK
https://colab.research.google.com/drive/1qSEt3BSPW9ffbtH-IgN2nxmJZK2tHsAw
https://colab.research.google.com/drive/1OFNnRtLZ2oLc60h8d07-LPWeT3P9stwp
https://colab.research.google.com/drive/1unrBt9UYkCB2nEvMB8IbJO91CSnaDAF5
https://colab.research.google.com/drive/1t6a4SnZxV1pk8kBlG7YLzZCfsHQ8KR1-
https://colab.research.google.com/drive/1cJkmrttnebAMLEfvW-dU1s1wYE-9YOP9
https://colab.research.google.com/drive/1xB9JelwwVZzAhwCRzKjtT-9mIKY_LGQw
https://colab.research.google.com/drive/1Z_DBeBGv9vtCJDnF49J1EbBDQ8JHknKU
https://colab.research.google.com/drive/1W-2yBkm7lTW5s1xNixlq90K_KV-GeN-I
https://colab.research.google.com/drive/1McDebegoGpMx3J8mcaPHvZC-liBeyDDG
https://colab.research.google.com/drive/1MiCdUmq9K9QOlYEuMXDVPkj0oaxKvQEM
https://colab.research.google.com/drive/1UfbA1ZkEBBO_9EjIkUvD2Tz0HL_7iLDk
https://colab.research.google.com/drive/1eHhlbRXjDbMX5Es8tgi-0cvVPXpujahP
https://colab.research.google.com/drive/1alhIUnsS1kAGoizRyuz_hPhGjlOBXg9v
https://colab.research.google.com/drive/1M7doNG7U0acrta6vn05N4S6UvU-v-OXG
https://colab.research.google.com/drive/13_BoIp5ltjZ3plljFFWbYnYsVRAXbnhh
https://colab.research.google.com/drive/1wfmsjBp1OSoxU9V8GX9KjpiyMj_Ctx7K
https://colab.research.google.com/drive/1N8W0BU0pc1dbKEnt_M8AD39sjw_L4keK
https://colab.research.google.com/drive/1Rylg-32mGxhR6JY7fBpC8uO5HbxsCNMe